Welcome to Hāpara Highlights Follow
In this article:
Introduction to Highlights
Hāpara Highlights gives you visibility into what students are doing in the Google Chrome Browser, so you can provide necessary learning supports.
Whether you are remotely opening and closing tabs to keep everyone on task, creating guided browsing sessions, or sending just-in-time feedback with messages that pop-up on students' screens, Highlights has everything you need to support students who are learning online as they become responsible digital citizens.
Highlights has three ways to view student browsing, so you can see the information that best supports your teaching.
Browser Tabs is the default view when you select Highlights. This view is helpful for seeing everything a student has going on in their browser. It shows individual tiles for each student in your class. Each tile shows a list of the tabs the student has open on their device. The bolded item is the tab they are actively looking at.
Current Screens also displays individual tiles for each student in your class and shows screenshots of what students are actively looking at. This view is helpful for quickly seeing what each student is currently viewing.
Activity Viewer shows a near-real-time summary of the browsing activity for all of the learners in your class. It's a great way to understand what your class is doing as a whole.
Getting started with Highlights
Before you can use Highlights, your school System Administrator or assigned Coordinating Teacher must have already deployed the new Highlights extension to the students in your school.
Once the Highlights Extension is installed, to access Highlights you should:
Log into

Hāpara

using your school issued Google account

Select the class you wish to view

Select Highlights

The Highlights Browser Tabs view will open by default.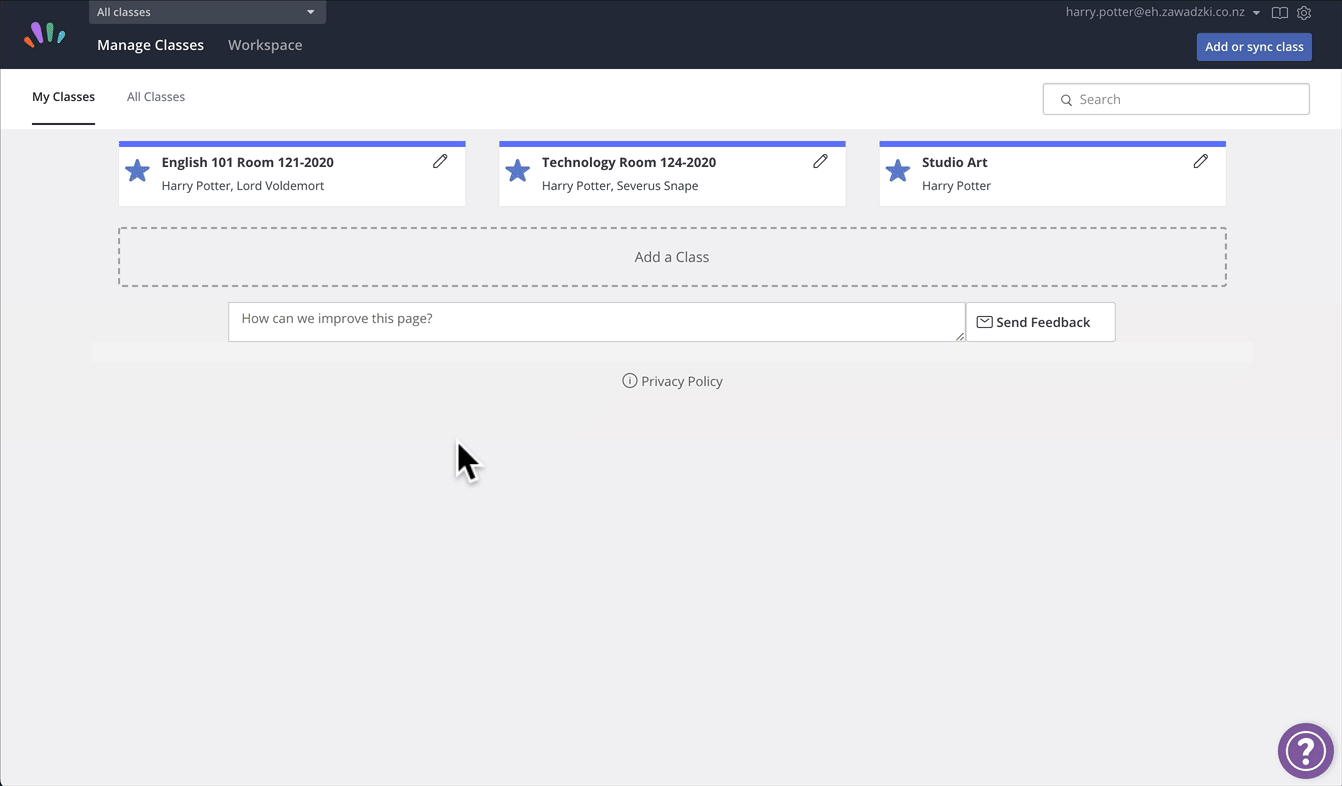 If students are online, and you are within school hours, you should be able to see their browsing activity right away.
Key features
| | |
| --- | --- |
| | Highlights updates automatically to show you students' browsing in near-real time. How quickly Highlights updates will depend on your network bandwidth and how Highlights has been set up by your network administrator. |
| | Set up timed-sessions in which you can limit students to specific websites, or block them from accessing select websites. |
| | Remotely open up to 10 tabs at a time for your learners |
| | Send a message to learners and have it pop up in their browser |
| Flexibility of use | Most Highlights actions can be applied to one or several learners, groups, or the entire class - so you can provide support exactly where it is needed |
| | See a summary of your entire class activity at a glance |
| | Record learner browsing activity (metadata and screenshots) at any point in time to explore at a later stage |
| | Close tabs remotely from your screen |
| | Create and edit groups of learners directly from Highlights to provide differentiated learning experiences. You can also filter Highlights to only view specific group activities |
| | Stop all student browsing activity temporarily. |
Student privacy limitations
Your school or district may put limitations in place to prevent you from viewing students' browsing when they are not in school. These limitations can be based on school hours (days and time) and/or location (whether students are connected to the school network).
If you open Highlights outside of your designated school hours, you will see this message: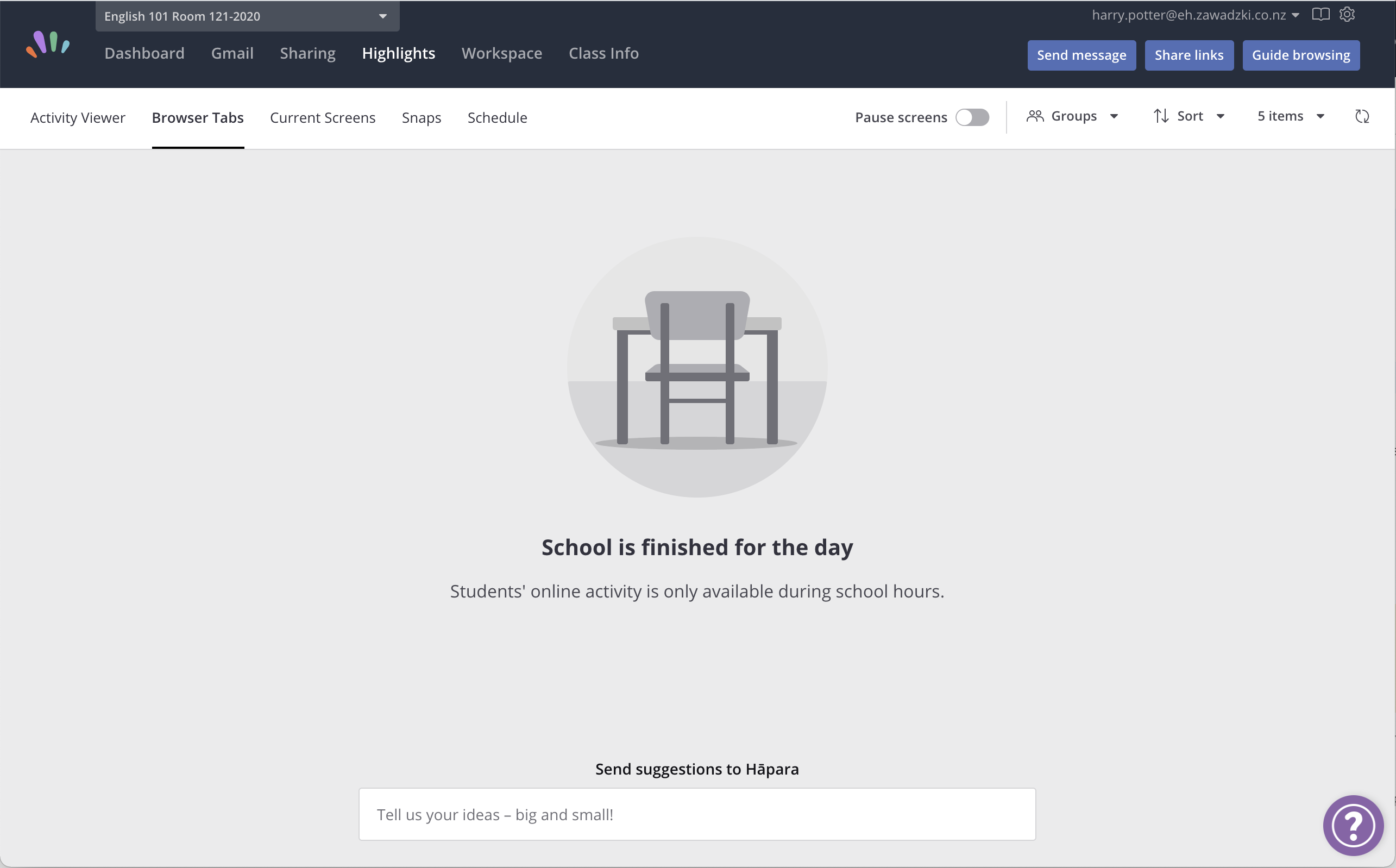 If network limitations have been put in place and a student is not connected to the designated network(s), you will see this message in the student tile: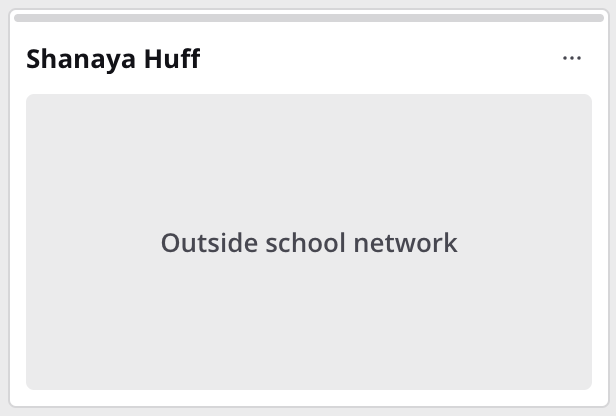 If you believe you are seeing either of these messages in error, reach out to your Hāpara administrator to check the student privacy settings for your school or district.
Troubleshooting with Highlights
Student connection issues
Occasionally, student tiles in Highlights will not display student browsing activity correctly. Highlights provides various alerts and error messages to let you know when there is a problem connecting to students' devices.
Possible issues include:
the student appears offline

the student is logged into several devices

there are several students logged into the same one device
For a full overview of reasons Highlights may not be able to accurately display students' browsing and how to solve them, see this article.
If you cannot resolve student tile problems, read more about raising a problem with Hapara support.
Highlights is slow to update
If you find that Highlights is very slow, it may be due to your school network. In this case, contact your System Administrator who will be able to adjust Highlights bandwidth parameters (i.e. by reducing the volume and frequency of updates to Highlights, reducing the quality of the screenshot images and/or removing the screenshot functionality to increase the speed of Highlights).
Raising a problem with Hapara Support
If you are experiencing an issue connecting to a student's device, we recommend first clicking the refresh button on the student tile to re-establish the connection between Highlights and the student device.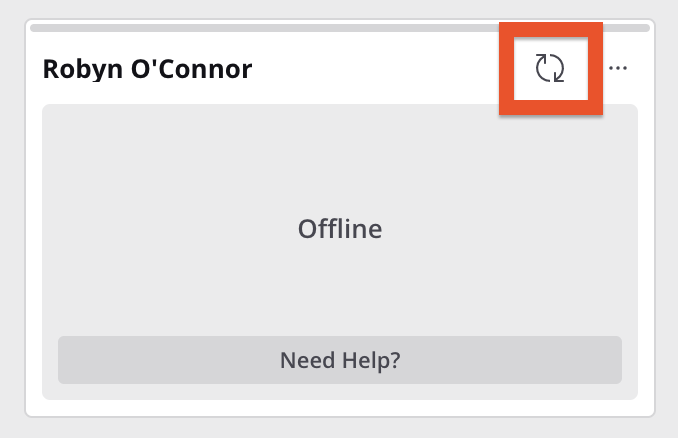 If you continue to experience an issue, you can click Need help? in the student tile to learn how to run a connectivity check.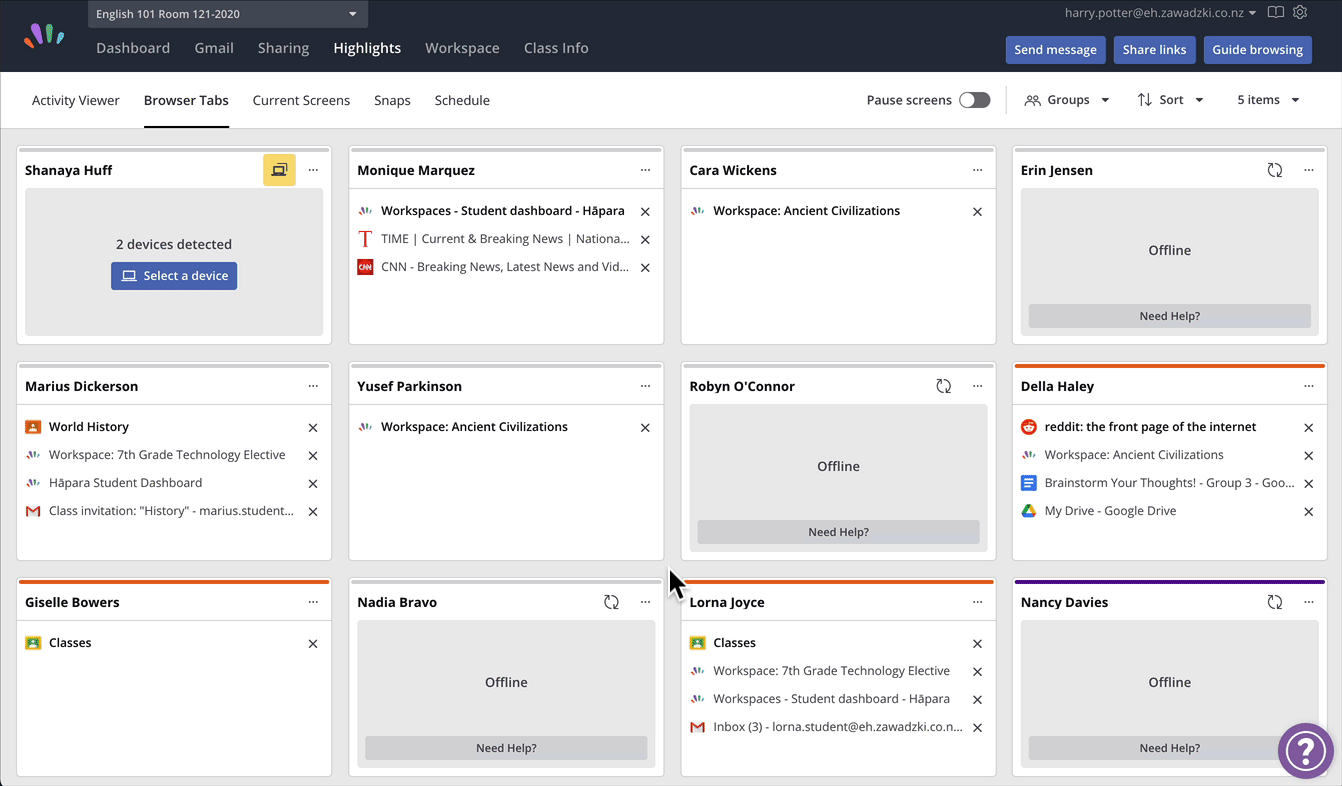 If using the student connectivity check did not explain the issue, then you can send details of the issue to Hāpara by clicking on the Report a problem button in the help modal.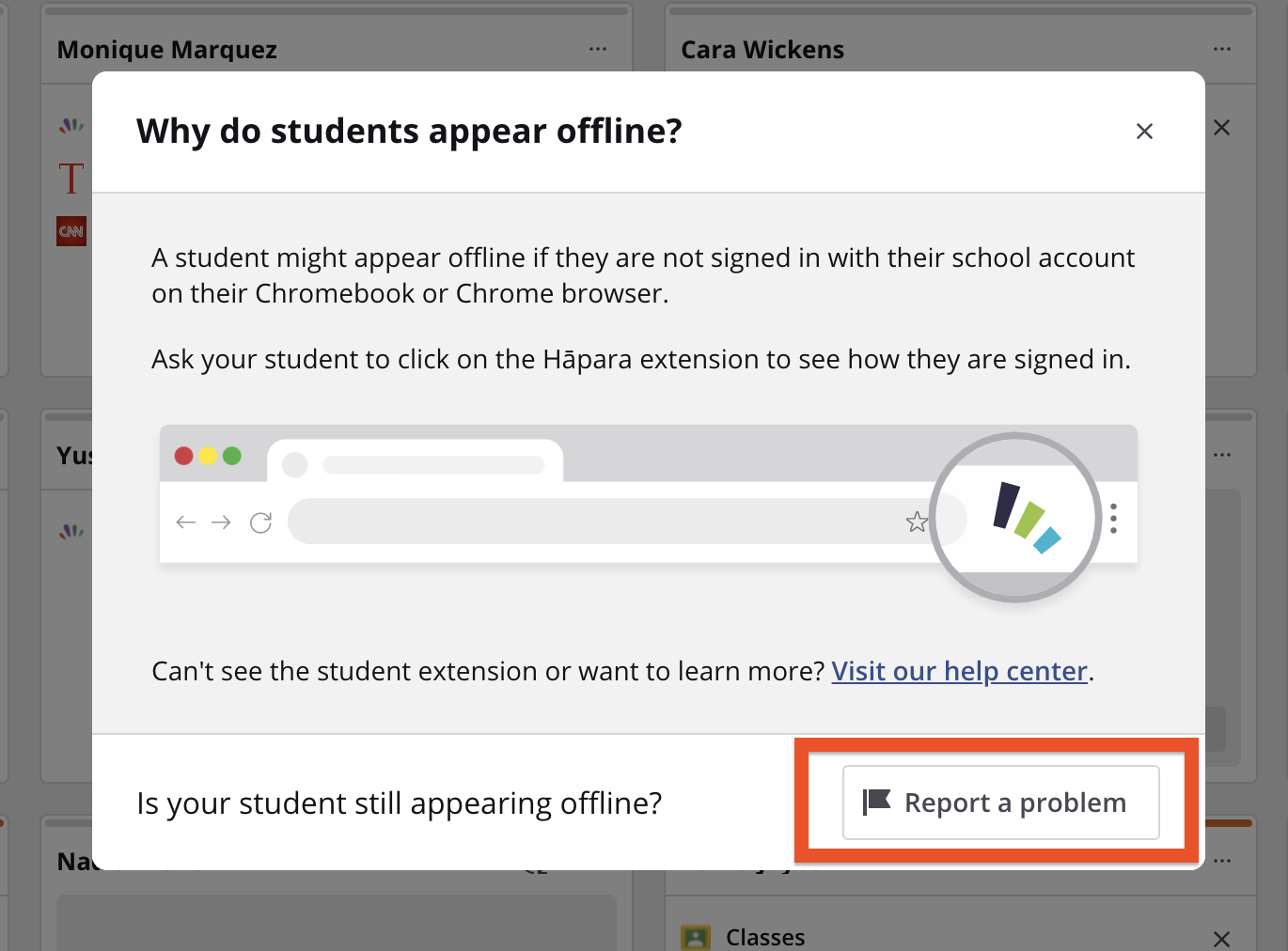 Please add as much information as you can about the issue to the description box, then click Report issue to send the form to the Hāpara Support team. We will investigate the issue and follow up with you.