My Workspaces homepage - how to organize and find your Workspaces Follow
In this article:
My Workspaces overview
The updated My Workspaces homepage gives you several options for organizing your Workspaces, so you can always find just what you need.
Here is a breakdown of each section on this page:
| | |
| --- | --- |
| Section | What you can find here |
| Owned by me | Workspaces started (created or copied) by you |
| Shared with me | These aren't linked to your classes, but you've been added as a teacher/collaborator |
| My labels | Your custom organization option! |
| My classes | Workspaces organized by the classes you teach |
| Professional learning | Workspaces you have been added to as a learner |
| Archived | Workspaces you have archived. |
How to view student progress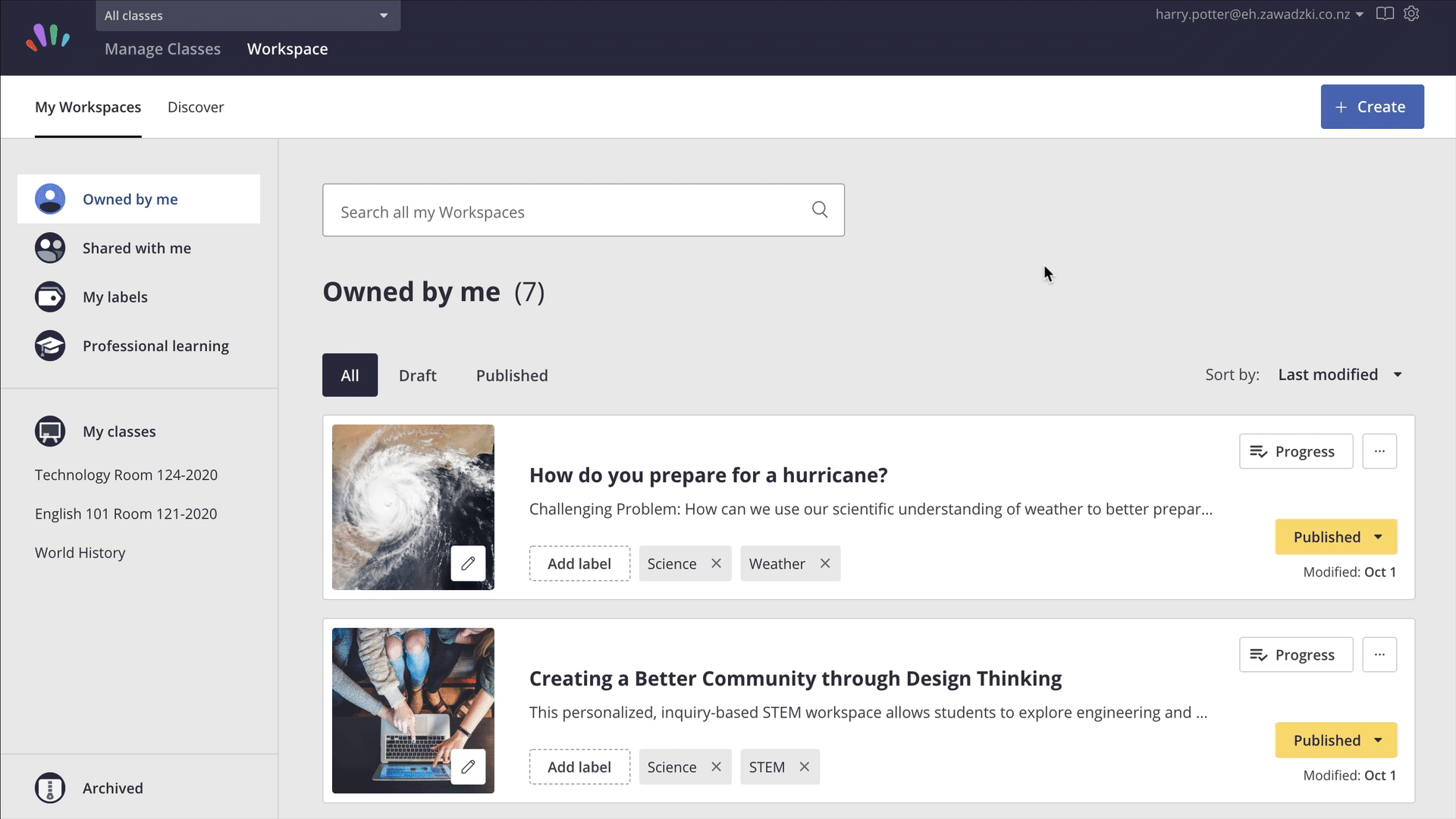 On the My Workspaces homepage, you can easily check in to see how students are progressing on each Workspace you've assigned - without having to open multiple Workspaces!
To view student progress, simply click the Progress button on any Workspace title card. This will open a side panel that shows student progress on each evidence card within that Workspace.
The progress side panel will show an overview of how many students have not started, started and submitted work, and how many assignments you've already assessed for each evidence card. Clicking the arrow next to any number will open a list of students so you can see exactly who has done what (and reach out if necessary).
Evidence cards in the side panel are arranged in the same order as they appear on the Workspace board. If you included sections in your board, the cards will be organized by section.
You can use the groups drop down at the top of the progress panel to filter your view by group.
You can also click on any started, submitted or assessed student work from the progress panel to open it in the Workspace grading tool.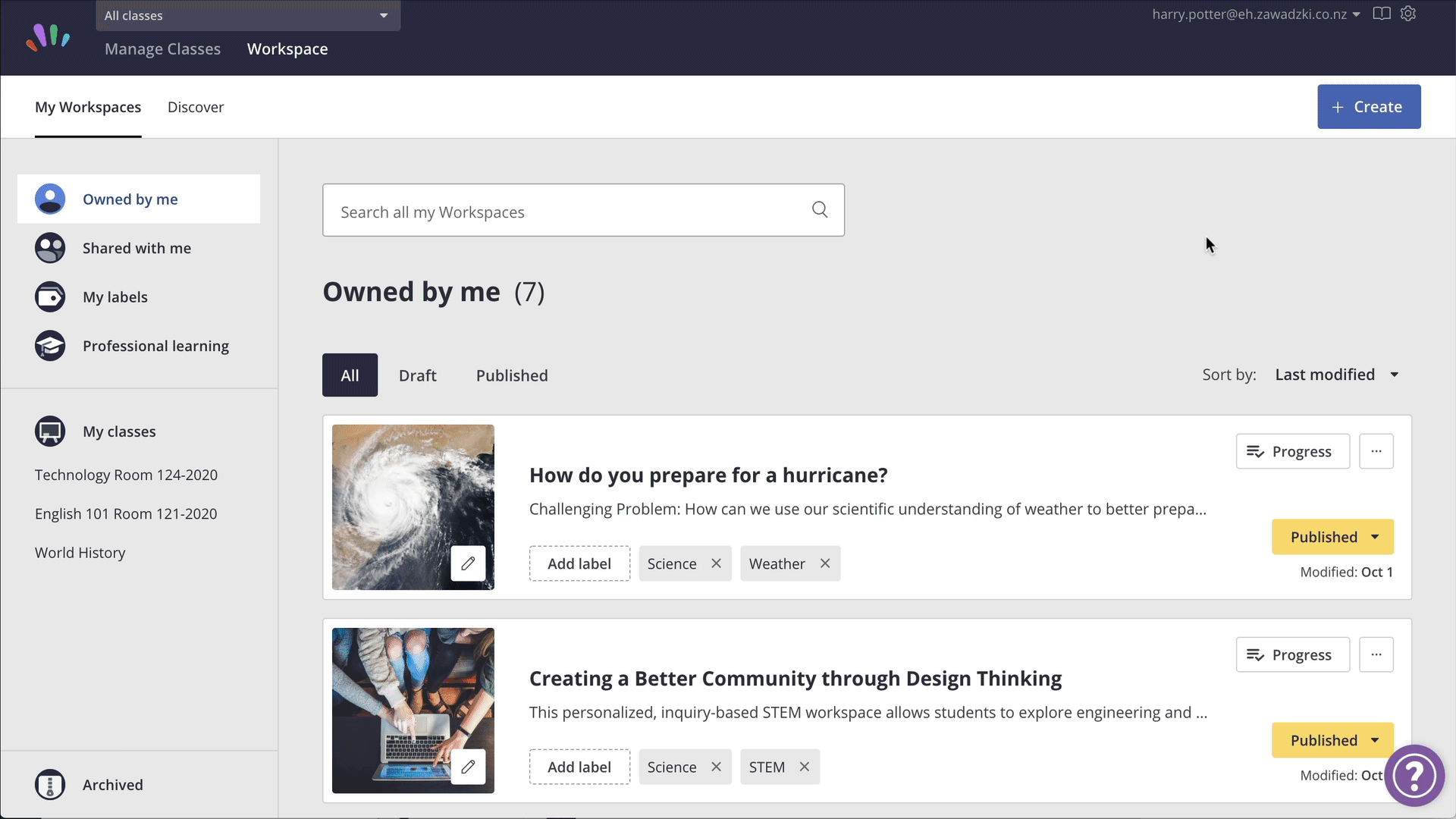 How to add a cover image to a Workspace
On the My Workspaces homepage, you can add cover images to any of your Workspaces to make them easier to identify.
Click the pencil icon on any Workspace title card to open the image selector. For more specific instructions, read this article.
How to create Workspace labels
Labels allow you to create a custom organization system for your Workspaces. If you want to label by subject, topic, year, class, assignment type or some combination -- it's totally up to you.
To create a label for a Workspace, simply click "Add label" at the bottom of the Workspace tile. Type in the name of the label, then click "Create".
To add an existing label to a Workspace, click "Add label" at the bottom of the Workspace tile. Select the label you would like to add by ticking the box next to the label name, then click "Apply".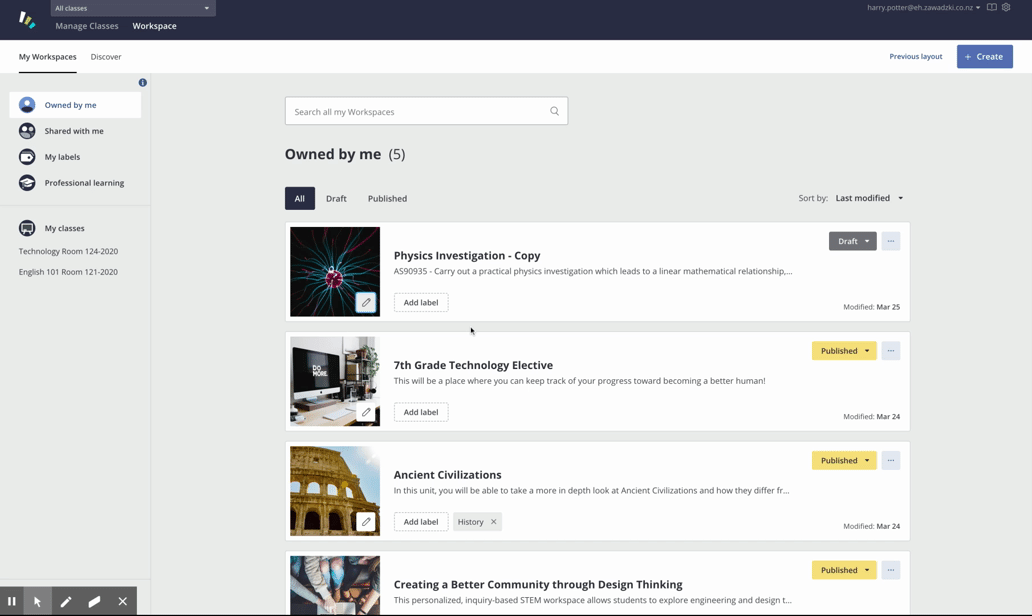 How to filter your Workspaces by labels
Once you've added labels to your Workspaces, you can click on "My labels" on the left side of the My Workspaces homepage to view every Workspace that has a label. The labels that you have created will appear as buttons above your Workspaces. Click on a label name to view just those Workspaces.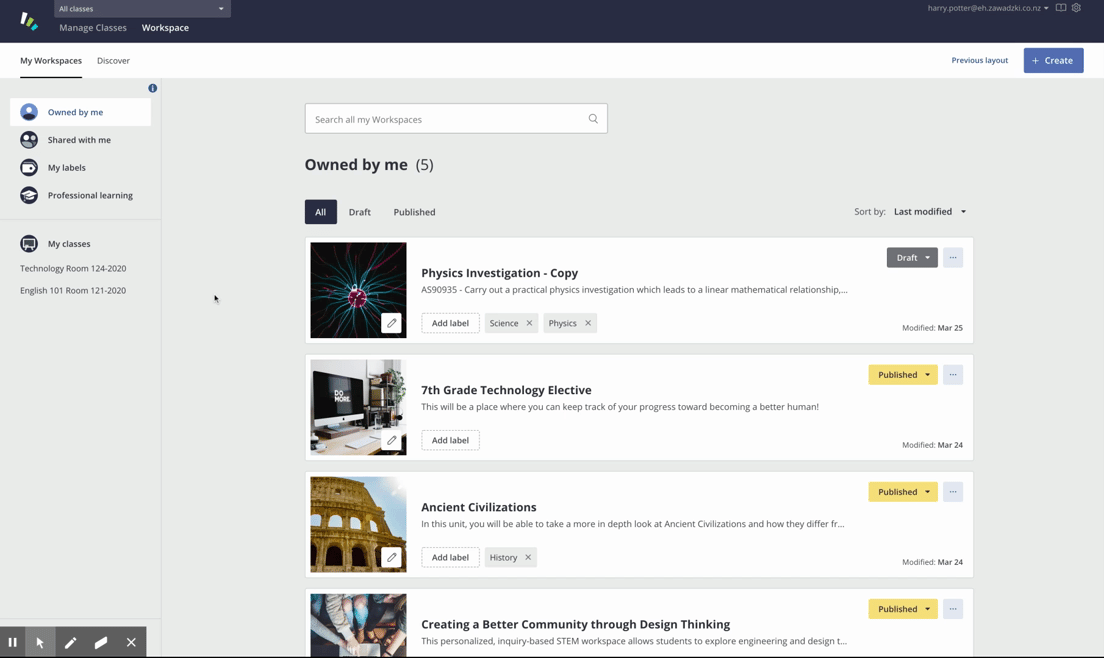 How to search for your Workspaces
Know exactly what you're looking for? The search bar at the top of the My Workspaces homepage allows you to search all of your current Workspaces by title.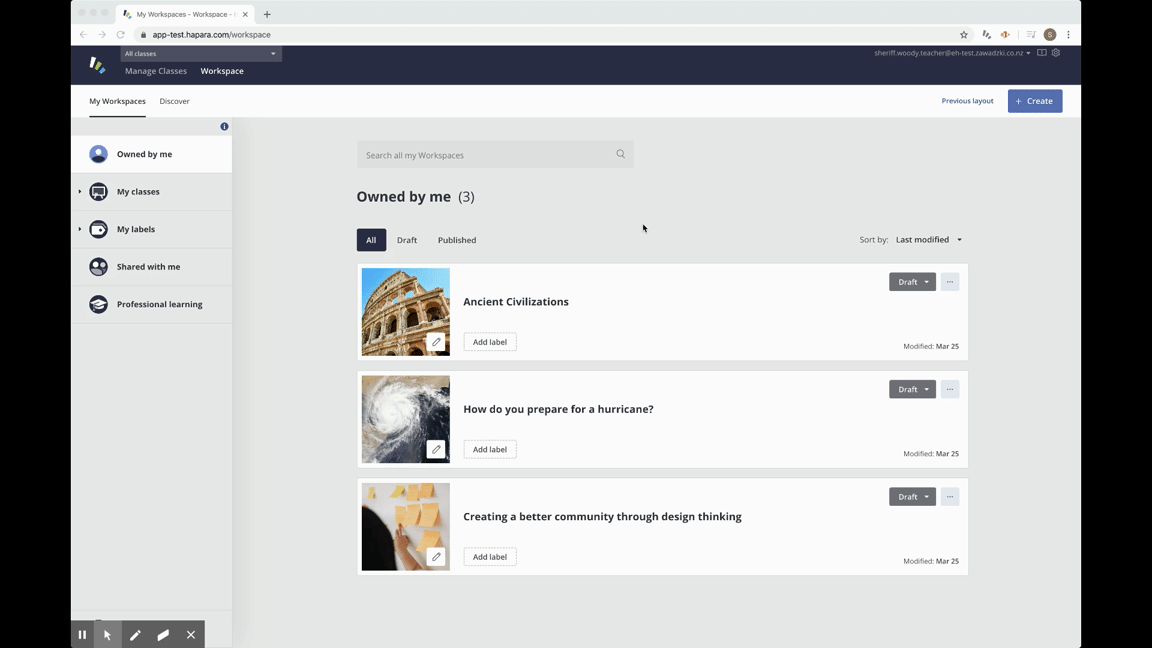 When do Workspaces appear under My classes?
When you assign a Workspace to learners in your classes, it will automatically be organized by class for you.
To see all of the Workspaces assigned to one class, just open the "My classes" drop-down and select that class on the left side of the My Workspaces homepage.
If a Workspace is assigned to more than one class, it will appear when you select each class.
Learn more about how to assign Workspaces to classes here.
What is a professional learning Workspace?
Workspaces can be used as learning hubs for both students and teachers. Many schools choose to run professional learning programs through Workspace by adding teachers as learners. One of the best ways to learn how to teach with Workspace is to use it as a learner first!
Learn more about how to use Workspaces for professional learning here.
What are archived Workspaces?
To learn more about archived Workspaces, and the various states of a Workspace, read this article.