How do I share links with students? Follow
In this article:
What can you do with Share links?
How can you use Share links during an online lesson?
Share links is a feature in Highlights that allows you to quickly and efficiently share websites directly to student computers or devices. It's a great way for you to direct — or redirect — students who need support in finding online resources. Instead of spending time waiting for everyone in the class to pull up websites, the websites instantly open on students' devices. That means you'll have more time for instruction and learning.
What can you do with
Share links
?
With Share links, you can:
Share up to 10 websites with students

Pick websites from your recently-opened tabs

Select the audience you want to share with: whole class, student groups or specific students

Schedule links to be shared later (so you can plan ahead)
How does Share links work?
1. Log in through app.hapara.com.
2. Select your class.
3. Click Highlights.
4. Click the blue Share links button in the top right-hand corner.
5. Type the websites you want to share. Or you can use the Recent Tabs option to select from your recent links.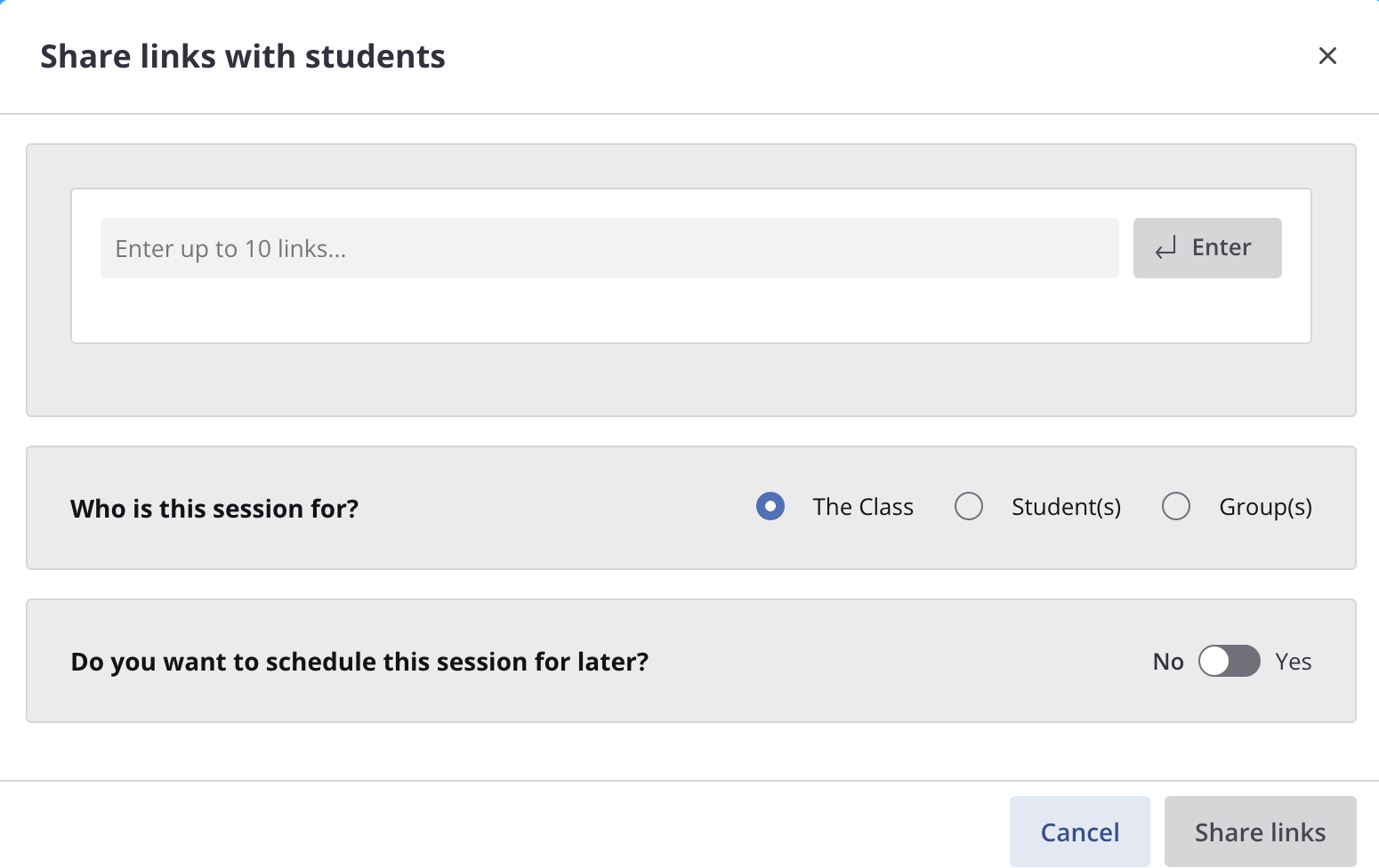 6. Select The Class, Student(s) or Group(s).
7. Toggle to Yes if you want to schedule the links to be shared at a later time.
8. Click Share links at the bottom.
How can you use
Share links
during an online lesson?
You can use this Highlights feature in many ways. Here are some ideas to get started.
When students need extra support
Easily share supplemental resources with students when they need a little extra support. You can share websites that scaffold the material or explain the concept in a different way.
Examples of resources you can share for extra support:
A chart of concepts that are difficult to memorize

An online dictionary or thesaurus

A map or graph

A video that gives further explanation of a concept
To differentiate instruction
Share links allows you to share websites tailored to different student learning needs. You can share different resources with an individual student, a group of students or the whole class.
Examples of when to share links for differentiated instruction:
Flexible grouping

Grouping by ability level

IEP, 504 plan accommodations

Project-based learning (PBL)
During class discussions
When you're leading a class discussion or brainstorming with students, it's always great to share concrete examples or visuals to get their brains moving in the right direction. You can use Share links to quickly send websites to student devices during a discussion.
Examples of resources to share during class discussions:
Images of artwork during an art history class

News articles when discussing current events

A video clip of MLK's "I Have a Dream" speech during history class