Using Hāpara Highlights with remote learners Follow
In this article:
Using Highlights during distance learning overview
When you can't be face-to-face with students, Highlights can be a powerful tool for making sure students are able to connect, getting everyone on the same page, and even reaching out to check in with learners in the moment.
We have seen some powerful stories of teachers using Highlights features like share links, guide browsing and send messages to support students who are learning at home.
However, we also realize that there can be some privacy concerns with monitoring students' browsing at home. This article will outline some steps we have taken to ensure all students' (and their families') privacy when teachers are using Highlights, as well as some optional settings that you can choose to enable.
Automatic student privacy features
Shared devices
Hāpara Highlights can only monitor student accounts that have been registered with Hāpara via data load, SIS Sync, Google Classroom sync, etc. If students are sharing devices with other family members, as long as each family member signs into Chrome/the Chromebook with their own account, and signs out when they are done, Highlights will not be able to monitor anyone other than the student logged in with their school account.
Meet and Hangouts privacy
We've recently released an update that blocks Highlights from displaying students' current screens when they are in a Meet or Hangout, including when they are waiting to join a Meet.
If a student is in a Meet (on the preview page or within the call) or in a Hangout, and their teacher is looking at Current Screens, Highlights will not be able to take a screenshot of the student's video feed. The student tile will look like this: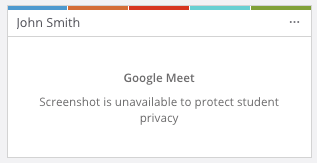 Highlights extension indicator
Students and their families can check if the browser they are in is able to be monitored (i.e. a student is logged in and it is within school hours) by checking the Highlights extension in the Chrome tool bar.
If the extension is colored, monitoring is possible. If it is gray, or missing, the browser cannot be monitored.
Monitoring enabled:

Monitoring disabled:
Optional student privacy features
You can customize the configuration of Highlights to further protect student privacy with the following features:
School day time restrictions
If students are learning synchronously, make sure that you have Highlights restricted to only monitor student accounts during school hours. This way, you do not have to worry about teachers viewing students' browsing when they are not participating in school.
Turn off screenshots
With Highlights, teachers can view screenshots of what students are looking at in the Current Screens tab and by taking Snaps in the Activity Viewer. Turning off screenshots will remove the Current Screens and Snap options for teachers, while still allowing them to send messages, guide browsing, share links, and view which tabs students have open.
To disable Current Screens and Snaps, in the Hāpara Admin console, navigate to Modules. You should be taken to the Highlights Settings page.
Scroll down to the Bandwidth Control section. Where it says Screenshots, untick the boxes next to Enable screenshots and Enable ongoing screenshots.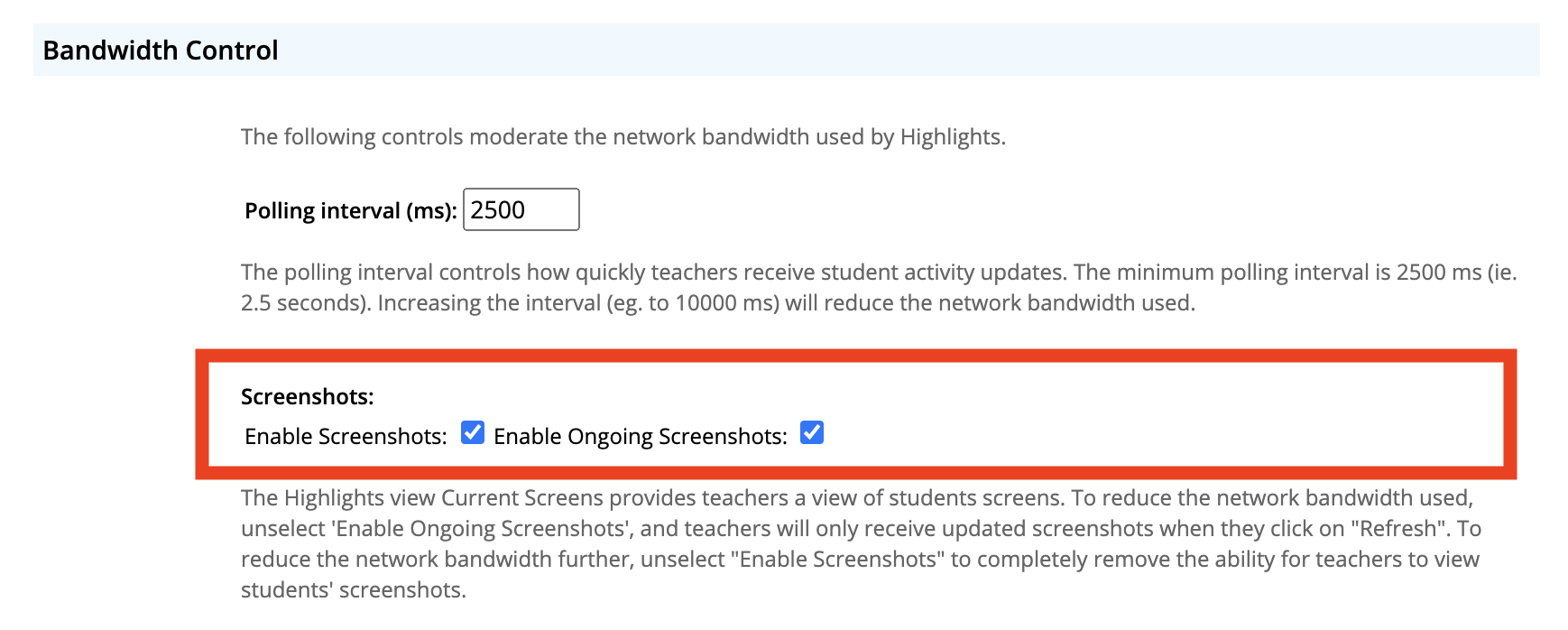 This will remove the Current Screens and Snaps tabs in Highlights. Teachers can continue to use all other Highlights features, including using Browser Tabs and Activity Viewer to see which wesites students are accessing.