Workspace best practices: Evidence of learning Follow
Using Hāpara Workspace in your classroom will give you the ability to create engaging digital learning content and assessments that reflect your objectives and goals. You can add assessments to a Workspace using different Evidence Cards. With these, you'll be able to track students' evidence of learning, including whether they have reached and mastered goals.
Why should you link evidence of learning to learning objectives?
When evidence of learning reflects the learning objectives, students are more focused, more motivated and more equipped to take responsibility for their own learning. Students will know exactly what is expected of them in order to be successful and will "know where they are going." As a result, they will end up exactly where they need to be through each step of the Workspace.
It is important to think about a Workspace lesson, project or unit in terms of the collected evidence of learning, not just as a series of learning activities. It is important to "think like an assessor" before designing Workspaces.
The first thing you should consider is the evidence you'll collect that will help you understand if your students have achieved the learning objective. Therefore, there are a variety of assessment types (formative and summative) you can gather as evidence of learning.
How can you create evidence in your Workspace that will check for students' understanding?
Have you ever assigned a big project, test or report at the end of a unit and found yourself disappointed by the results? A check for understanding or formative assessment does not look backward. Instead, it focuses on the present and is done as students are learning.
When teachers check for understanding, it's to ensure that students are successful with the summative assessment. Checking for students' understanding will reveal misunderstandings and misconceptions and let students know where they are on the learning journey.
How can you create Workspace evidence that tells you if students achieved the goal?
What assessments do you currently use? There may be digital tools that could make them more effective or efficient. How can you design and implement a variety of evidence that accommodates student needs? Ideally, students will have a choice on how they document their learning and demonstrate mastery.
The backward planning approach suggests that when planning a lesson, project or unit, you think first about the evidence. What will show that students have reached and mastered the objective or goals? Think about the evidence you would like your students to ultimately show as a demonstration of their learning.
Once you know what the final evidence will look like, you can then create checks for understanding to help students build toward the final assessment.
How can you give students voice and choice in your Workspace?
Design and implement a variety of checks for understanding that provide timely feedback to students and inform instruction.

Design authentic, student-driven activities that recognize and accommodate a variety of learning needs.

Allow students to use digital tools to create, adapt and personalize their learning experience.

Give students a choice in selecting how they can demonstrate mastery and evaluate their learning.
Best tools and apps to use on Workspace Evidence Cards
Tools and apps

Description and examples

Google Slides

With Google Slides, you can create a range of formative assessments on Evidence Cards.

Here are some ideas:

Design a "choose your own adventure" story

Create an e-book with words and images

Have students create a magazine or newsletter

Add primary sources and ask students to analyze them

Use the Google extension Screencastify to create an animated story

GoFormative

GoFormative allows teachers to create digital formative assessments, tasks or assignments. You can get real-time feedback to allow for instant instructional adjustments. Students can type, draw or submit images to demonstrate their understanding.

Newsela

Newsela allows you to share nonfiction articles with your students at various lexiles, or reading levels. There are also comprehension quizzes and writing prompts for different articles to help you check for understanding.

Edpuzzle

Edpuzzle allows you to create interactive video lessons that students can watch and engage with through different embedded question types. Teachers can see student progress and gather data throughout the lesson.

Seesaw

Teachers can engage and empower students to create, reflect, share and collaborate with Seesaw. Students "show what they know" using photos, videos, drawings, text, PDFs and links. It's simple to gather all of the student work in your classroom into one place and share with families (and nothing is shared without teacher approval).
How to add choice and personalization in Workspace
Add colors
Color code Workspace Cards across the Workspace Columns to make connections.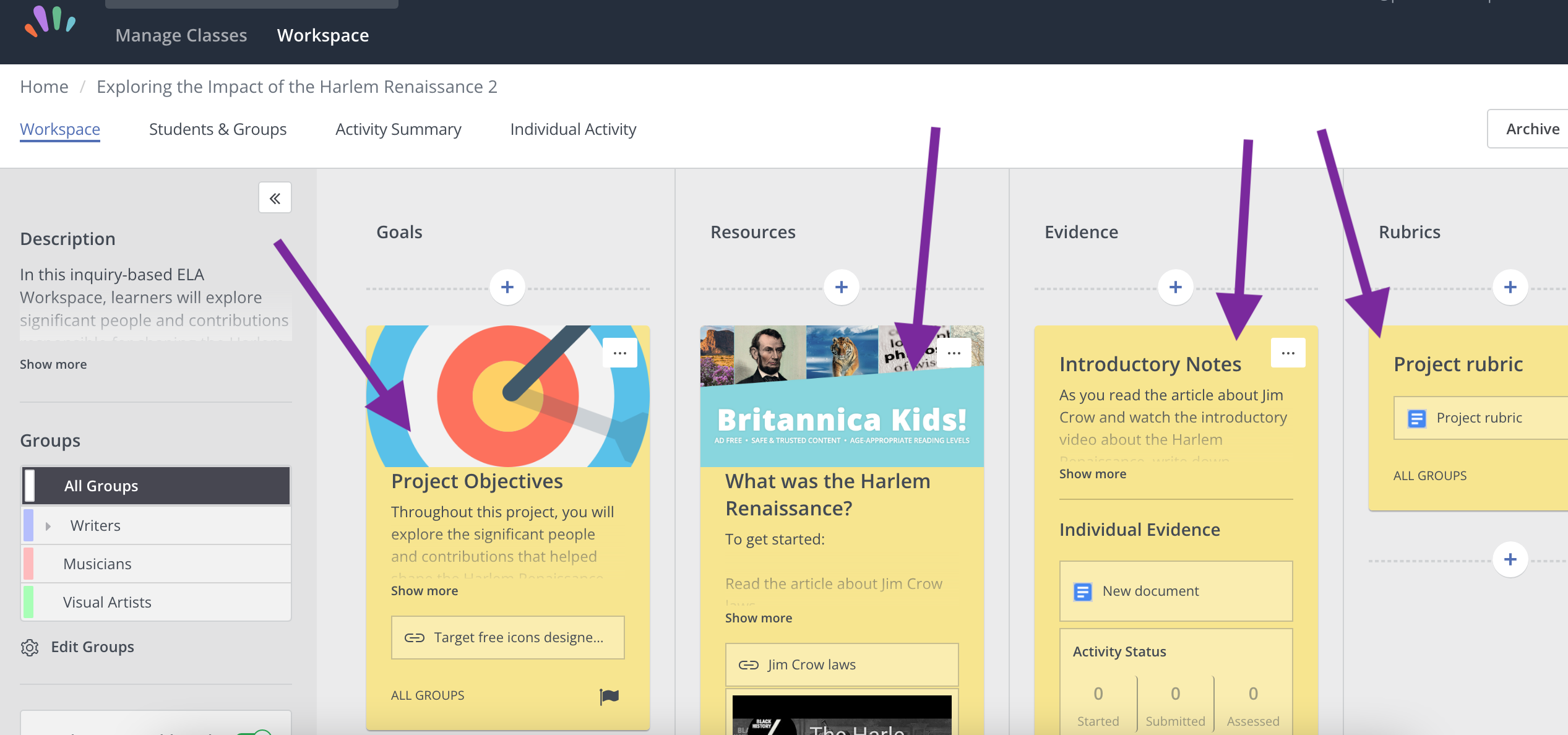 Add an evidence of learning section
Create a section in your Workspace that includes all of the choices you are giving students to demonstrate evidence of learning.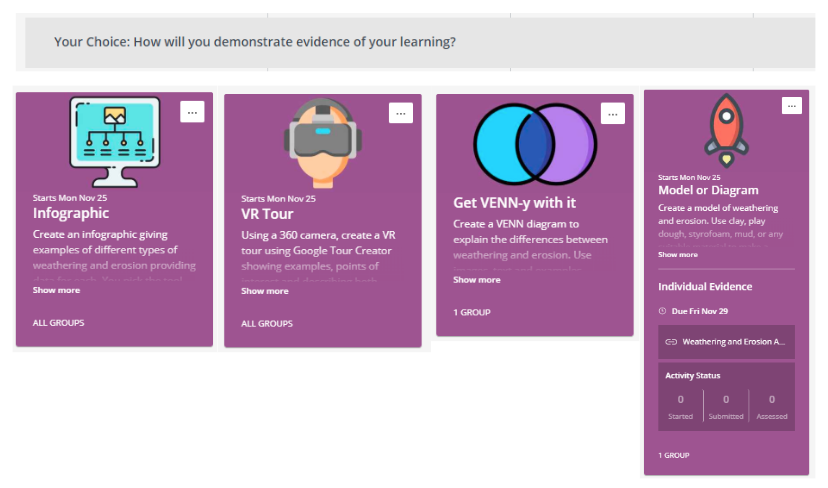 Create a different section for each of the choices
Create a different section for each of the choices you are giving to students to demonstrate evidence of learning. Include the goals, resources, evidence and rubrics needed to complete the task in that section.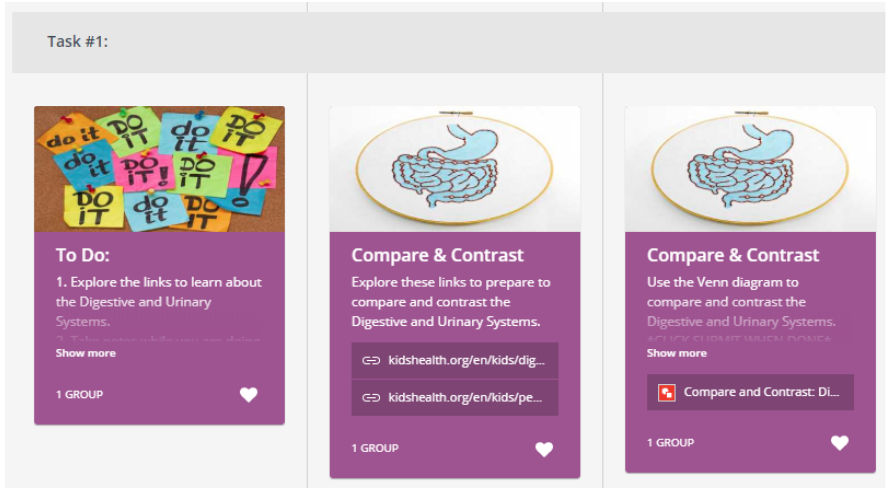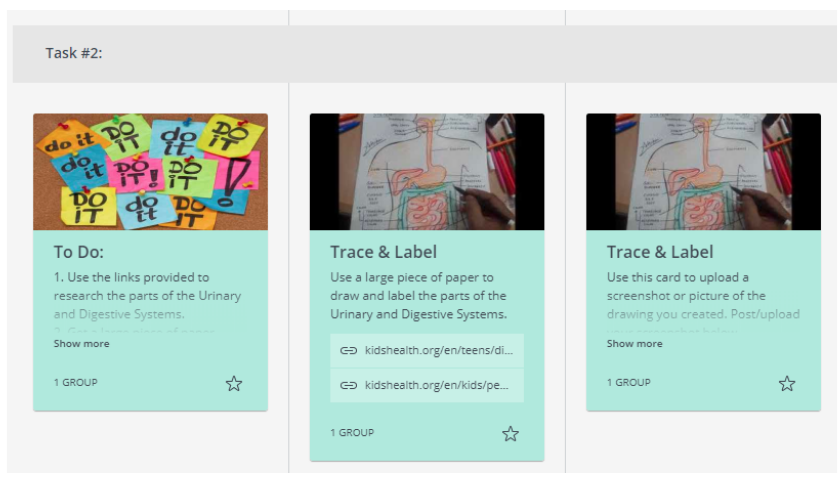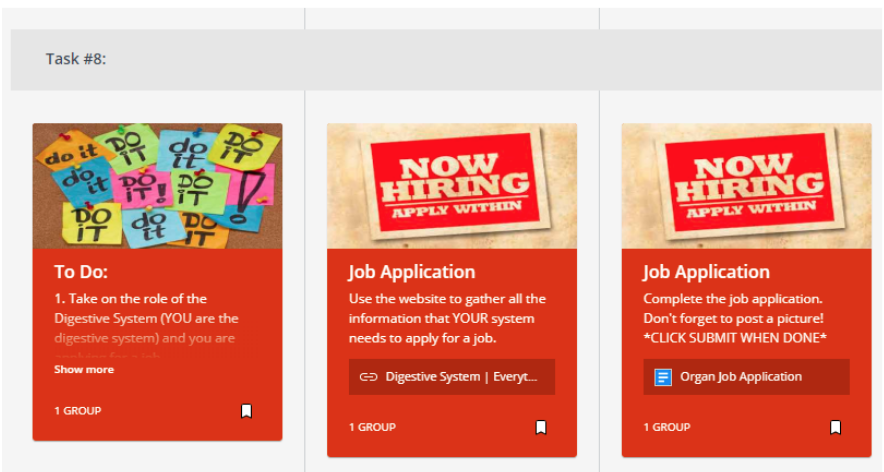 Include tags
Use tags to offer choice, personalize learning, keep students focused and differentiate evidence.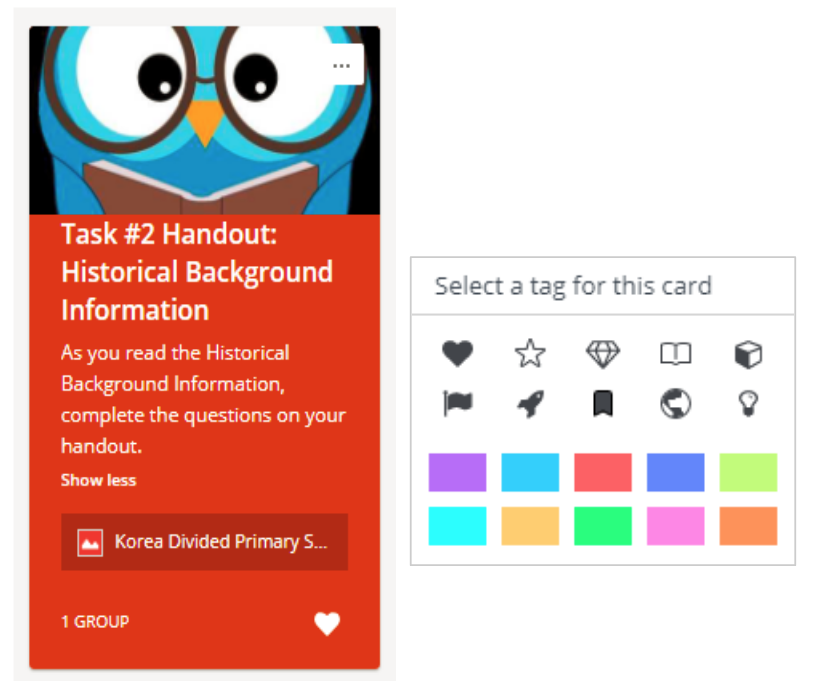 Use the same tag to indicate that Workspace Cards are connected.

Use a different tag to let students know the order that evidence needs to be completed. (First complete the heart, then the star, lastly the diamond.)

Designate a tag and/or color to a specific type of evidence:

Heart: choose only one

Diamond: extra credit

Star: required creation

Light bulb: you decide the evidence

Rocket: challenge

Flag: required evidence

Book: evidence that requires reading

Box: multiple choice evidence

Globe: partner or group evidence

Bookmark: quick check, exit ticket, bell ringer

Use different tags to represent different levels of evidence:

Webb's DOK level

Blooms level

Give students choice with a menu of options

They have to earn 20 points

Each tag is worth a different point value