How to use Evidence Cards in Workspace Follow
In this article:
Workspace Cards and Workspace Columns
Special features of Evidence Cards
Steps for creating an Evidence Card
Assessment ideas for Evidence Cards
What to consider when designing assessments in Workspace
Hāpara Workspace allows you to organize, present and manage all the online content you want students to engage with for a lesson, project or unit — including assessments. There are many creative, standards-based digital assessment ideas that help students show evidence of learning. Hāpara Workspace's Evidence Cards allow you to design and manage these powerful methods for assessing learning.
Workspace Cards and Workspace Columns
The online content students engage with in Workspace is organized on Workspace Cards. Cards present students with information, links to resources and files that help them progress through a lesson, project or unit.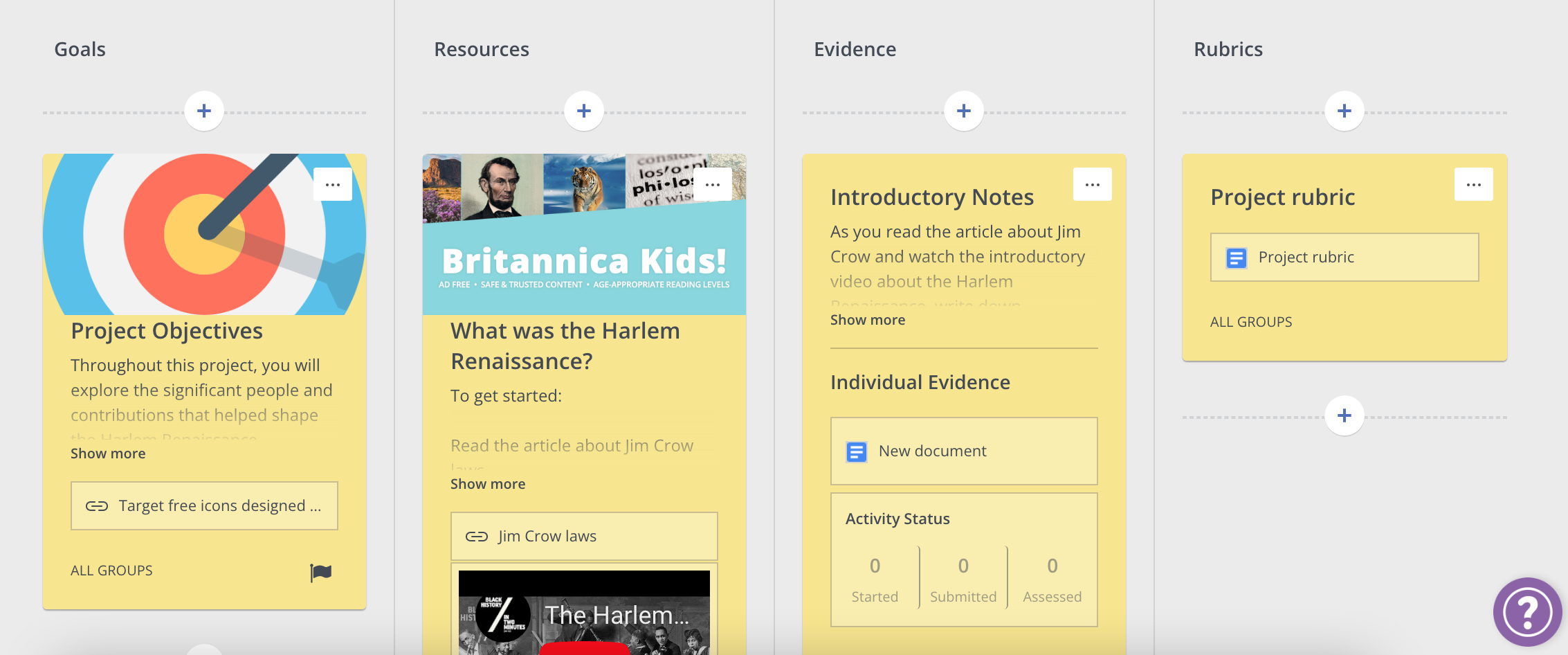 Cards are organized into four columns to help you build a well-rounded digital learning experience for students.
The four default Workspace Columns are:
Goals

Resources

Evidence

Rubrics
The third column is where you add Evidence Cards with links or uploaded files that allow students to complete formative or summative assessments.
For example, Evidence Cards could include asking students to:
Take notes as they read an article

Complete a Google Docs graphic organizer

Develop a group Google Slides presentation

Respond on an exit ticket

Create and upload a video
Special features of Evidence Cards
All Workspace Cards have some of the same features, such as the ability to:
Add digital content (links, Google Drive files and files from your computer)

Assign to a group

Add a tag

Add a color to the Workspace Card or the tag
In addition to these, there are some extra features that Evidence Cards include to help you manage assessments.
Start dates and due dates
Start dates specify when an Evidence Card becomes visible to students. This allows you to trickle out assessments exactly when you want students to access them.
Due dates specify when the student should complete the assessment. Students will see the due date on the Evidence Card as they progress through the Workspace.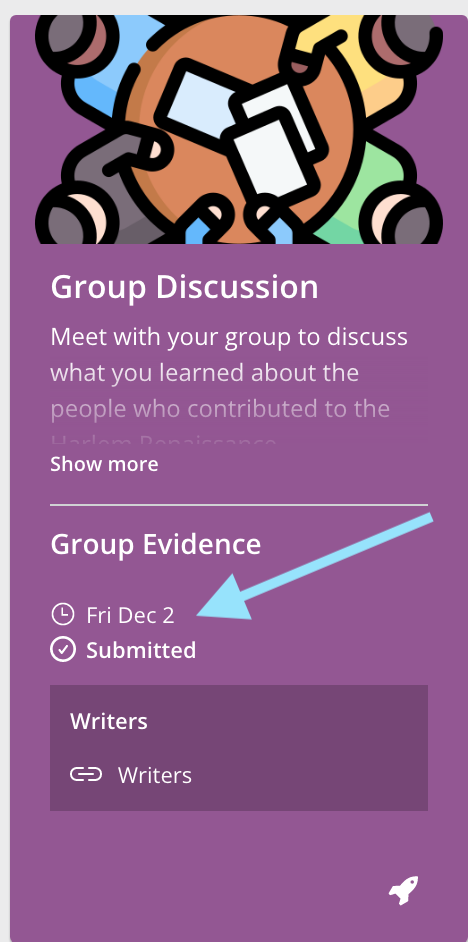 Activity tabs
At the top of the individual Workspace, there are several tabs. Evidence Cards feed into the Activity Summary and Individual Activity tabs.

Activity Summary tab
The Activity Summary tab is a bird's eye view of all the work students are doing through Evidence Cards.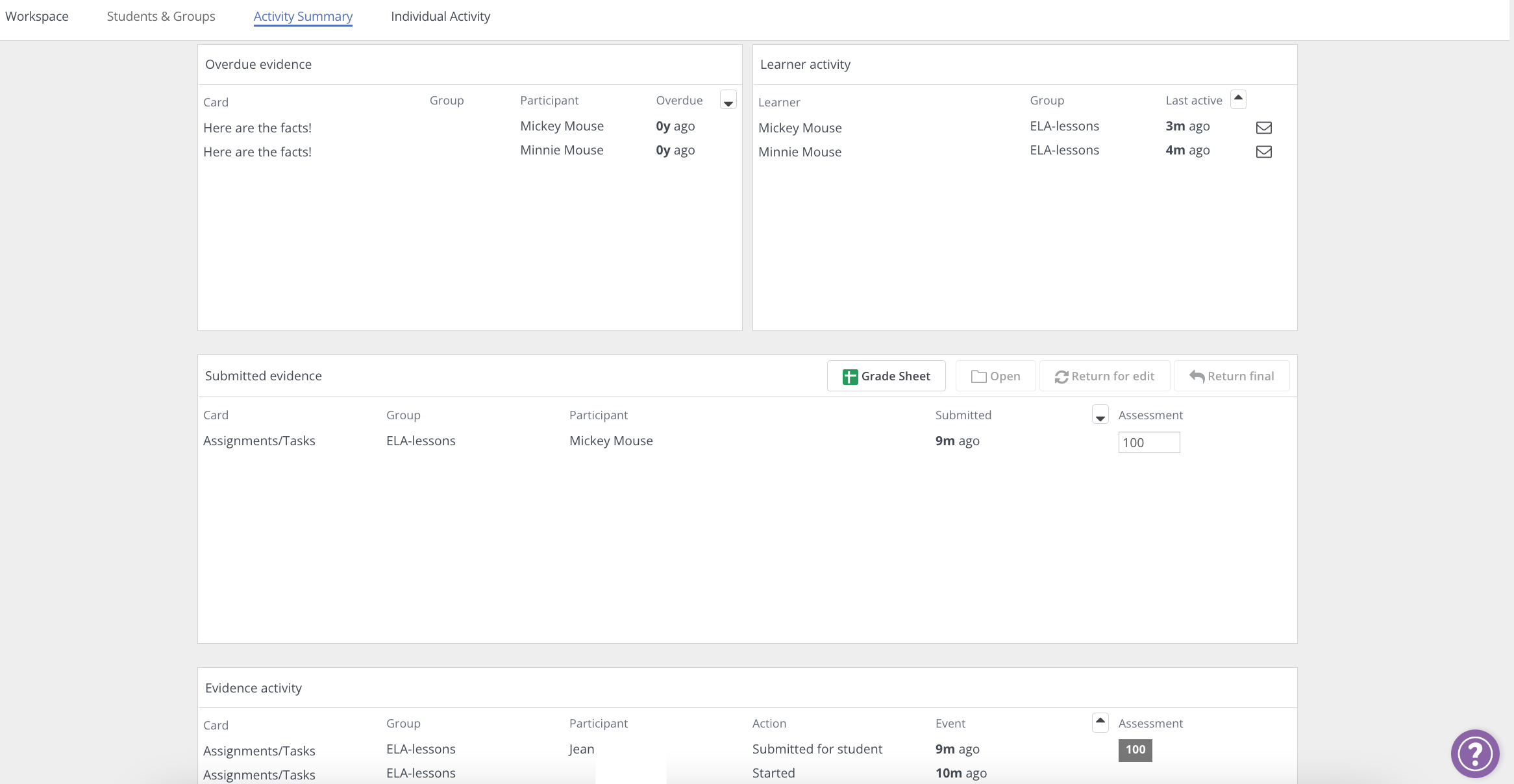 There are four sections that give you insight into how your students are progressing:
Overdue evidence

Student activity

Submitted evidence

Evidence activity
Individual activity tab
The Individual activity tab shows you each individual student's progress with Evidence Cards.

Sharing options
On an Evidence Card, you can also set the Google file-sharing option you want for the assessment.
Copy per student

: Each student will have a copy to complete the assessment on their own.

Copy per group

: A group of students will share a file and complete the assessment together.

Media on Evidence Cards
Unlike other Workspace Cards, you can only add one item — such as a computer file, Google Drive file or link — to Evidence Cards in the media section. This allows Workspace to feed assessment information through to the Activity tabs and Student Dashboard.

Steps for creating an Evidence Card
1. Click on the plus sign to add a card in the Evidence Column. A new Evidence Card in edit mode will appear.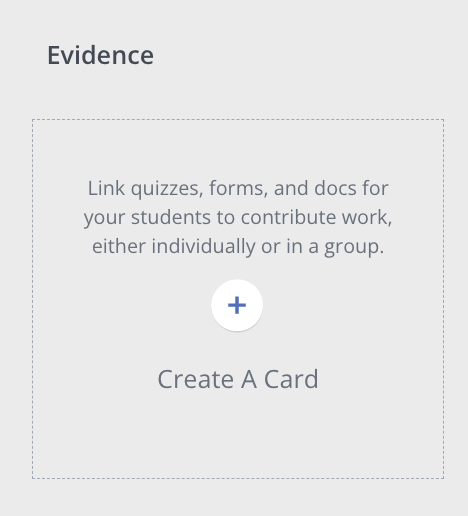 2. Type a title.
3. Type a short description.
4. Upload a file from your device, upload a file from your Google Drive, add a link or create a new Google file (Doc, Sheet, Slide or Drawing).
5. If you uploaded or created a Google file, select Copy per student or Copy per group to set the file sharing.
6. From the Schedule Start Date menu, select a date.
7. From the Due Date menu, select a date.
8. Click the All groups drop-down menu to select a specific group or groups. This makes the Workspace Card visible to students in the group or groups.
9. Select a tag and a color for the tag.
10. Click Done to finish editing.
Assessment ideas for Evidence Cards
| | | |
| --- | --- | --- |
| Type of assessment | Digital tool you can use | Examples |
| Written work | Google Docs, Google Sheets | OpEds, travel logs that describe a historical period or geographical place, reflections on learning, essays and letters to characters or important figures |
| Short-answer assessments | Google Forms and SurveyMonkey | Quizzes, entry/exit tickets and checks for understanding |
| Slide decks | Google Slides and Prezi | Pitch decks to persuade stakeholders about an idea, presentations to peers or younger students |
| Visual evidence of learning | Google Drawings and Padlet | PSA posters, poster advertising a film adaptation of a novel, science drawings |
| Videos or animation | YouTube, iMovie and Animoto | Newscast, song performance, short film |
What to consider when designing assessments in Workspace
Base your assessment on goals and learning criteria that you've shared with students.

You can use Goal and Rubric Cards to share learning objectives and criteria for success with students. That way they'll know exactly where their learning is meant to go and how to get there.

Give students choices in how they can show what they know.

The kinds of digital media you can add to an Evidence Card are particularly good for giving students choices in how they demonstrate their learning. Giving them choices is a way to invest them in their learning and provide authentic ways for them to show what they know.




Students can create written work, websites, podcasts, videos and visuals using digital tools to produce high-quality learning evidence.

Make formative assessments part of the regular classroom routine.

You can normalize formative assessments to foster a growth mindset mentality by providing students with frequent, low-stakes opportunities to demonstrate learning. Do this by giving students several shorter activities on Evidence Cards to show what they know, instead of just one summative assessment.

Give students timely feedback on their work and allow them to revise it.

Providing real-time feedback to students has never been easier. You can keep track of student progress in the Activity tabs in the Workspace. You can also quickly open student Google Drive files in Teacher Dashboard. That means faster, more frequent assessment-feedback loops and more learning.

Avoid assigning grades or numbers to formative assessments.

While final projects and summative assessments are graded, with formative assessments, it's helpful to lower the stakes. That way students can focus on your feedback on how to improve instead of the grade.