Building executive functioning skills with Student Dashboard Follow
In this article:
What are executive functioning skills?
How can you use Student Dashboard's features to support executive functioning?
Task chunking with Student Dashboard
Student Dashboard teaches students the executive functioning skills they need to take ownership of their digital learning. When students practice these skills, it empowers them to stay organized and manage assignments on their own. As a teacher, this tool makes it much easier for you to help students gain these necessary skills and set them up for success.
What are executive functioning skills?
According to the Center on the Developing Child at Harvard University, skills related to executive functioning involve "the mental processes that enable us to plan, focus attention, remember instructions, and juggle multiple tasks successfully ... the brain needs this skill set to filter distractions, prioritize tasks, set and achieve goals, and control impulses."
Our students aren't born with executive functioning skills, but they start to learn them early on as they navigate their world. As they mature and evolve, their executive functioning skills do, too. It's important for teachers and parents to support students as they develop these skills.
How can you use Student Dashboard's features to support executive functioning?
Student Dashboard is designed to help students become more organized and submit assignments on time. It teaches them how to:
Plan and prioritize assignments by due date or by class

View urgent assignments and notifications

Manage their time

Practice task initiation

Build perseverance
There are four parts of Student Dashboard that help students develop executive functioning skills:
Workspaces
To do
My files
Notifications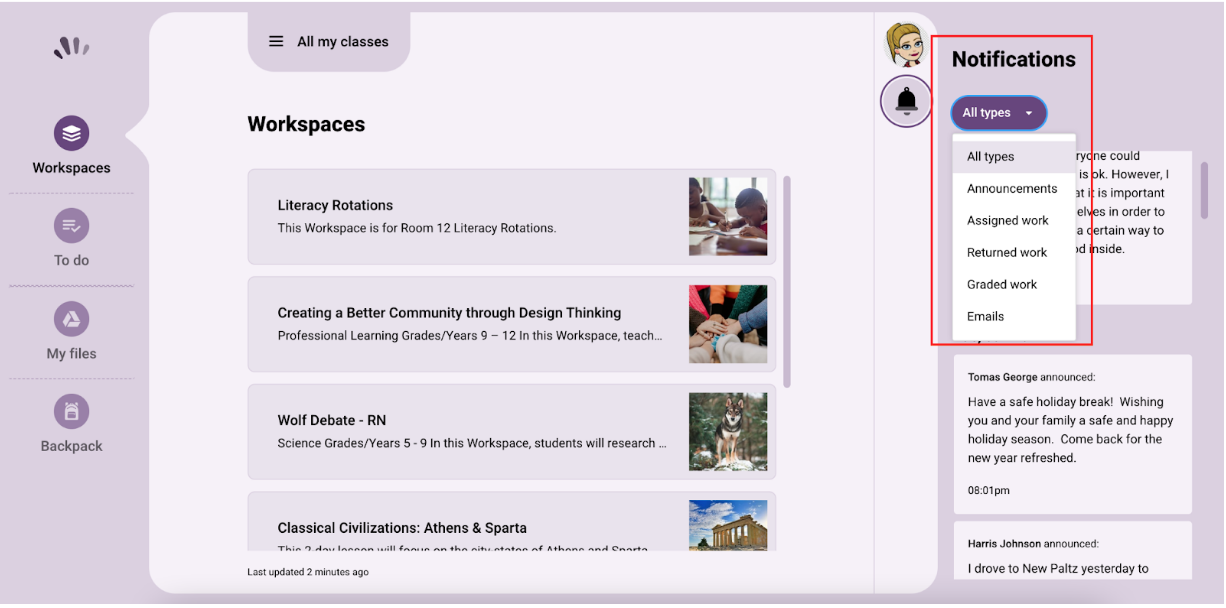 Student Dashboard feature

How it works for students

Executive functioning skill

Why it's helpful

Workspaces

Able to filter by class

Clickable access to Workspaces in Hāpara Workspace

Organization

Task initiation

Students can view and access all of their Workspaces in one central hub. As a result, they don't have to keep track of all of the Workspace links their teachers across classes have shared with them.

To do

List of students' recent assignments from Workspace and Google Classroom

Assignments are organized and can be filtered by due date

Clickable links provide easy access

Organization

Prioritization

Time management

Students can quickly and easily see which assignments need their immediate attention because overdue and upcoming assignments are listed first. They can also hone in on these assignments by filtering the page and then access them easily through just one click.

My files

Clickable list of Google Drive files

Able to filter by

class

,

Shared with me

and/or

Recent files

Files are also organized by

Not yet opened

and

Opened





Organization

Prioritization

Time management

Students can manage their Google Drive files from one place. They can access the files with one click and organize them by class or category so that the important ones get priority. Nothing slips through the cracks!

Notifications

List of the latest Google Classroom announcements, assigned work (from Workspace or Google Classroom), alerts about work that's been returned or graded and emails you've sent to their Gmail account

Organized by most recent first

Able to filter by type of communication (

Announcement

,

Assigned work

,

Returned work

,

Graded work

,

Emails

)

Clickable links provide easy access

Organization

Prioritization

Time management

Important communications are all accessible from one organized place. Students can view and respond to alerts and notifications with a single click. Seeing, organizing and accessing all of these communications in one place helps students keep track of important notifications and understand what they need to respond to quickly.
Task chunking with Student Dashboard
What is task chunking?
Task chunking is when you take a large or overwhelming assignment — for example, a research paper — and break it down into more manageable tasks that students can complete in chunks.

For a research paper, you might first ask students to:
Form a research question

Take notes using primary sources and other resources

Develop a thesis statement

Create an outline

Write a rough draft

Complete a final draft
Students can turn in smaller chunks of the research paper in stages, and along the way, you can give them feedback. At the end, students can turn in their final draft after improving with your feedback through the process.
How is task chunking helpful?
When supporting students in developing executive functioning skills, you can use task chunking to empower students to tackle a larger, overwhelming assignment in manageable pieces. Self-determination, task initiation, focus and time-management are just some of the executive functioning skills that you will see students develop through task chunking.
How does Student Dashboard support task chunking?
By posting several, shorter assignments with low-stakes due dates in Workspace or Google Classroom, you can present students with the overall task piece by piece. Instead of seeing one major assignment that feels too big to take on, students will feel capable of persevering.
Students can filter their Student Dashboard view by selecting your class and assignments with upcoming due dates. If they happen to miss one of the assignments, such as their thesis statement, they can also quickly filter their view to see assignments that are overdue. Overall, students can take control of their own learning with Student Dashboard, even when you've shared several assignments with them.