Troubleshooting Share Files (Smart-Share) Follow
What should I do if my Share Files aren't being received doesn't work?
If a Smart Share does not work or only works for some students/files, there will be errors shown in the status report (as shown below). If this happens, select "Report Errors", add any additional details you can, and then click the "Send" button. This will alert the Hapara team so they can investigate further. They will contact you via email to follow up.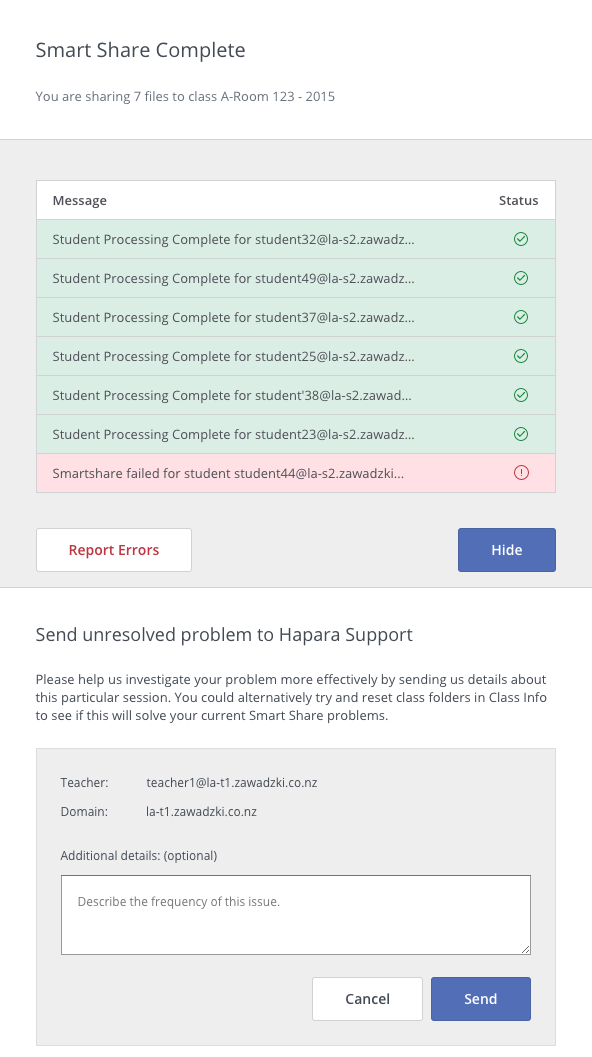 Why doesn't my document appear in Hapara Dashboard after I copied it to my students?
Your document may not appear in the Hapara Dashboard due to one of these reasons:
A slight delay in Google's recognition: Google's recognition is not always instantaneous and you may experience a slight delay, even after your document has been copied successfully. Please wait a few moments and try refreshing Dashboard.
Documents shared as "Read Only" or "Read Comment": Hapara Dashboard only shows documents that students can edit. As a result, if you shared a document as "Read Only" or "Read Comment", then it will not be shown. Documents shared as "Read Only" or "Read Comment" can still be seen by clicking the folder icon in a student panel to open a student's subject folder in Google Drive.
Moved or renamed student subject folders: Your students may have moved or renamed their subject folders. These folders must sit in the root Google Drive folder and must not be renamed, as this can break the folder's relationship with your class.
Why are the Shared File buttons incorrectly aligned or unresponsive?
Browser extensions can cause unexpected looks and behavior in Smart Share, especially when toolbars and pop-up blockers have been installed. Please follow the steps in this article to find out whether an extension is causing problems.
Please note that Internet Explorer's compatibility mode causes a conflict with Smart Share. If you use Internet Explorer, please ensure that compatibility mode is turned OFF, and open a new window in InPrivate mode from Tools > Compatibility View > Tools > InPrivate browsing. 
Why can't I select a file? / My File Picker pop-up is blocked
In Chrome, pop-ups are automatically blocked until allowed and appear as an

icon in the right side of your address bar. If you experience this problem, you can fix it by clicking this icon and choosing to allow pop-ups from teacherdashboard.com.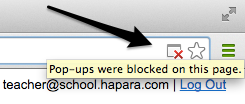 For more about managing pop-ups in the Chrome browser please see this Google Support article. 
Why am I receiving the '401 not authorized' error?
If you experience this error while attempting to select a file in Smart Share, please try the following to resolve the problem:
Remove all accounts from the Google account management login page. Multiple accounts listed on this page can cause confusion on Google's end regarding which listed user is trying to access Google services in your browser session.

Delete your browsing history (cookies and cache).
Allow pop-ups from teacherdashboard.com (please see the above section for details).
Ensure that you are using the latest version of your browser.
Try logging out of and back into your Google user account.
If you are not using Google Chrome browser, try using Chrome to see if the problem persists in another browser.

If you still receive the 401 not authorized error after trying the above, please contact us by submitting a request with our team.