On any given school day, learners have to navigate between multiple digital tools and this causes confusion, lost instructional time and apathy. At Hapara, we're on a mission to empower learners to take control of their learning, increase student agency and promote digital citizenship. The first step of that mission is to consolidate the digital tools they have to access into one, convenient, mobile-friendly platform: Student Dashboard. 
Hapara Student Dashboard is a powerful tool that gives learners one-click access to work, notifications and resources from Google Classroom, Google Drive and Hapara tools all from a single convenient page.
Learners can access: 
Announcements from teachers
Assignments
Due dates
Grades
Hapara Workspaces
Resources in Drive
Hapara Student Dashboard helps learners build the organization and management skills they need to be successful in a connected world and define their digital learning pathways. With Student Dashboard, teachers will have more time to focus on teaching and can spend less time monitoring student productivity.
Students can access their Student Dashboard by going to the following page:
https://beta.mystudentdashboard.com/
If you want early access to Student Dashboard please contact your Hapara Customer Manager. 
Student Dashboard functionalities
From Student Dashboard, learners will be able to view the following in the All Classes tab or any of the subject tabs: 
Google Classroom

Announcements from teachers 
Due dates
Grades
Live feed of upcoming work and assignments
Overdue assignments
Returned work

Google Drive

Recent files 
Shared files 

Gmail
Hapara 

Hapara Workspaces  
Due dates for assigned work 
All Classes tab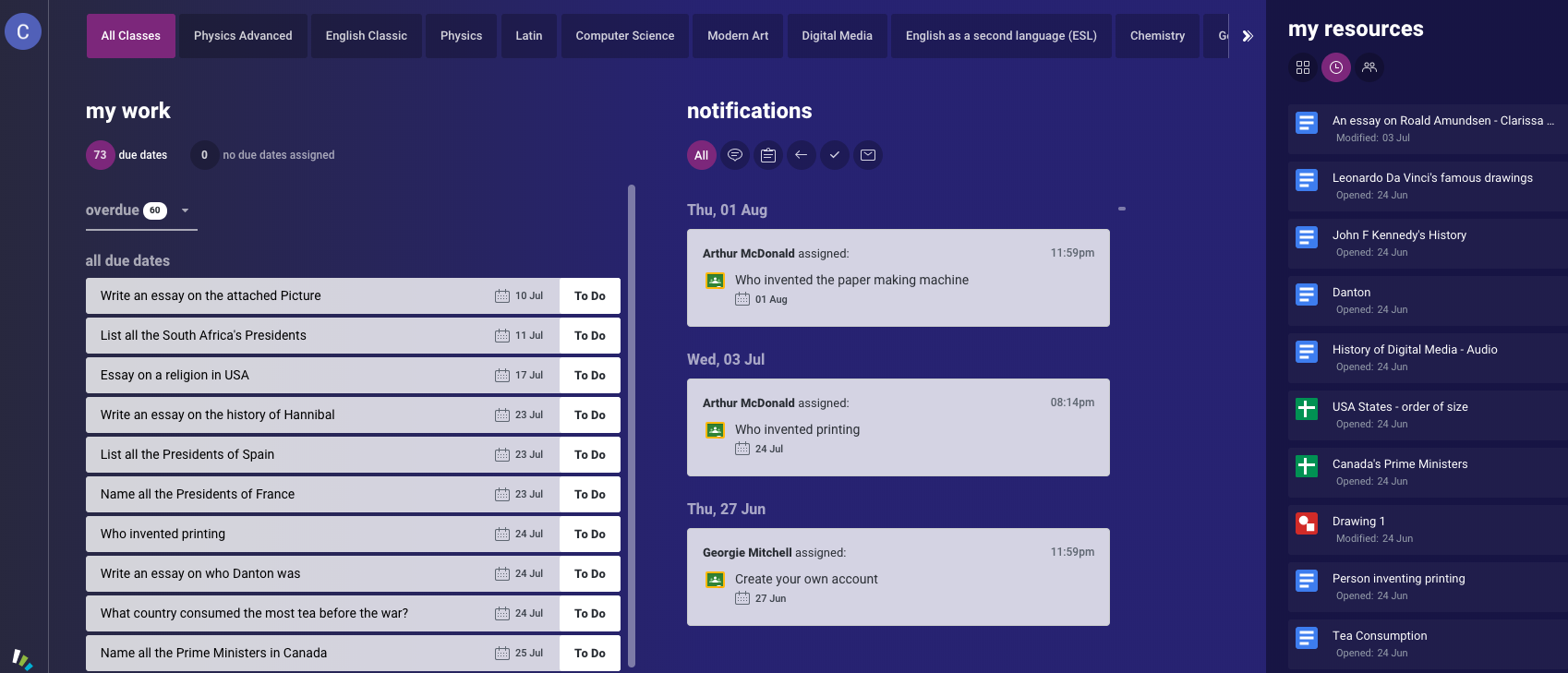 My work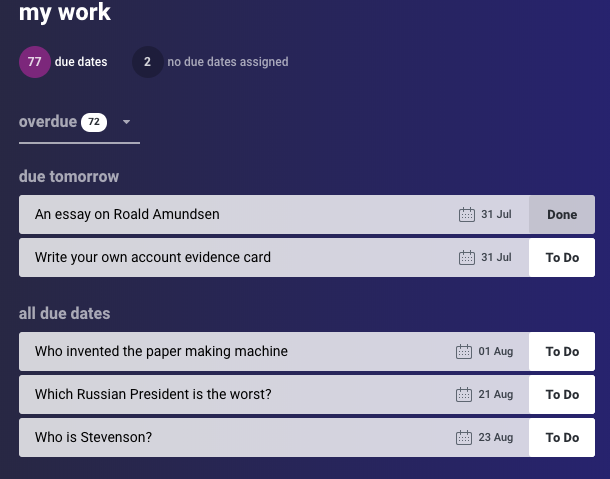 Overdue assignments will be clearly visible to learners as they access their Student Dashboard.

All upcoming assignments with due dates are also clearly visible within Student Dashboard. 

Assignments that do not have a due date are visible as well. 

Notifications
Notifications appear in reverse chronological order with the latest updates shown on top.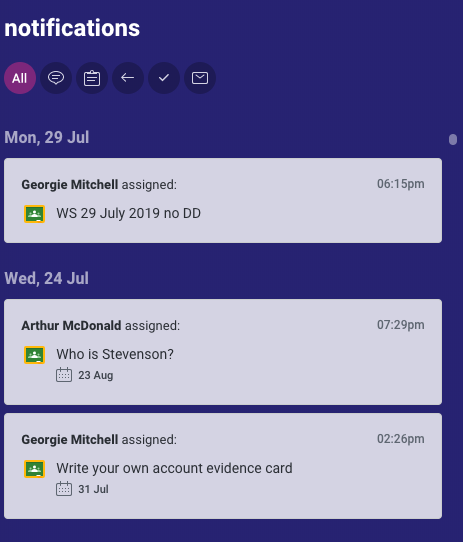 Notifications can be filtered by type and/or for a specific class: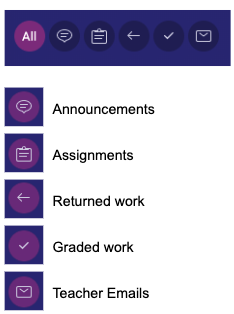 My resources 
Resources are broken down by the following categories: 
| | |
| --- | --- |
| Workspaces |  Workspaces by class in chronological order |
| Recent Files |  Recently opened documents |
| Shared with Me |  Recent shared Google documents |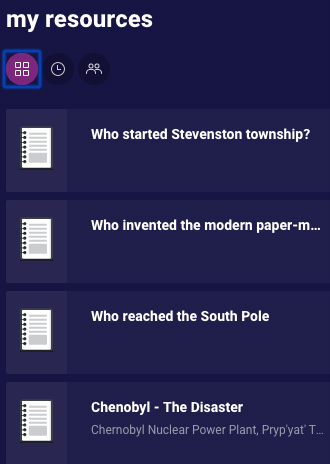 .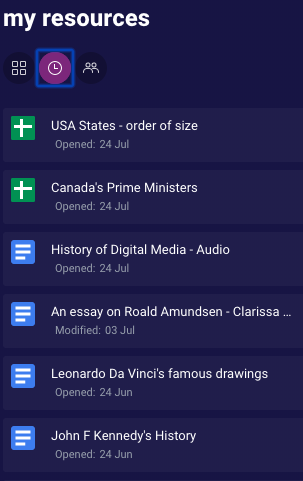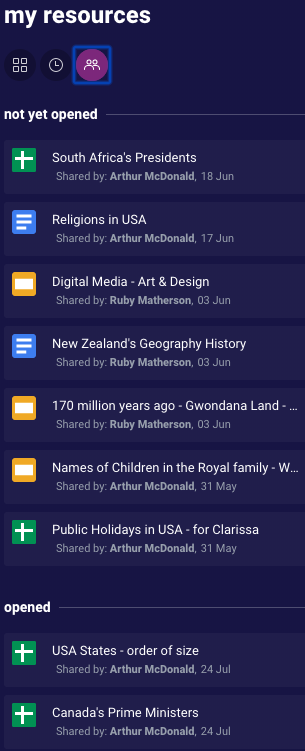 \
Mobile-friendly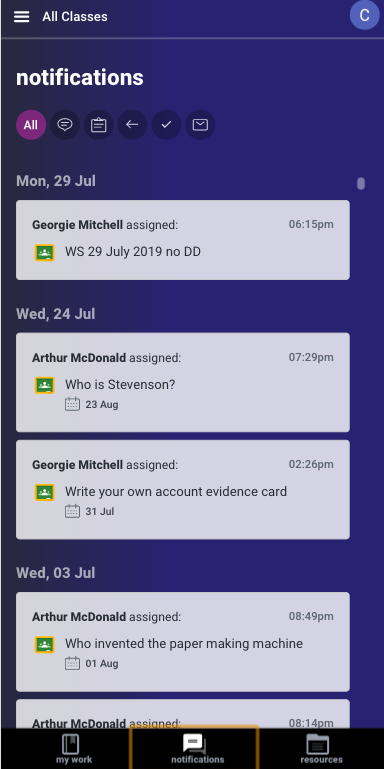 .