FAQ for parents/guardians: Hāpara overview Follow
In this article:
Why is my child's school using Hāpara?
What will my child see on their device?
What tools do teachers use in Hāpara?
What is Hāpara?
We are so excited to be a part of your child's classroom. Hāpara is a suite of teaching and learning tools that work alongside Google Workspace for Education.
Hāpara helps students:
Access all of their learning resources in one spot

Build executive functioning skills

Engage in personalized learning experiences

Collaborate with classmates

Make progress with consistent feedback

Practice digital citizenship skills
Hāpara also allows teachers to support students as individuals rather than a one-size-fits-all group.
Why is my child's school using Hāpara?
By implementing the Hāpara Instructional Suite, your child's school has created a great opportunity for every student.
It gives teachers a simple way to:
Deliver digital lessons that give students choices

Create personalized experiences to meet individual academic needs

Engage and collaborate positively with students

Provide ongoing feedback to encourage continuous learning

Keep students safe as they learn online
In addition to the instructional benefits, Hāpara assists with requirements of the Children's Internet Protection Act (CIPA). CIPA requires that K-12 schools and libraries use internet filters and implement other measures to protect children from harmful online content as a condition to receive certain federal funding, especially E-rate funds.
Hāpara provides tools that give teachers visibility into students' browsing activity during online learning. This helps teachers protect students as they navigate the internet and guide students to make responsible online choices. Your child's school may also use Hāpara Filter to block harmful or inappropriate online content during learning.
What will my child see on their device?
The student tool in the Hāpara Instructional Suite is called Student Dashboard. Your child can access it from mystudentdashboard.com.
Student Dashboard organizes students' work, assignments, tasks, due dates and messages from teachers in one simple location. It is designed to help students grow and develop their executive functioning skills such as planning ahead, organizing and initiating tasks.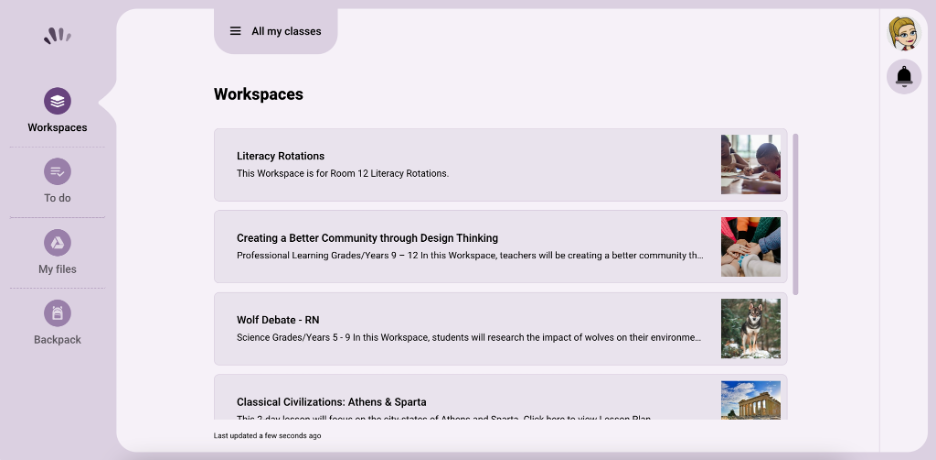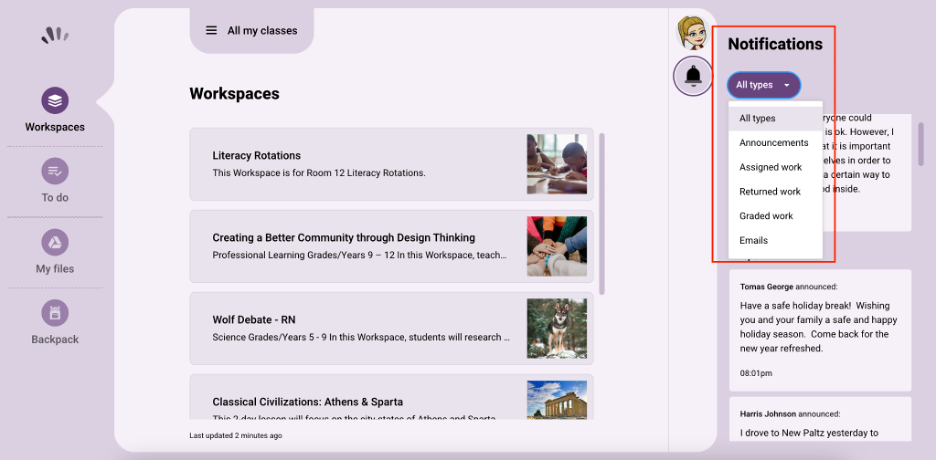 In Student Dashboard, your child will see the following features:
Classes menu — they can choose to view one class or all classes
Notifications — class notifications and emails from their teacher(s)
Hāpara Workspaces to complete — lessons, units or projects that are personalized for students (if your child's school has Workspace).
"To do" list of assignments — they can view a list of all class assignments, overdue assignments, assignments with upcoming due dates or assignments with no due dates
My files — Google Drive files
Backpack — digital textbooks and other learning resources (if your child's school has Digital Backpack)
You can learn more about Student Dashboard in our Student Dashboard overview.
You can also learn more about Workspace in What does the student see in Workspace?
What tools do teachers use in Hāpara?
There are three tools for teachers that are part of the Hāpara Instructional Suite:
Hāpara Teacher Dashboard

Hāpara Highlights

Hāpara Workspace
Hāpara Teacher Dashboard
Teacher Dashboard is designed to help teachers easily give consistent feedback to students and efficiently share assignments with them. With Teacher Dashboard, teachers can access student work in one spot, which allows them to provide feedback and encouragement more often. As a result, this continuous feedback positively impacts student achievement.
Hāpara Highlights
Highlights gives teachers visibility into what students are doing online, the ability to create curated learning sessions and a streamlined way to share useful links and resources. The goal of Highlights is to help students build their digital citizenship skills with meaningful feedback. With that feedback, students will be able to make positive decisions and stay safe while learning online.
Hāpara Workspace
Workspace gives teachers the ability to create engaging lessons, projects and units of inquiry. With Workspace, teachers can deliver learning experiences tailored to individual student needs.