Students: Welcome to Hāpara Student Dashboard! Follow
Student Dashboard brings all of your Workspaces, assignments, resources, announcements, grades and more into one Dashboard. You can use Student Dashboard on any device, including a phone or tablet. This allows you to stay up to date with any notifications from your teachers and access your assignments whenever you would like. Let's check out how it works!
To log in go to mystudentdashboard.com and log in using your school Google username and password.
At the top of your Student Dashboard, you can filter your view by class/subject, or view all classes at the same time.

1. Workspaces
If your school uses Workspace, the Workspaces tab shows all of the Workspaces that have been assigned to you. This allows you to easily open any Workspaces you need, directly from Student Dashboard. Click on the title and that Workspace will open. If you do not see the Workspace tab, it just means that your school is not subscribed to Workspace.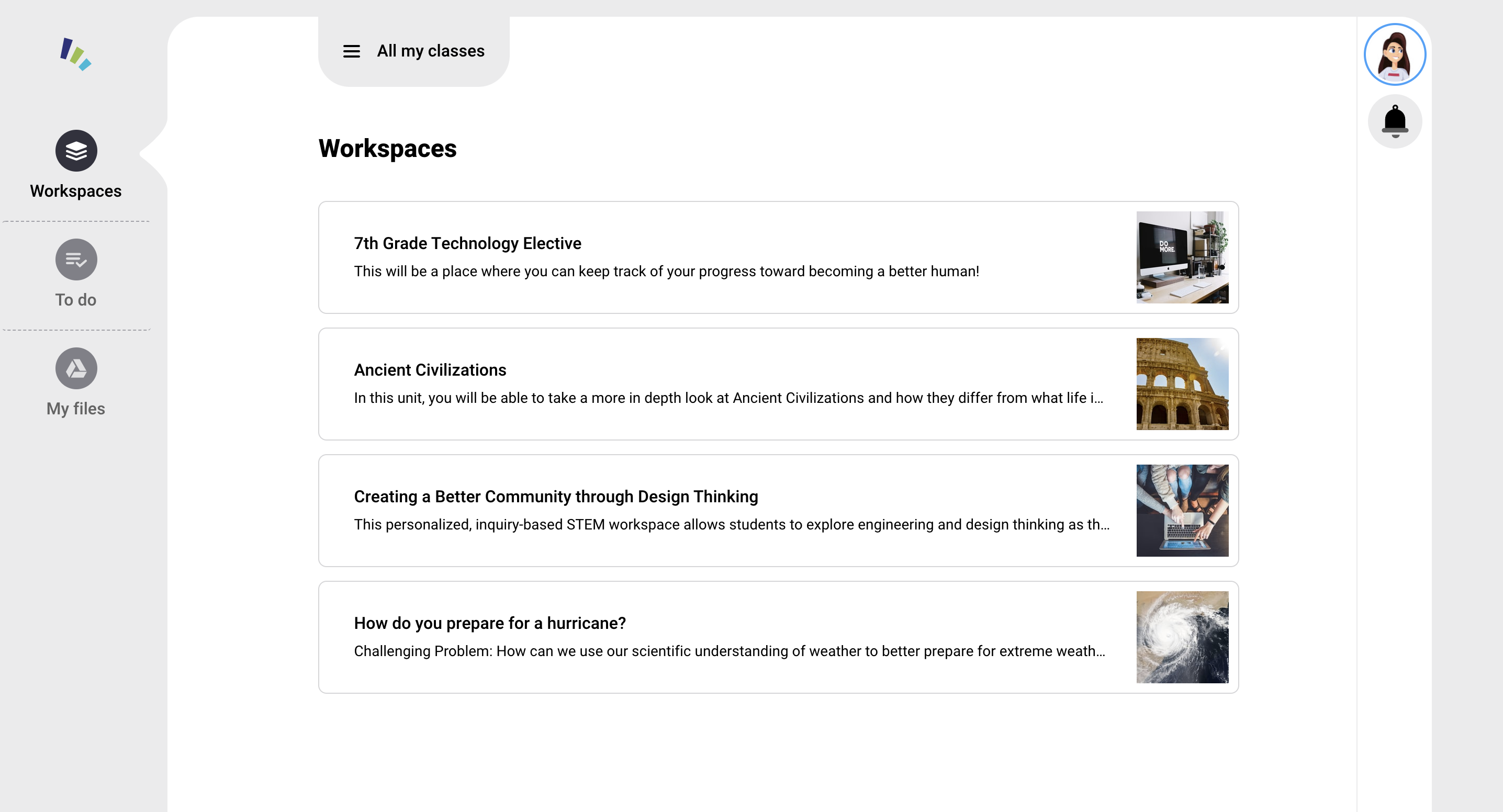 2. To do
The To do tab shows you a list of all of your assignments. Click on the title, and you'll be taken to the assignment in a new window. You can also filter your view by overdue assignments, due date, assignments without a due date or view all at once. Use the To do tab to organize and stay up to date on all of the tasks you need to complete.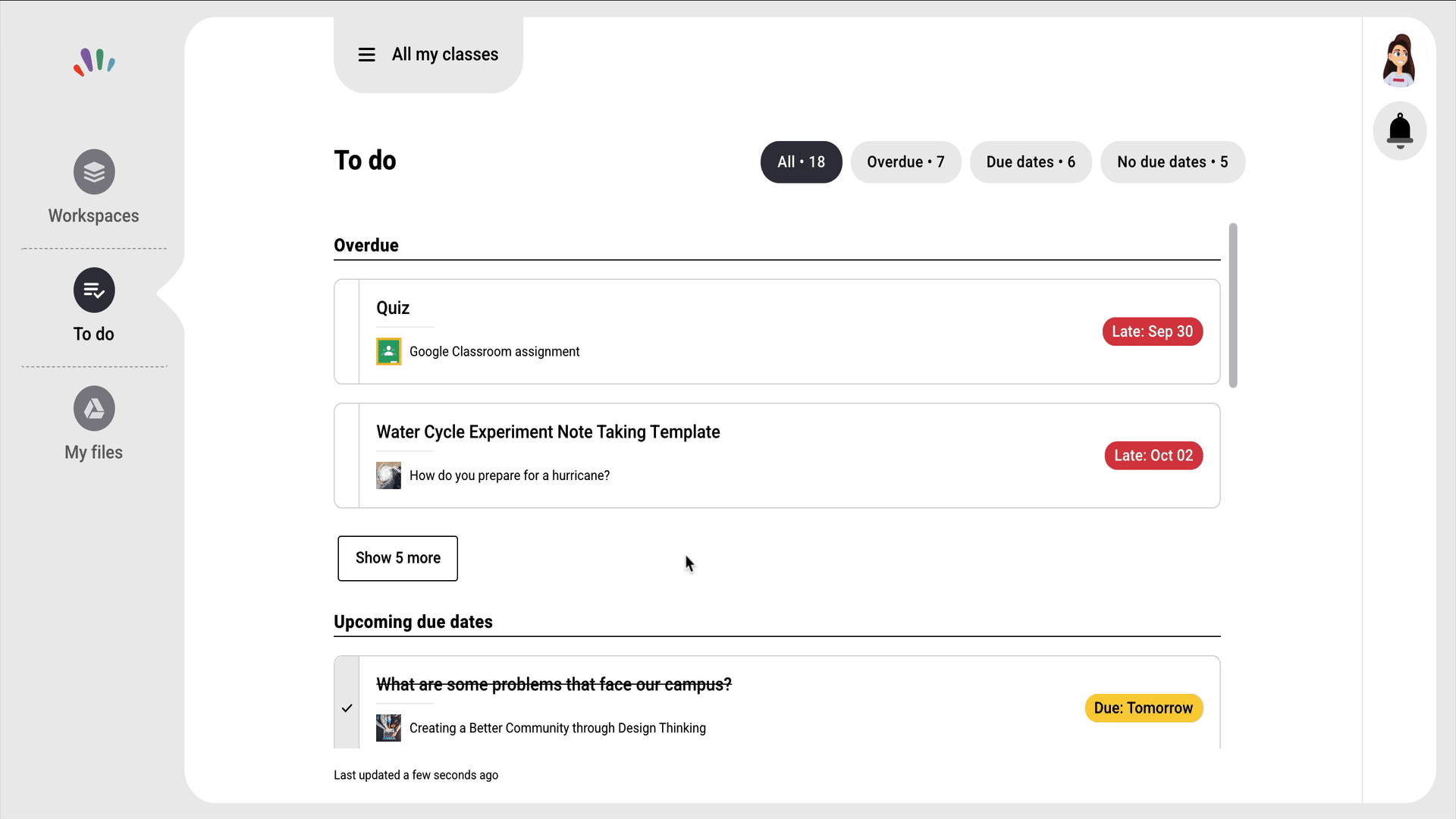 3. My files
The My files tab shows a list of all of the Shared with me and Recent Google Drive files in your school Drive account. Use the buttons at the top to view each category. Click on the title, and you'll be taken directly to that resource. Using My files allows you to easily access documents you need without having to access your Google folder.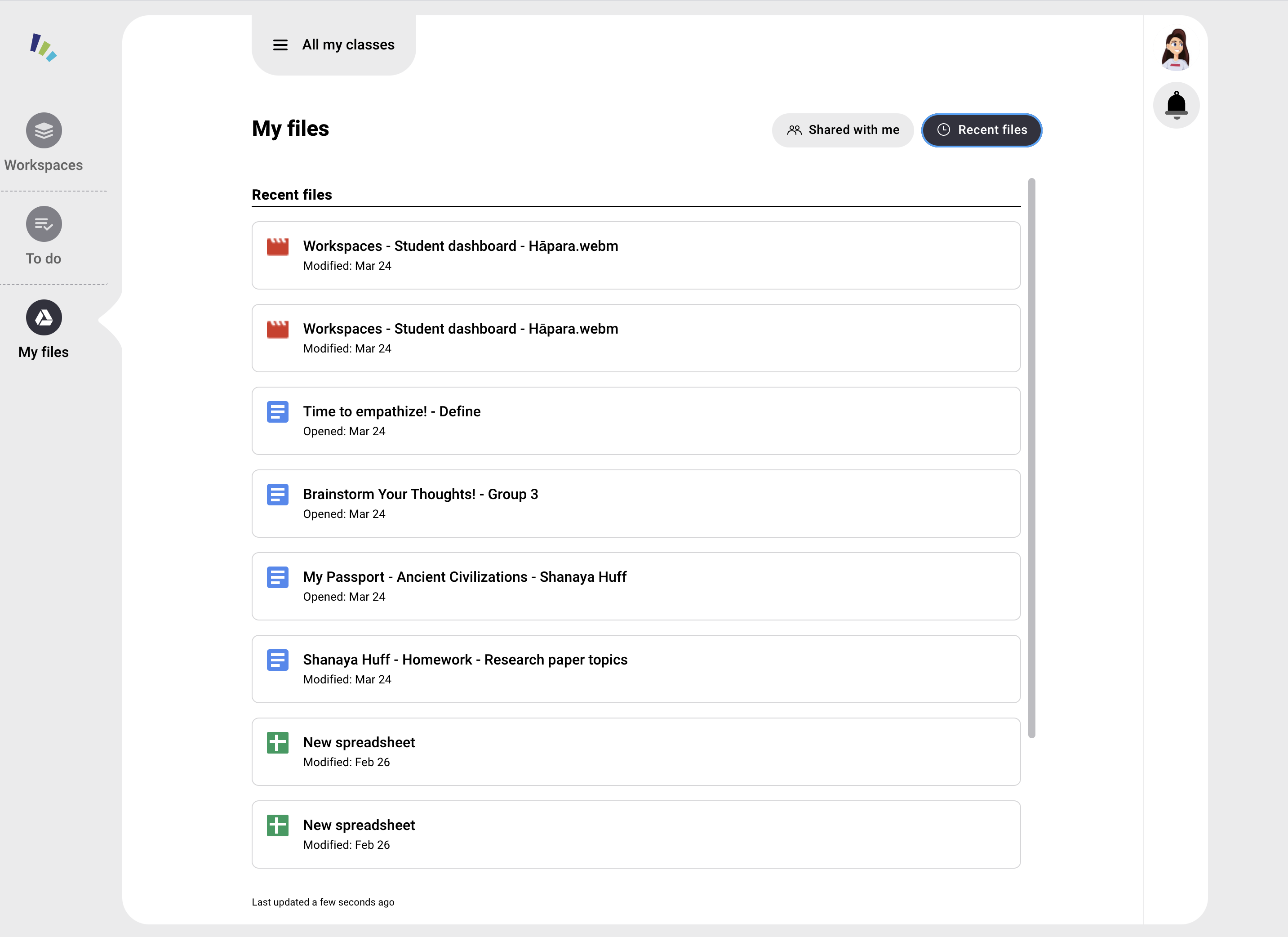 4. Digital Backpack
Please note that your school may or may not have this tool. Digital Backpack is a responsive, accessible digital reader that is easy to use on any device and in any browser. You can access the digital reader by clicking on any of the resources in the Backpack tab of your Student Dashboard. This makes it easy to do your reading for school, no matter where you are.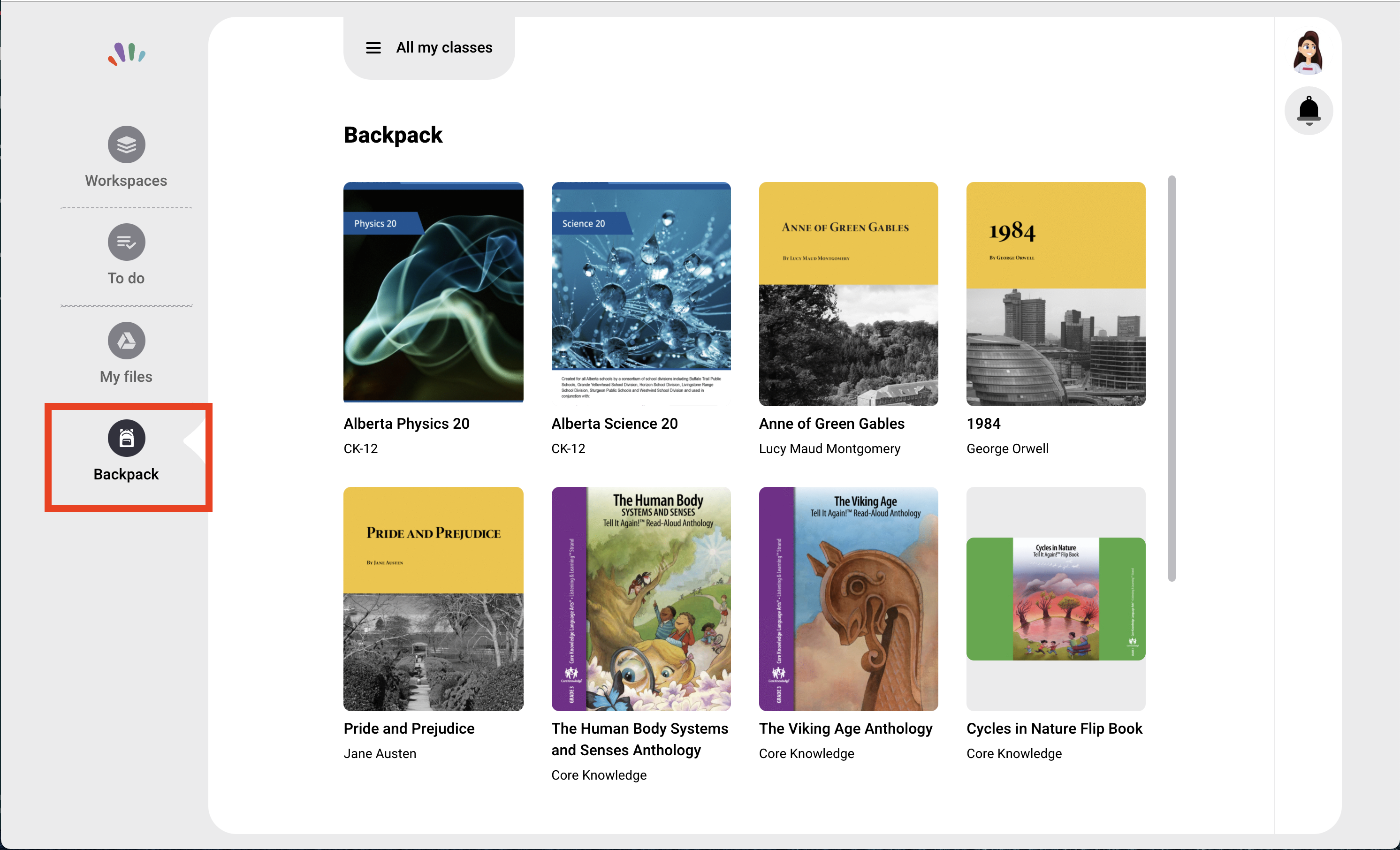 5. Notifications
The Notifications section shows you announcements from Google Classroom, assigned work, returned work, graded work and emails from your teacher. You can see all of your notifications at once. Or you can see one type of notification by clicking on a category. When you click on the notification, you can respond or ask questions. Having all your notifications in one spot means you do not have to spend time searching through Gmail to find the information you need.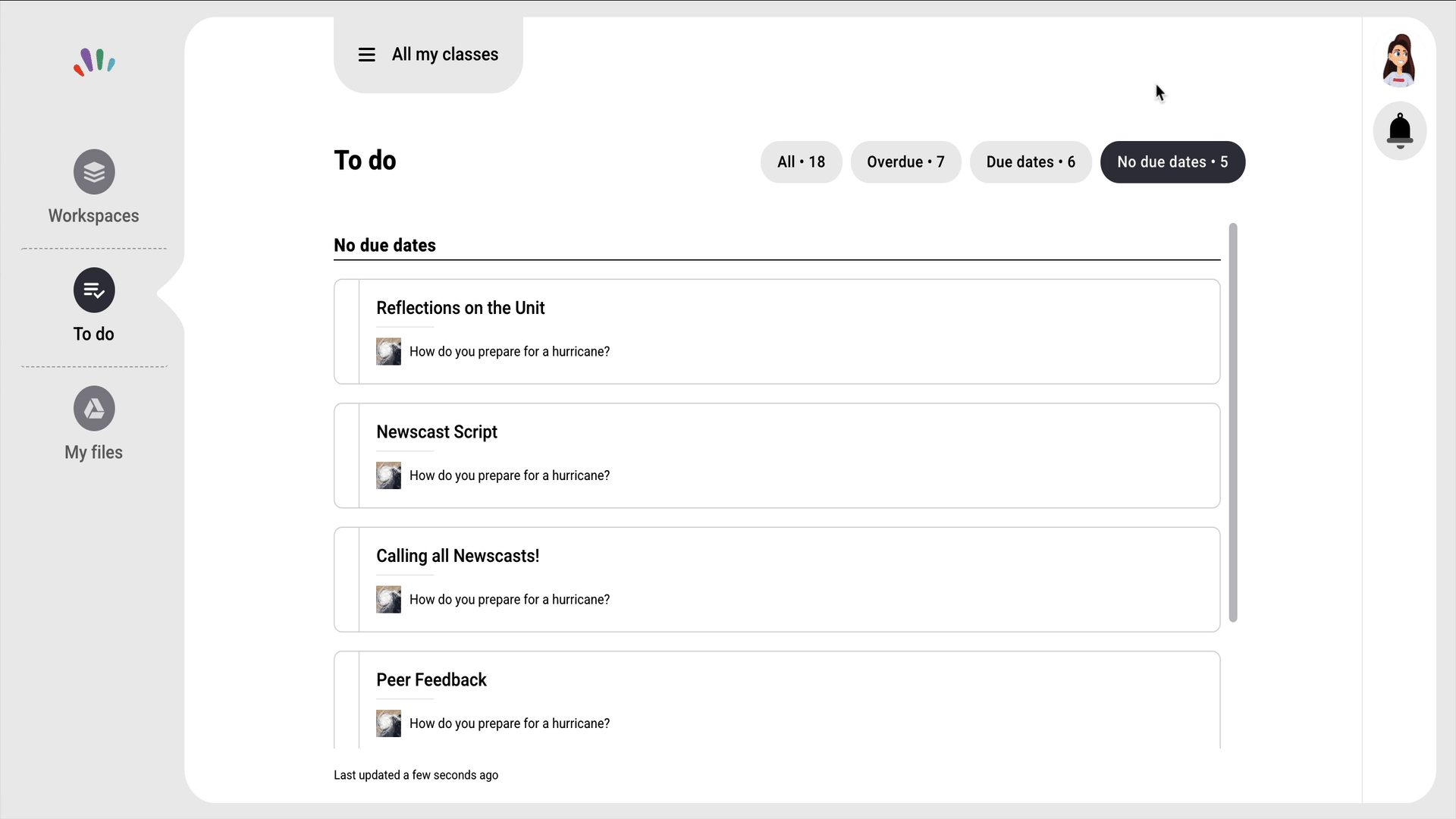 6. Personalization
You have the option to personalize your Student Dashboard by changing the background color. To do this, you just need to click on the avatar and select a color.