What does Browser Tabs show me? Follow
In this article:
Best practices for using Browser Tabs
The Browser Tabs window in Hāpara Highlights shows you what students are doing during an online lesson in near-real time. Browser Tabs gives you visibility into students' online activity so you can guide and encourage students.
Browser Tabs also allows you to create a safe and supportive online learning environment, while supporting student autonomy. You'll be able to help students meet their learning goals, while teaching them digital responsibility and positive decision-making.
How to view Browser Tabs
Log in through

app.hapara.com

.

Select your class.

Click

Highlights

at the top of your page.

Browser Tabs

is the first page you'll see when you start a Highlights session.
Student Tiles
When you visit Browser Tabs, it will show you Student Tiles.
Each of your students has a Student Tile. It contains a list of the most recent sites the student has open in Google Chrome.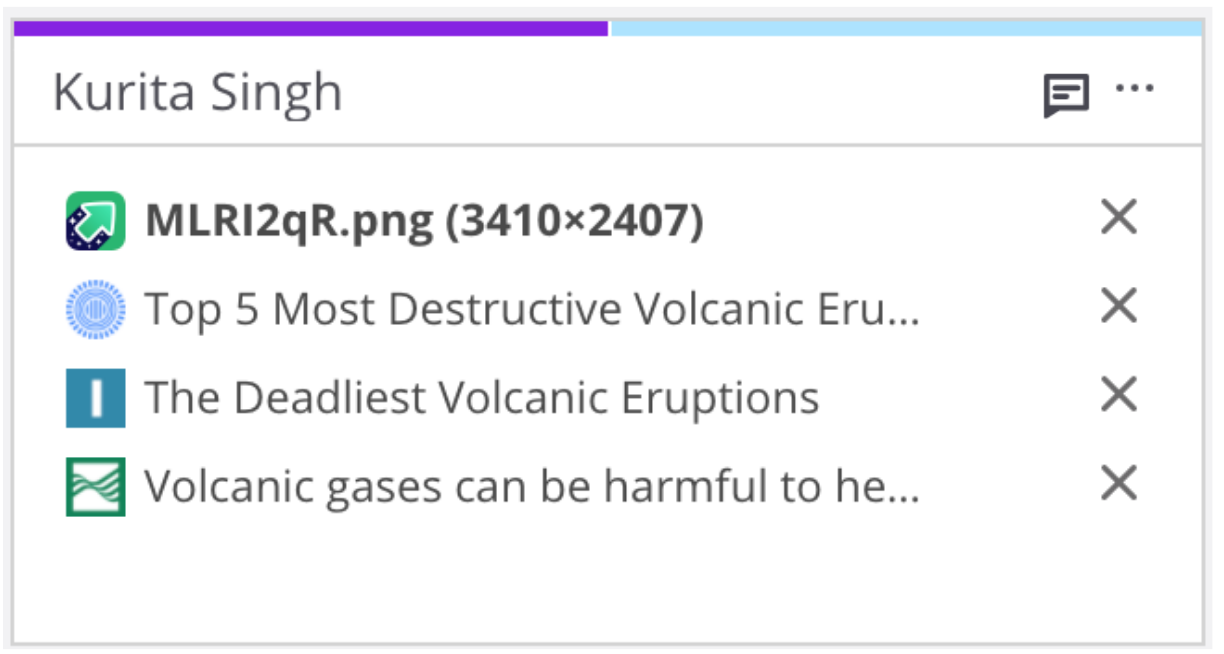 Website listed in bold
The website listed in bold is the site the student is currently viewing. This allows you to quickly see whether or not students are on the correct website.
Viewing the site on your device
Click on any of the websites listed to open the site yourself in a new window. Viewing a website will help you understand if a student is distracted, researching a lesson topic more deeply or confused about the assignment. This can help guide any digital citizenship conversations you have with the student.
Closing a tab
If a student is distracted, you can close a website for them quickly and discreetly. You'll be prompted to provide a reason so they understand why you closed their browsing tab.
1. Click X to close a website on a student's device.
2. Select a reason for closing the tab.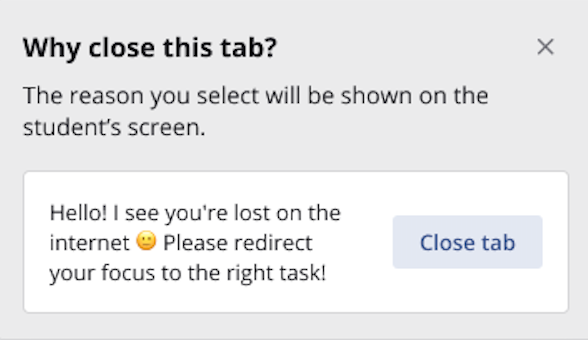 3. This reason will appear on the student's screen in place of the website. Student Tile options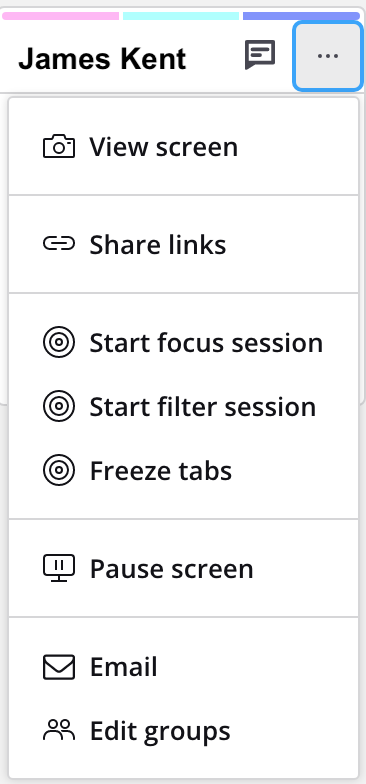 Click the drop-down menu in a Student Tile to access options such as:
View screen
Share links
Start focus session
Start filter session
Freeze tabs
Pause screen
Email
Edit groups
Note: Highlights does not save students' browsing history outside of a Highlights session.
We recommend opening Highlights in a separate tab. Then keep it open during the time students are working. That way you can view their complete session activity.
Freeze tabs and Pause screens
Browser Tabs also offers two features to help focus students in the moment.

Freeze tabs
Freeze tabs allows you to instantly freeze students' browser tabs on what they currently have open. If they try to navigate to another website, it will redirect to the tab they had open when you started the Freeze tabs session. This is helpful if you need students to complete an activity or work on an assessment without navigating to other websites.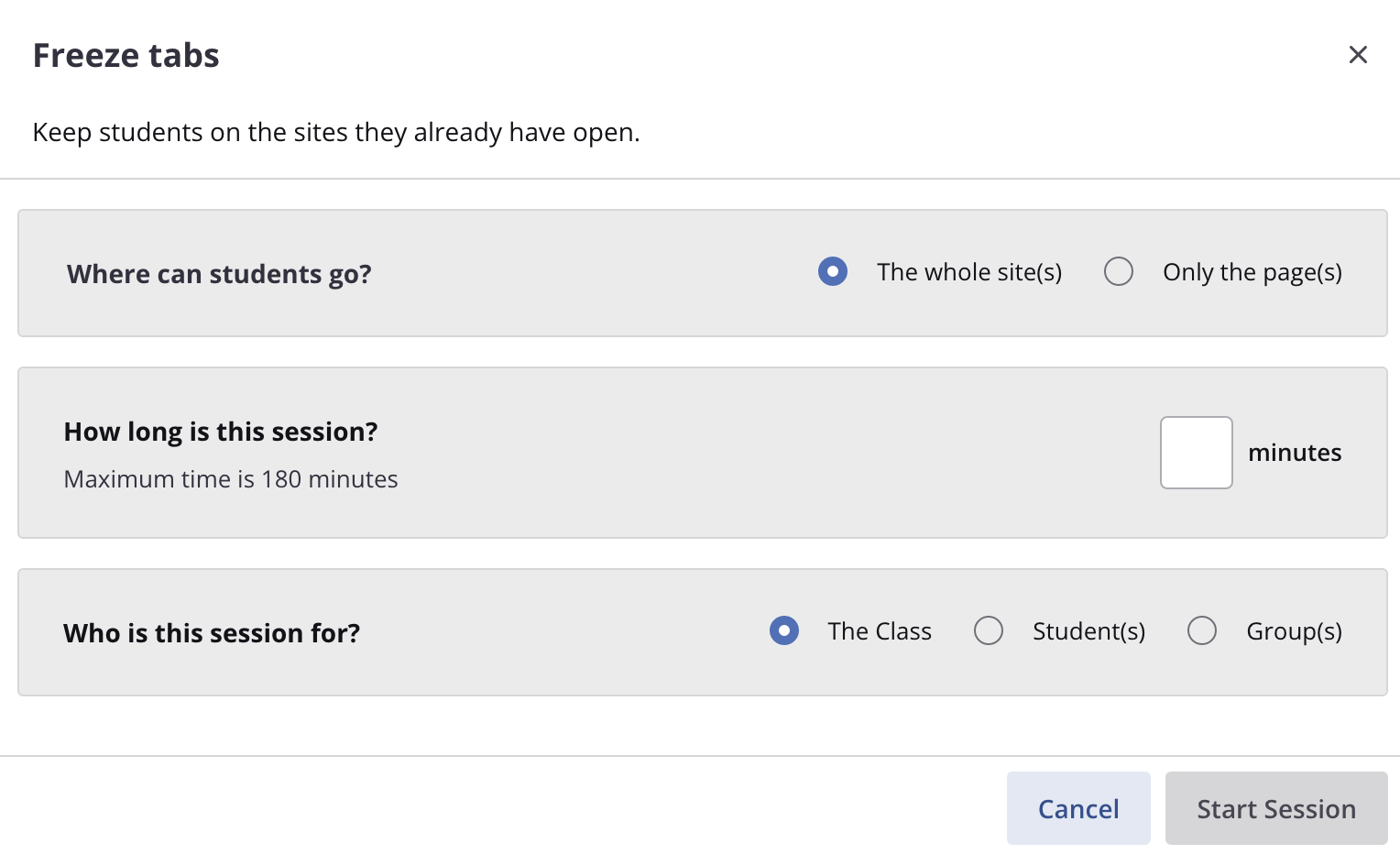 Pause screens
When you turn on Pause screens, it will pause every student's screen in your class. Instead of the content they were previously viewing, they'll see a message that their teacher has paused their screen. This is helpful when you quickly need the class' full attention for an announcement or to explain a concept.
Browser Tabs options
There are also options for customizing your view of Student Tiles in Browser Tabs. Some options in the top right-hand part of your screen include:
Increasing or decreasing the number of websites in each Student Tile

Sorting by group

Sorting by how long students have been online

Making the Student Tile sizes compact so you can show more of them on your screen
Other Highlights actions
Browser Tabs also gives you access to the buttons you see in other Highlights tabs:
Guide browsing — Based on student activity in their Student Tiles, it could be helpful to start a guided browsing session to keep a student on track.

Message — If you see that a student or group is making positive online choices, send them a supportive message.

Share links — If you see that a student needs help finding a resource or they moved quickly through a lesson, you can send them additional resource links.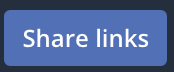 Best practices for using Browser Tabs
1. Visit the website yourself.

If you're monitoring student activity in Browser Tabs and you see something that's off, your first step should be to visit the website in question to investigate further.

Each Student Tile in Browser Tabs has a list of the websites that the student has recently visited. You can visit any of them simply by clicking on the title in the list. Actually visiting the website will give you a lot more information about what the student is doing.

2. Send a message.






Once you have a better idea of what the student is looking at online, reach out to them using the Message feature.

If the student misunderstood the assignment, you could write: "It looks like you're on the wrong website. Do you need some help?"

If the student needs to be refocused, an example message could be: "Hey James, those cats are really cute. However, it's time to get started on your assignment. Please let me know if you need some help."

There are two ways to send a message to a student:

Click the

Message

button in the toolbar on the top right-hand side of the screen.

In the

Student Tile, click the Message

icon.

3. Share a link.






Next, you could share a link with the student to help redirect them.

Click on the

Share links

button on the top right-hand side of your screen.

Or click the drop-down menu in their

Student Tile

>

Then select

Share links

.





4. Guide the student's browsing.




Guide browsing comes in handy if students need more support or you need to focus their attention.

If you want students to work on a warm-up at the beginning of class while you take care of other tasks, you can set up a focus session. This keeps students focused on the websites for the warm-up.

Or suppose James still hasn't heeded your advice to stop watching cute cat videos and get back to the assignment. Since you know that website is a big distraction, you can set up a filter session to restrict access to that website.

To start a guided browsing session:

1. Click the Guide browsing button in the toolbar on the top right-hand side of your screen

2. Click Set up a Focus session or Set up a Filter session.

You can also go to the student's Student Tile and click on the drop-down menu to find the options.

5. Send a follow-up email to the student.

You can also send formative feedback to students via email.

This is a great way to congratulate a student on a job well done, which can help them continue making responsible choices. Or you can ask them to reflect on a browsing choice and think about why they were distracted.

To send a follow-up email:

1. Click on the student's Student Tile.

2. Select the Email option.

3. A new tab will open in your browser to compose an email to the student. It will come from your school Gmail account, and you'll see that it is already addressed to the student. No searching for student emails!

6. Conference/reflect with the student about their online activity.

It's important to talk face-to-face with students no matter how digital we've gotten in the world. Take a few minutes to speak with the student one-on-one about their online activity — good or bad. Show them the screenshots you've taken of their online activity and examples (with student names marked out) of what good digital citizenship looks like.