Things to do to prevent the need to close tabs Follow
If a student is off task or on a website that is unsafe, you have the option to close those websites for students. However, there are many different ways to help keep your students on task and safe while online. If you find yourself closing tabs too often, here are some ways you can leverage other tools.
In this article:
What does closing tabs look like?

Share links
Share links is a fantastic feature for sharing URLs to students within your class. This saves valuable instructional time because it avoids the issue of waiting for the entire class to get onto the same site. If you need students to be on different sites, you can use the Groups feature to share multiple links within your classroom.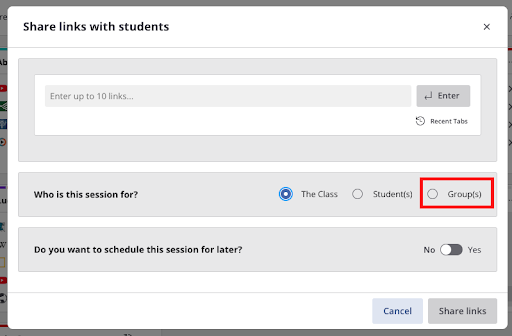 Share links & Freeze tabs
Send students to the URL(s) they need to have open. If they are having trouble staying on just the sites you have shared, then you can use Freeze tabs to lock them out of other sites. This is a positive way for teachers to assist students as they begin using computers to explore the web. Use Groups to differentiate if students do not need the same links.

Guide browsing
Filter Session
You can use a Filter session to limit access to certain sites for your students during your class time. This is great if there are several distracting websites that are being allowed by your content filter that you would like your students to stay off of. Another option is using a Filter session for a few students who need help staying on task. You can create a group for them and limit their browsing until they develop the skills to browse responsibly.
Focus Session
Using a Focus session is a good option when there are specific sites students need access to. During a Focus session, students are only able to access the sites you allow. The number of tabs you have open for a student will vary depending on their readiness level when it comes to technology.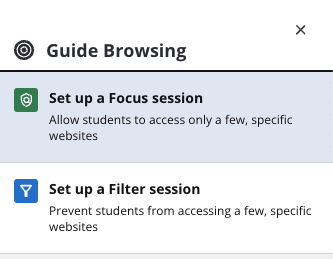 Scheduling feature
Schedule a link or links to open automatically the moment class begins. If students are responsible and always get to work without too much help, scheduling links is a good option. If students need a little more guidance, schedule a Focus session. If they need less guidance, scheduling a Filter session may be the best option. This strategy helps students get on task right away. It frees the teacher up to take attendance and do other tasks. This also helps students learn how to be more independent and responsible for their own learning.
The scheduling feature is also a fantastic way to wrap up class. Send your students a reflection or exit ticket for the last few minutes of class time.

What does closing tabs look like?
On the left-hand side, you will see a teacher screen while closing tabs. The right depicts what your students will see if you close a tab for them.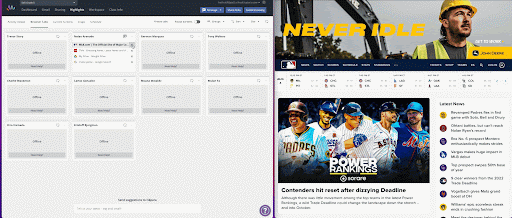 Additional resources: