What does Current Screens show me? Follow
In this article:
Screenshots of current activity
Strategies for using Current Screens
Sample student reflection questions to use with Current Screens
The Current Screens window in Hāpara Highlights shows your students' online activity in near-real time. In one convenient place, you'll quickly see what students are looking at on their screens during an online lesson.
With Current Screens, you can build stronger collaborative relationships with your students and strengthen their learning process. For instance, you can document examples of good work or positive online behavior during a lesson. You can also use Current Screens to share meaningful formative feedback with students and help them reflect.
How to view Current Screens
Log in through

app.hapara.com

.

Select your class.

Click

Highlights

at the top of your page.

Click

Current Screens

.
Screenshots of current activity
In Current Screens, you'll see an actual screenshot of each student's screen in their Student Tiles. This will update in near-real time.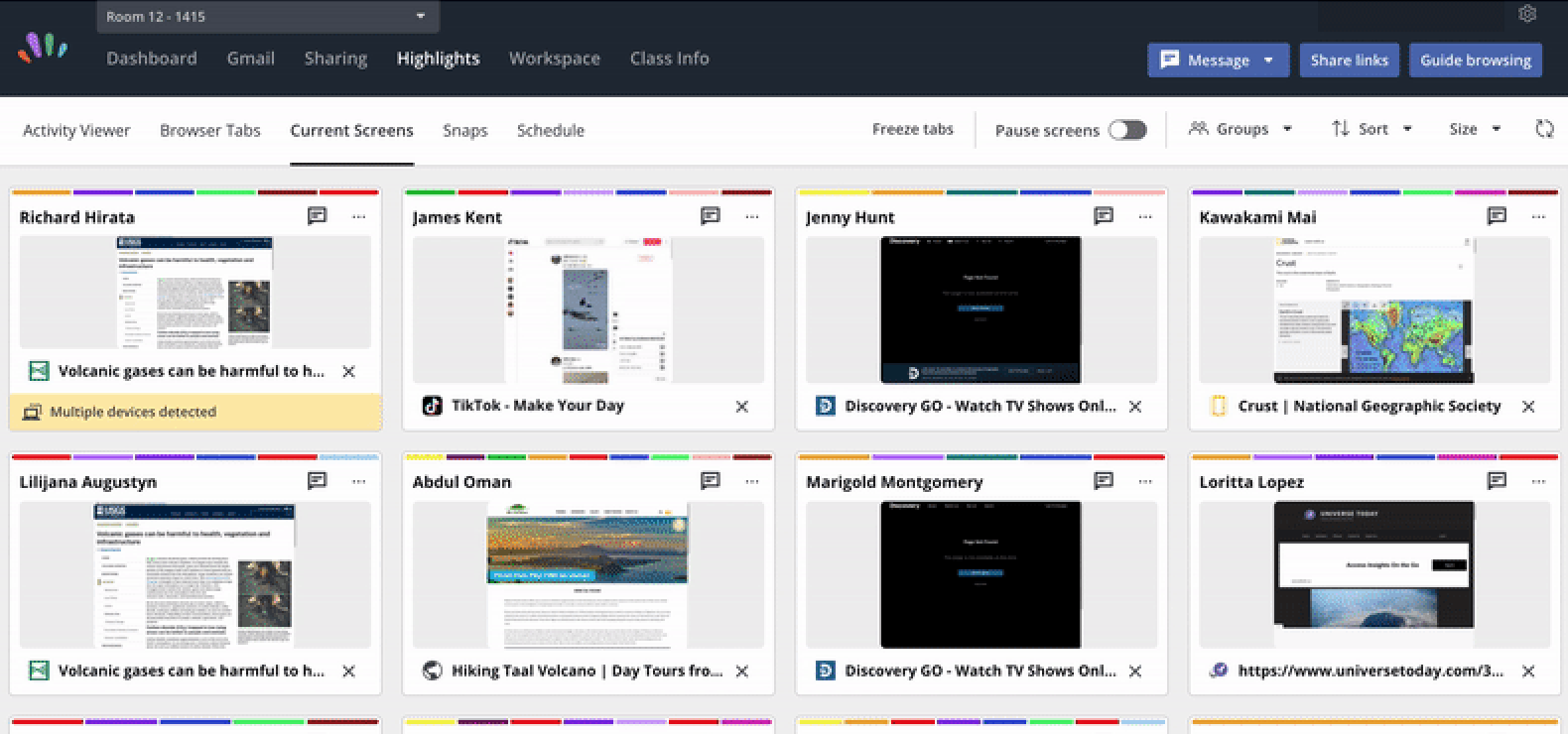 How to view the current activity details:
Click on the screenshot to see a larger version of the screenshot.

You'll also see a list of three tabs the student recently opened. The

website in bold

is the one the student is currently viewing.

Click

Take a snap

to save the screenshot with helpful information.
You can later find it in the Snaps tab and send it with feedback to the student. You can also email it directly from the window so you can store it for a parent conference or include it as IEP evidence, for example.
Current Screens options
Other options in the Student Tile drop-down menu include:
View screen
Share links
Start focus session
Start filter session
Freeze tabs
Pause screen
Email
Edit groups
In the Current Screens tab you can also:
Filter Student Tiles by group

Sort Student Tiles by how long students have been online

Sort by student name

Make the Student Tile sizes compact so you can show more of them on your screen
Freeze tabs and Pause screens
Current Screens also offers two features to help focus students in the moment.

Freeze tabs
This feature allows you to instantly freeze student's browser tabs on what they currently have open. If they try to navigate to another website, it will redirect to the tab they had open when you started the Freeze tabs session. This is helpful if you need students to complete an activity or work on an assessment without navigating to other websites.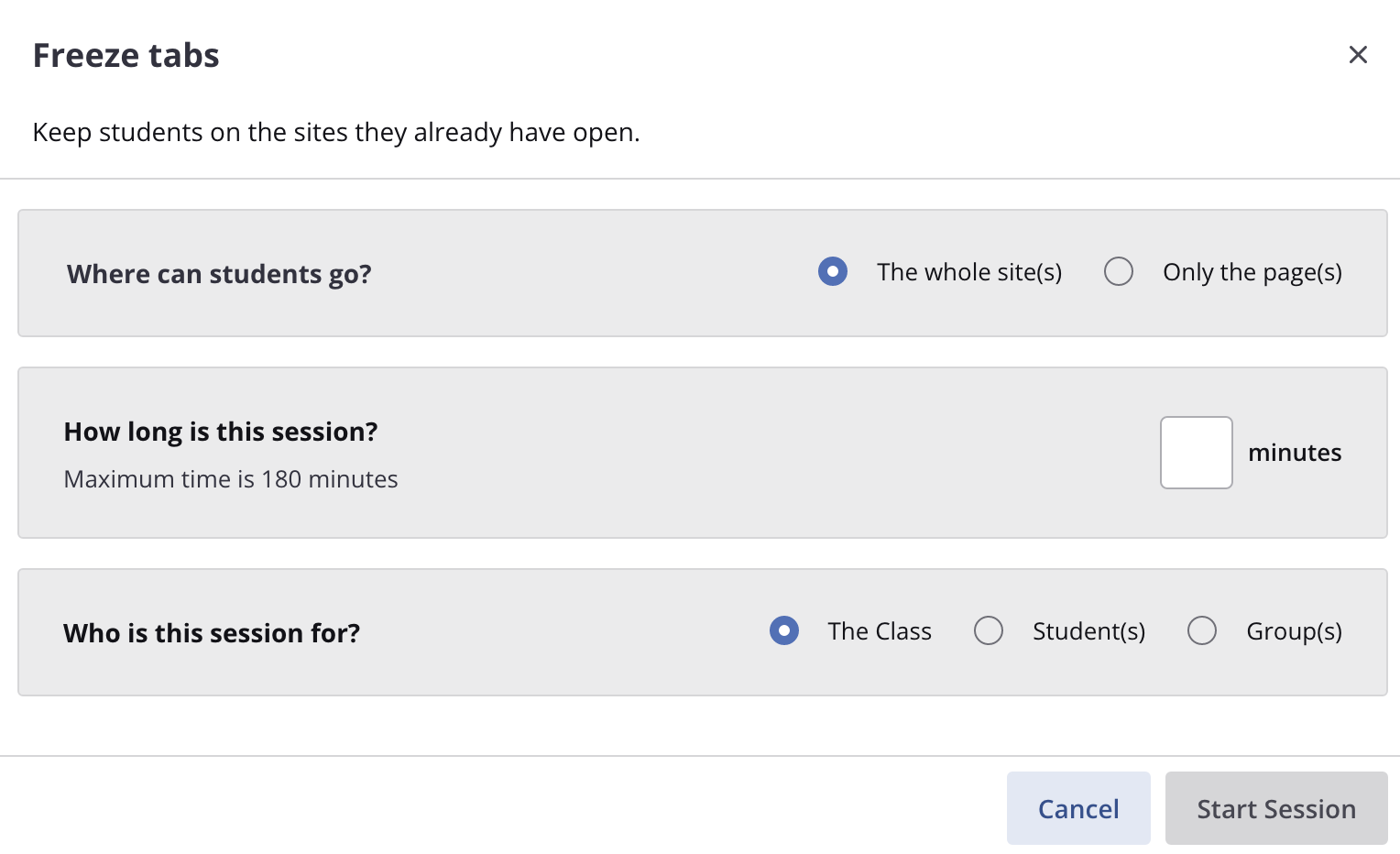 Pause screens
When you turn on Pause screens, it will pause every student's screen in your class. Instead of the content they were previously viewing, they'll see a message that their teacher has paused their screen. This is helpful when you quickly need the class' full attention for an announcement or to explain a concept.
Other Highlights actions
Current Screens also gives you access to the buttons you see in other Highlights tabs:
Guide browsing — When looking at Current Screens, a few students may need support staying on track. You can then set up a guided browsing session for them.
Message — Based on the screenshots, you can send a positive message to a student, group or the class.
Share links — In Current Screens, you also might notice that a student or group needs help finding a resource. You can then quickly send them the resource link.
Strategies for using Current Screens
Current Screens step

How it helps instruction and learning

1. View the screenshot and take a Snap.

Current Screens gives you near-real-time visibility into what students are doing online. It also provides you with tools to document examples of good work, work that needs to be built upon, positive online behavior and areas where the student can be pushed to improve.

By taking a Snap of a student's current activity, you can provide meaningful, formative feedback.

2. Send the student feedback.

When you click on the Snap in the Snaps tab, you can send the screenshot to the student with feedback.

This is a good opportunity to give them feedback on their online activity using specific, concrete examples. You can provide formative feedback that reinforces positive online activity and helps students get back on track when their activity strays.

3. Guide the student's browsing.

Guide browsing is a way to scaffold an online lesson to show the student what responsible browsing is.

This directs students towards browsing responsibly. The Guide browsing feature has two options:

A

focus session

keeps students on the websites that you specify.

A

filter session

keeps students off of specific websites.

4. Share links to show examples of good resources.

Clicking Share links to send websites to students walks them through responsible browsing activity and encourages digital citizenship.

5. Message the student.

Clicking Message and sending a quick message to students about what they are viewing online helps them correct their behaviors or better understand the assignment.
Sample student reflection questions to use with Current Screens
Research shows that teacher and student collaboration leads to significant academic and social gains in the classroom. Using Current Screens is just one of the ways that teachers and students can build stronger collaborative relationships.
By clicking on a Current Screens image, taking a Snap and sending it with feedback to the student, teachers can provide meaningful feedback rather than relying solely on error correction.
When you send Snaps with feedback to a student, you can also ask them to reflect on their process. The following questions can help your class reflect:
How did my effort affect the outcome of this project?

What are some examples of things I did well based on the screenshots my teacher provided?

What are some examples of things I could improve based on the screenshots my teacher has provided?