Deledao ActiveScan, presented by Hāpara: How to configure the Parent Portal Follow
In this article:
What is the
Deledao

ActiveScan

,

presented

by

Hāpara

Parent Portal?

The Deledao ActiveScan, presented by Hāpara Parent Portal is an optional feature for schools that use the web filter and would like to give parents visibility into their children's browsing activities. The Parent Portal can also allow parents to set additional browsing restrictions when children are using their devices at home.

Through the Parent Portal, parents can:
Receive weekly emailed reports about students' browsing activities
View browsing activity at anytime in the Parent Portal itself
Set at-home browsing policies when devices are brought home including:

blocking additional websites
unblocking certain websites (if allowed by the school admin)
setting fun time and down time policies when devices are at home
The Parent Portal is easily configured to meet the needs of your school, students and parents.
Configuring parent permissions
Parents will not have access to the Parent Portal until they are invited to join. Before inviting parents, we recommend navigating to the Parent Portal tab in your web filter admin console* and customizing what parents can see and do once they get into the Parent Portal.
*Note - If you don't see the Parent Portal tab in your web filter admin console, please reach out to Hāpara about enabling this option (there is no additional cost).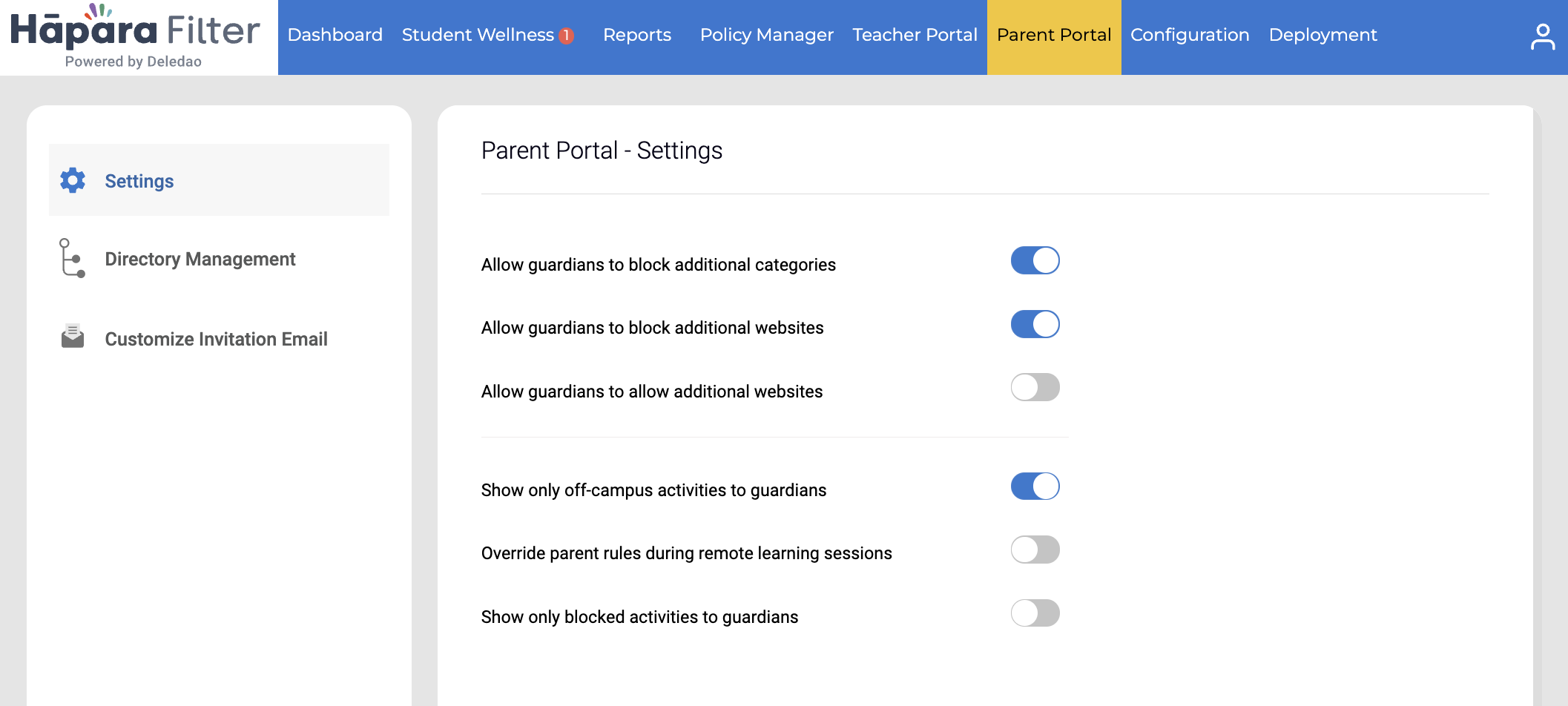 The configurations on this page will decide how much control guardians can have over school devices when they are brought home. Here is a little more information about each setting:
Allow guardian to block additional categories - this will let parents block additional categories for their children on top of school admin's policy. Categories blocked by school policies will always be enforced and parents cannot unblock them.
Allow guardian to block additional websites - when enabled, this will let parents block additional websites for their children on top of school admin's policy. Websites blocked by school policies will always be enforced and parents cannot unblock them.
Allow guardian to allow additional websites - when enabled, this will let parents unblock certain websites that are disallowed by school policies. This is NOT recommended.
Show only off-campus activities to guardians - enabling this option will mean parents only see the browsing activities that take place outside of school.
Enforce on-campus rules during remote learning - Rules set by parents will usually be honored when the devices are brought home. However, in remote learning situations, you may wish to enable this setting to overrule parents' policies during instructional hours when learning from home.
Show only blocked activities to guardians - you may not feel the need to show parents all of their child's browsing activity and instead allow them to see only those actions that have been blocked.
Inviting parents to the Parent Portal
You will need to set up a parent directory before inviting parents to join the portal. To set up your directory, navigate to the Parent Portal tab in the web filter admin console, then click Directory Management in the left side menu.
Your directory will show the relationships between parents and students and is where you can track parents' invitation status to see who has been subscribed, unsubscribed or not yet invited.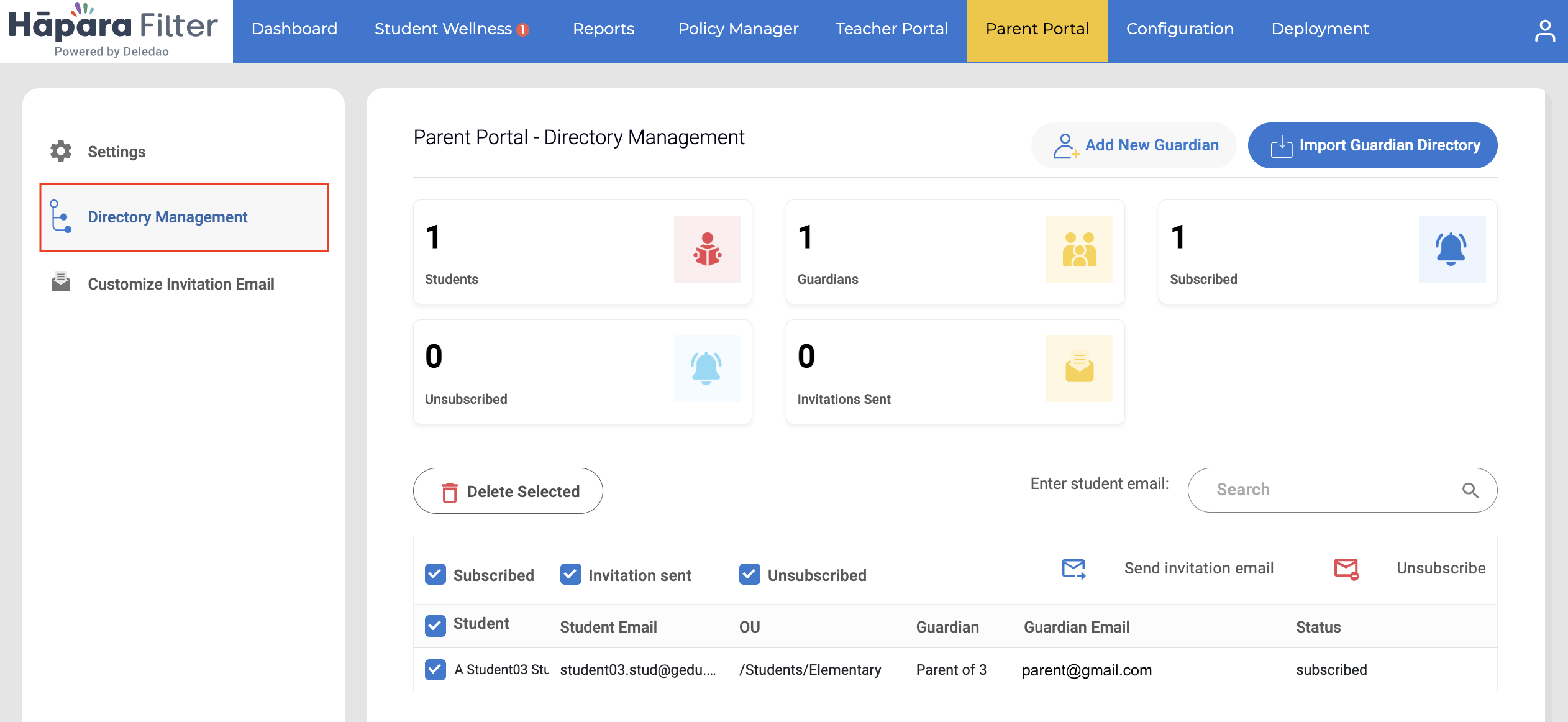 Parent information can be imported in either of the two ways listed below:
Manually adding Student Email, Guardian Name, and Guardian Email by clicking the "Add a new Guardian" button.

Importing the directory from a CSV file, which is typically generated by your Student Information System. The first line of the CSV file must be "StudentEmail,ParentEmail,ParentName".



Newly added guardians will have the status unsubscribed.
If you have parents with more than one child in the school, you will need to add that student-parent relationship separately. Additionally, if you would like to give more than one parent access to the same students' browsing activity, you will need to add the additional parent(s) separately and send them each their own invitation. Parent Portal accounts for the same child will not be linked.
Customize Invitation Email
Next, you may choose to customize the email sent to parents to invite them to the Parent Portal by navigating to Customize Invitation Email in the left sidebar of the Parent Portal tab.
You can modify this email template as you see fit (i.e. by adding your contact information in case parents have questions). Please make sure the modified template still has the words "ParentName" and "SignUpLink," which will be replaced with the parents' real information when sent out.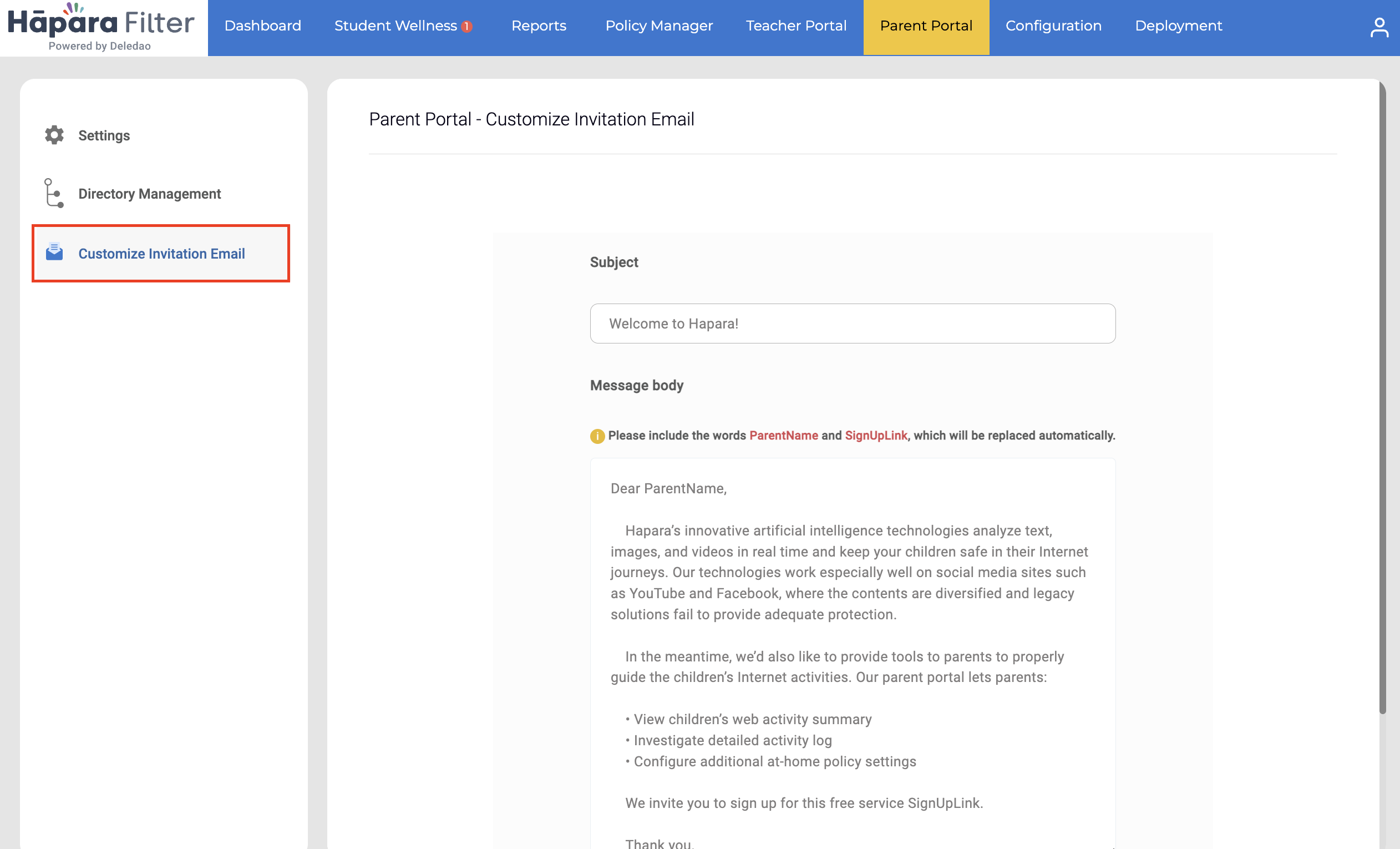 Invite parents
You may wish to notify parents ahead of time that they will be invited to join the Parent Portal and that they should add noreply@deledao.com to their address books to ensure the invitation doesn't go to their spam folders.
You may also want to send this guide to accessing and using the Parent Portal, so they have it ahead of time.
To send the email invitations, you can either select a group of parents to send an invitation to or you can create a list by entering individual student names, OUs or parent names into the search box. Select the checkbox in the left row to select guardians, even if they can't fit onto the first page. Then click Send Invitation Email to send to all of the selected names.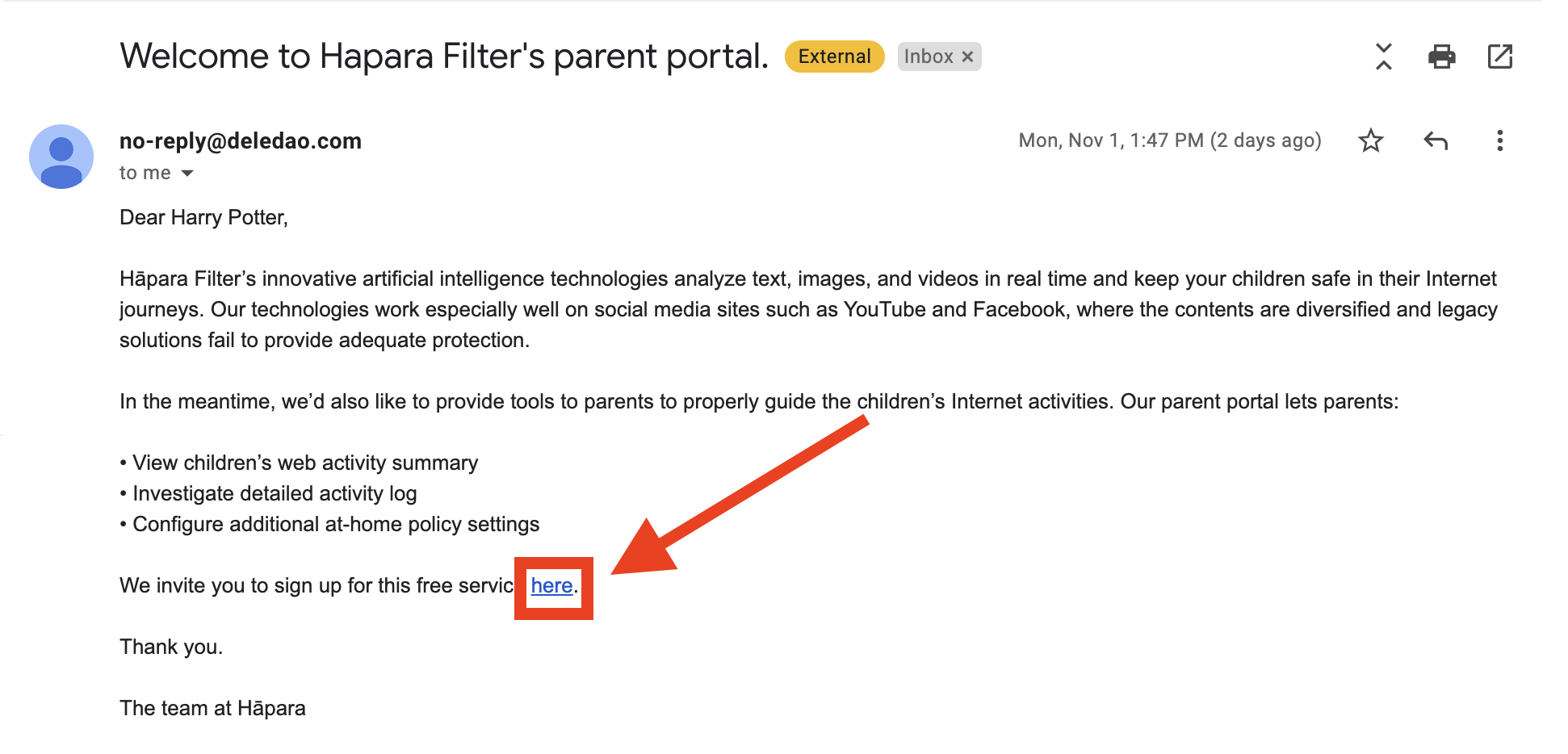 After you have sent the invitation email to the selected guardians, their status will change to "invitation sent."
Once the guardian opens the invitation email, they can sign up by clicking the link in the email.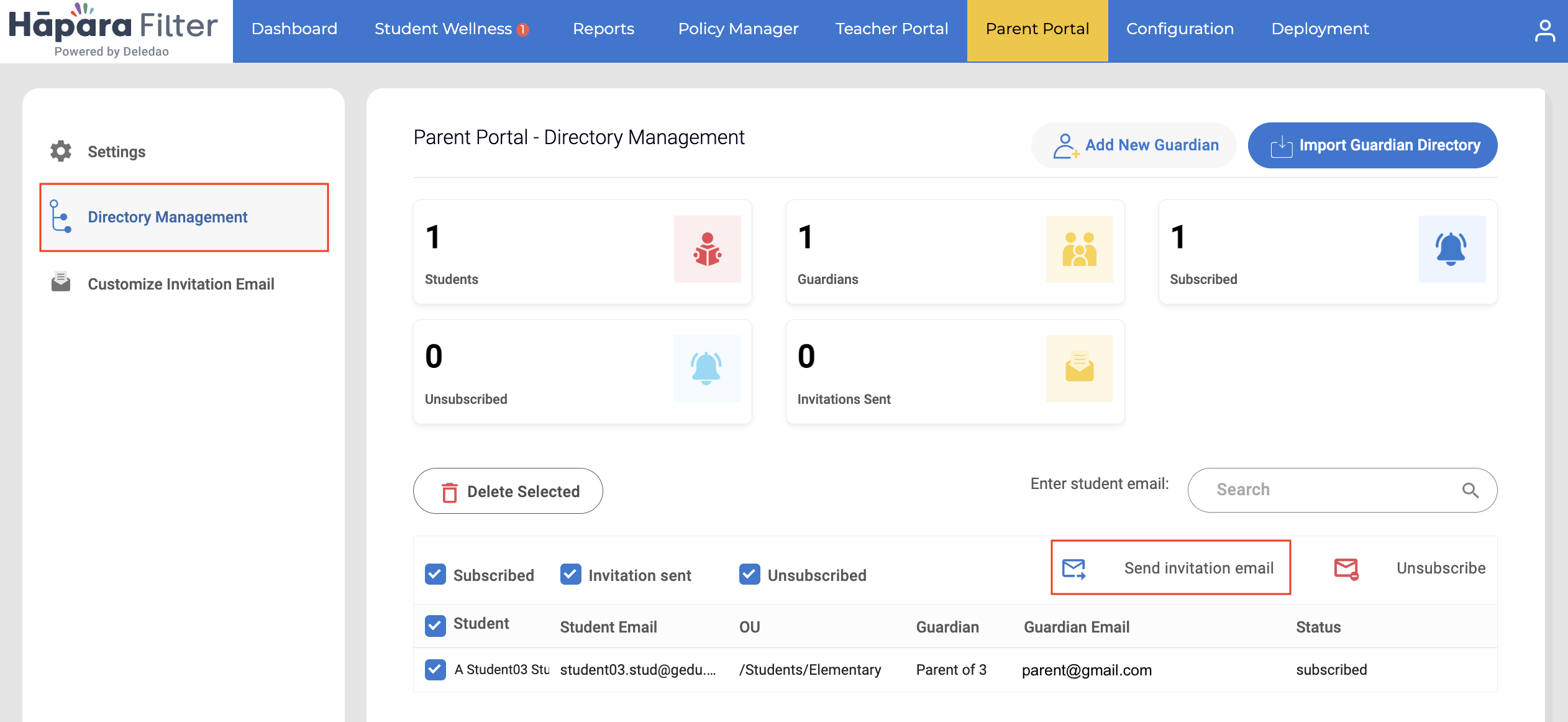 You will see the status changed to "Subscribed" after the guardian has accepted the invitation.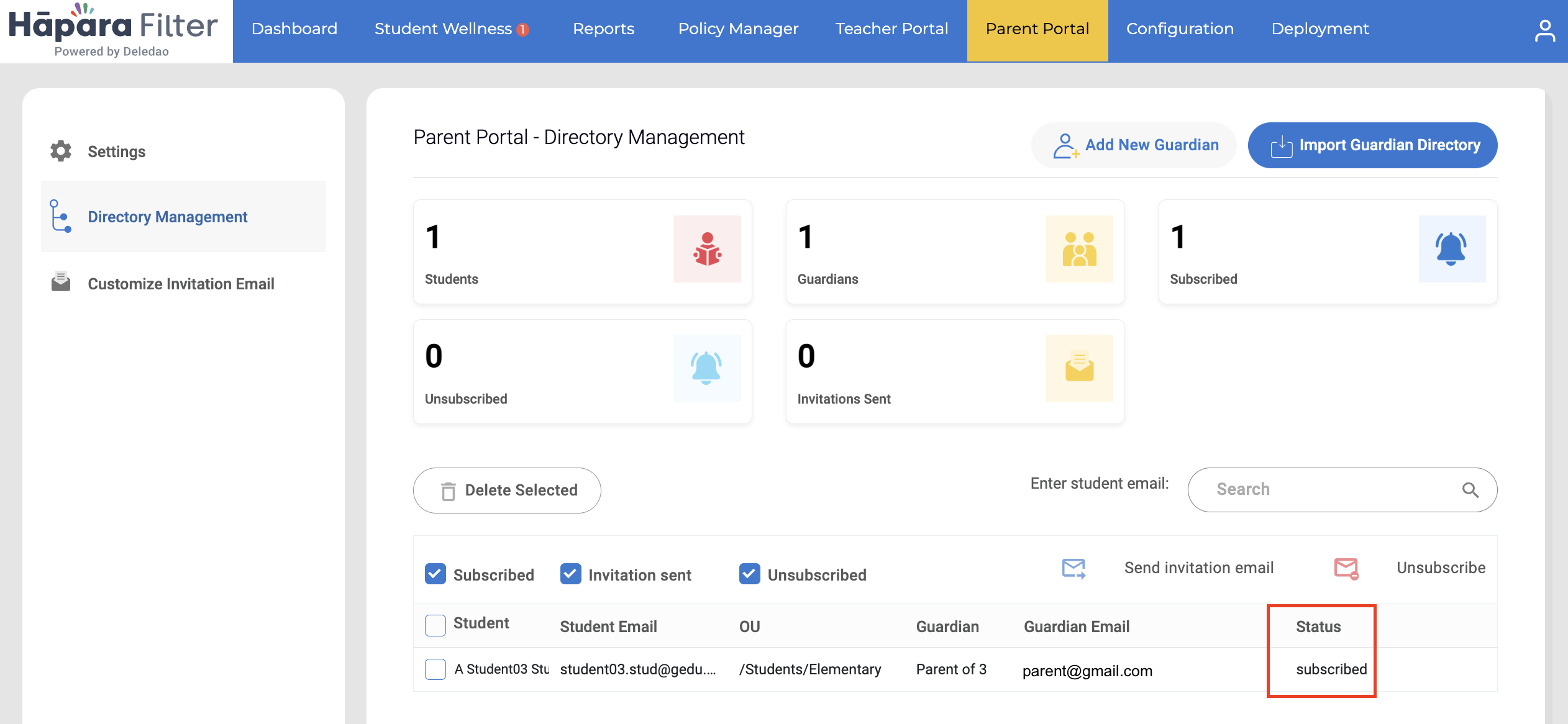 To learn more about the parent experience in Parent Portal, view this article.