Deledao ActivePulse, presented by Hāpara: How to investigate wellness alerts Follow
In this article:
Deledao

Active

Pulse,

presented

by

Hāpara

wellness

alerts overview

Wellness alerts provide an extra set of eyes into students' online activity, to alert school staff when a student may need additional supports or intervention. The student wellness monitoring feature in Deledao ActivePulse, presented by Hāpara looks at students' online activity, including website visits and emails, to alert school staff to issues like:
Suicide and self harm
Cyberbullying
Toxic language
As a teacher, you may be added as subscribers to student wellness alerts for sets of students in your care.
How to investigate student wellness alerts
When the filter student wellness monitoring tools detect concerning activity for students you are subscribed to, you will receive an alert both in your email inbox and in your Teacher Portal.
To investigate an alert, you will need to open your Teacher Portal at https://portals.deledao.com/teacher and log in with your school email address. You will find all alerts in the Student Wellness tab.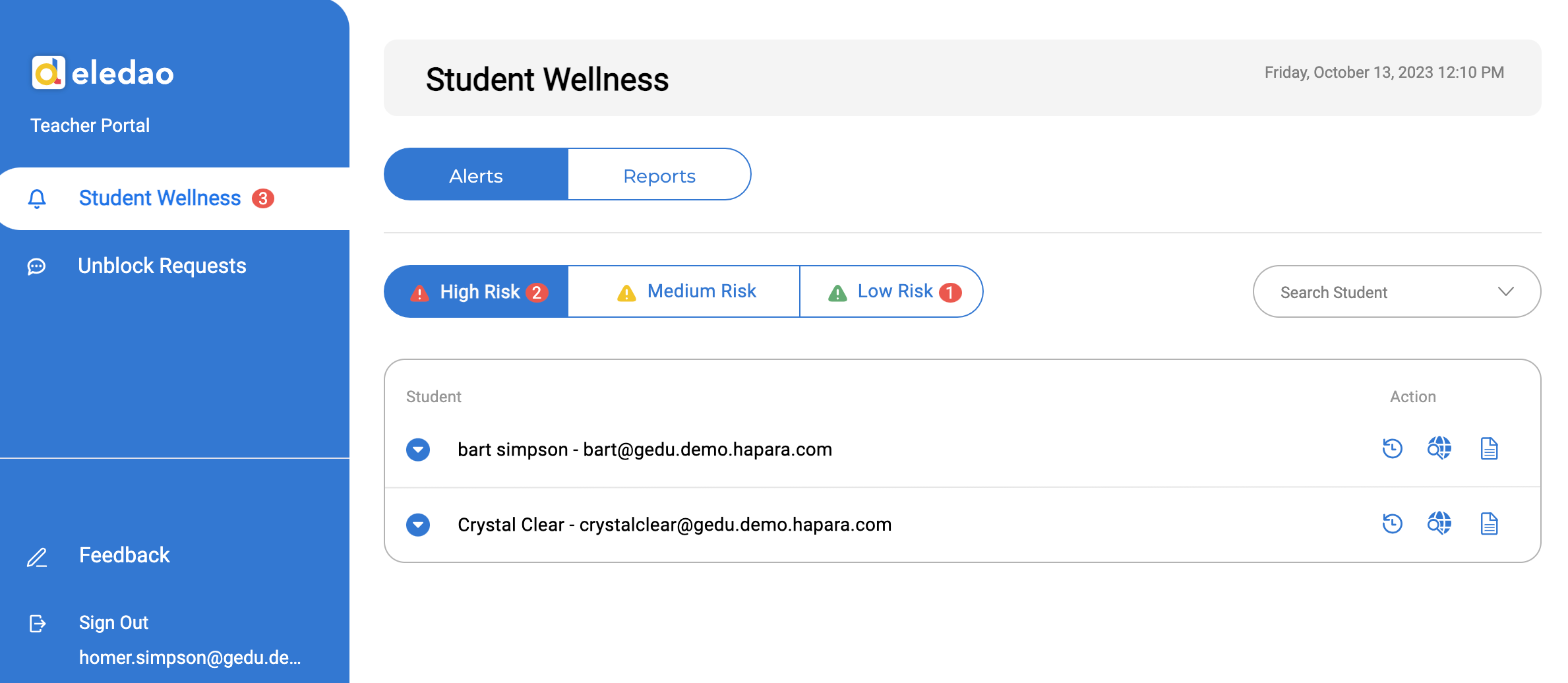 Each alert can be expanded to reveal more about what triggered the alert.

The icons on the right side of the alert allow you to take several actions to respond to investigate further or respond to the alert. We'll break down what each does below:

Icon
Action

History

This will bring up a log of all

entries, flag/unflagging dates and times, case reviewers, and notes regarding the specific student.

Spotlight

The spotlight icon will bring up a filter spotlight view, which provides a quick overview of the student's recent activities to assist in assessing his/her wellness. The red phrases indicate blocked activities.

Flag

The flag button can be used to flag a student as high risk. Once flagged, any new wellness incident will bump the student into the high risk alert level. When you flag/unflag a student, you will be asked to include a note explaining more.

Report

The report button will generate a PDF report that can be shared with others.

Screenshot

The eye icon will open a screenshot of the student activity that generated the alert.

Notes

The pencil icon will allow you to take brief notes regarding the alert.

Mark as irrelevant

False alerts can happen. This button allows you to remove the alert permanently.