How to create student-teacher relationships in Hāpara Filter Follow
In this article:
Student-teacher mapping overview
In order to use features like allowing teachers to unblock websites for students, you will need to map students to their teachers in the Hāpara Filter Admin Console. This can be done by OU, or by mapping individual students to specific teachers.
If you use other Hāpara tools, the student-teacher relationships do not currently carry over to the Filter and you will need to set them up here as well.
Mapping student-teacher relationships
You can match students to teachers in the Teacher Portal section of the Hāpara Filter Admin Console. You can do this by OU or by direct student to teacher mapping. IT Administrators can enable themselves to approve these requests as well.
To begin mapping student-teacher relationships, navigate to the Teacher Portal in your Hāpara Filter Admin Console, then select Directory Management.
Click Add

Choose one of the two ways to map student-teacher relationships.

OU Mapping allows entire student OUs to map to specific teachers, or to entire teacher OUs
Student Mapping allows you to map specific students with specific teachers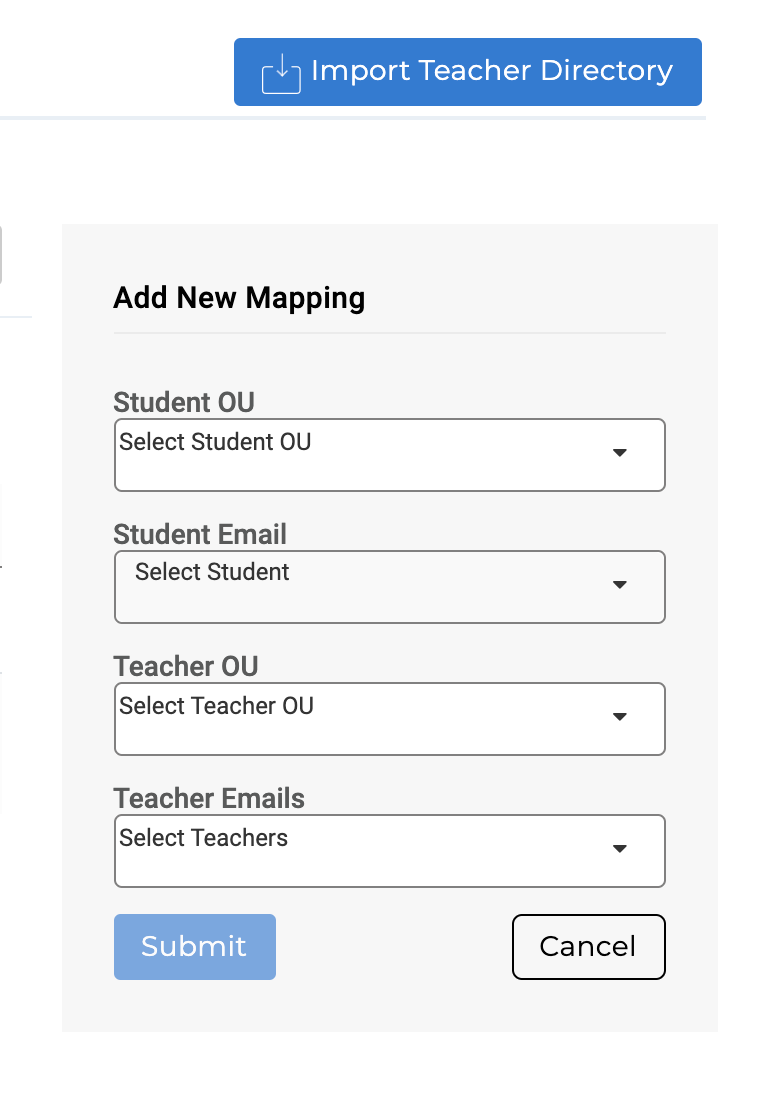 If you select OU Mapping, simply select the student OU from the dropdown, then select the teacher OU or the individual teacher email that you would like to map to those students. Then click Submit.
If you select Student Mapping, select the individual student email from the dropdown, then select the email for the teacher that you would associate that student with. Then click Submit.
Students will now be able to submit unblock requests to one of the mapped teachers. Only the teachers that are mapped to students can approve unblock requests.