Welcome to Hapara Highlights Follow
Table of Contents:
Hapara Highlights helps you see what learners are doing in the Google Chrome Browser in near-real-time. Feedback mechanisms allow you to reinforce pro-learning behavior and re-direct unfocused behavior. You can remotely open or close a browser tab on learner devices to re-focus them to the task at hand. You can share files, sites or URLs with your students easily.
Hapara Highlights also allows you to directly send messages to students and provide more personalized and private feedback. Highlights supports you in engaging students in conversations about their learning and online behavior. You can also tag activities to provide guidance and feedback at any time.
Hapara believes that you are at your best when guiding students towards becoming great 21st century digital citizens. Highlights supports you in this goal.
Features such as session recording, blacklisting URL's, and remotely controlling student devices are not supported by Hapara Highlights.
Highlights has some powerful features:
| | |
| --- | --- |
| Real-time activity feeds | Highlights' automatic activity refresh is configurable: from near-real-time feeds to infrequent feeds |
| Guided browsing | Restrict learners to specific websites or URLs, for a set period of time |
| Multiple tab opening | Open up to 5 tabs at a time for your learners |
| Send message | Send a message to learners and have it pop up in their browser |
| Flexibility of use | Guided Browsing, Open Tabs and Send Message can be applied to one or several learners, groups, or the entire class |
| Activity Viewer | See a summary of your entire class activity at a glance |
| Snaps | Record learner browsing activity (metadata and screenshots) at any point in time to explore at a later stage |
| Close tabs | Close tabs remotely from your screen |
| Save screenshot | Download and save a screenshot of learner activity directly from the Current Screens view |
| Groups & group filtering | Create and edit groups directly from Highlights. You can also filter Highlights to only view specific group activities |
| Pause Screens | Stop all student browsing activity temporarily. |
NOTE: This document uses the term "sites" for simple internet site names like www.cnn.com, and it uses the term "URL" for more complex internet addresses like http://edition.cnn.com/2015/11/10/aviation/worlds-biggest-airliner-most-seats-ever-emirates-airbus-a380-super-jumbo/index.html. Highlights works well with both sites and URLs.
Before you can use Highlights, your school System Administrator or assigned Coordinating Teacher must already have deployed the new Highlights extension to your school.
Once the Highlights Extension is installed, to access Highlights a teacher should:
1. Log into Hapara Dashboard.
2. Select the class they wish to view:
3. Select Highlights:
4. The Highlights Browser Tabs view will open by default:
The Activity Viewer displays a near-real-time easily-absorbed teacher-centric overview of all current learner browser activity. You can access it by clicking on the Activity Viewer sub-navigation tab.
The Activity Viewer has 3 sections:
Class Activity lists all sites that students currently have open in their browsers
Collaboration lists all URLs and documents that two or more students have open at the same time.
Unique Activity lists all URLs and documents that exactly one student has open - highlighting students who are "exploring" or working by themselves.
The Activity Viewer feature is described in detail here.
The Browser Tabs view allows you to see sites/URLs opened and closed by students in their browser since the start of your Highlights session. The page displays the items most recently opened by your students:
By default, Highlights displays up to 5 URLs within each student panel. This can be adjusted by clicking on '5 items' in the top right action bar as seen below, and selecting the number of items you want to see. Up to 25 items can be displayed. Increasing the number of items displayed on student panels will increase the size of the student panels.
The Current Screens view allows you to view each student's currently open tab.
The Current Screens view requires more school network bandwidth. So screen images are only sent when the you have the Current Screens tab open. Your school System Administrator may choose to reduce the bandwidth used by reducing the quality of the images shown.
To have a closer look at a student screen, click on the required student panel. An enlarged image of the student screen will be shown.
You can download the image by clicking the 'Save' button.
To protect students' privacy while they are using webcams, Current Screens cannot display a screenshot of students' screens when they are on meet.google.com or hangouts.google.com. When students are on either of these sites, you will see a message like the one below in the student tile.
This message only displays while students have Meet or Hangouts in their active tab. If they move to another tab or website, the screenshot will update.
The Snaps feature lets you make a digital note of students' online activity for reference at a later stage. For example, you may have noticed a student activity of interest, which you want to explore or investigate further in order to better support the learning and development of your student or guide them towards more focused or appropriate behavior.
To create a Snap click on the camera icon
which appears in a few places on the Activity Viewer page.
The Snaps tab allows you to see all snaps recorded over the past 7 days:
You can click on any snap to see more information about when it was taken, to email it to yourself or others, and to send feedback to learners.
The Snaps feature is described in detail here.
The Send Message feature lets you send targeted messages to selected students, groups or the whole class. This feature is described in detail here.
The Share Links feature allows you to open tabs on the browsers of selected learners, selected groups or the whole class, and display specified sites and/or URLs. It can open up to 10 sites and/or URLs at the same time.
To open new tabs on your learners' screens:
Click the Open Tabs

This will load the Sharing Link modal.
Enter the website URL(s) you want to open on your students' screens. We recommend using the "https://" prefix where a login is required. If you forget it, Google will redirect your learners from say http://mail.google.com to https://mail.google.com and this will fail if https is not specified. You can access previously opened URLs by selecting Recent Tabs.
Select your recipients.

You can select an individual or multiple learners, groups, or your entire class.

Click the Share Links button. Within seconds, the tabs will open in your students' browsers.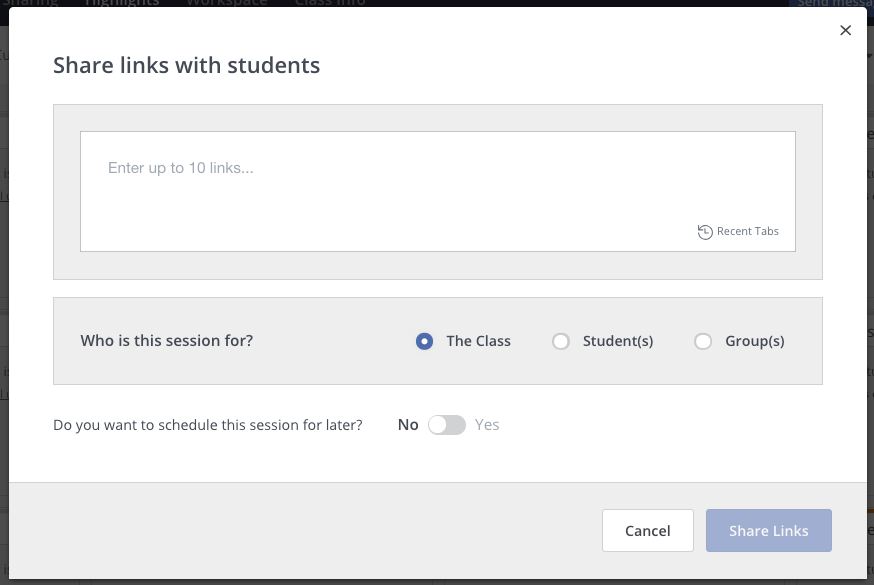 To begin a Guide Browsing session, just click "Guide browsing" on the top right of the Highlights page.
Then, choose which type of Guided Browsing session you would like to set up:

Filter
If teachers want to specify just a few URLs that students cannot access, they can use the new Filter function to do so. Teachers can enter up to 5 pages to block during the session. Once initiated, students will be able to access any site other than the specified sites.
To set up the session, just enter the URLs you wish to block and press enter to confirm the link. Then, decide how long you wish the session to last, and whether to apply the session to the entire class or just a group of students. Finally, decide whether to start the session now or schedule it for a future time.
Focus
If teachers would rather focus students on specific pages, they can use the Focus session function, which works the same as the former Focused Browsing. Teachers just choose up to 10 URLs to open on student browsers, then once initiated, students will only be able to access the specified pages.
Focus sessions are set up similarly to Filter, but the URLs entered on the first text box are the only sites that students will be able to access. The only additional option for Focus sessions is in the third option box, where you can decide whether to keep the tabs open at the end of the session, and whether to restore any other tabs that students had open when the sessions were initiated.
In each student tile in the Browser Tabs view, you can click the X to the right of a site or URL, and that tab will be closed on the student's device.
Your school may require that teachers provide a reason for closing student tabs. This can be set up in the Hapara Admin Console. If this feature is turned on, after clicking the X you will need to pick a reason from a list of up to four.
Students will see the reason in their browser like this:
The Highlights module shares some usability features with the other Hapara modules, including:
The Sort Student Panels feature enables you to sort the order of your student panels in a number of ways using the three icons shown below:
If you have manually organised the layout in other Hapara functions (Dashboard, Gmail, Sharing as well as within Highlights), you may want to replicate them in the views you are using within Highlights. To copy the layout from another part of the Hapara solutions:
Click on the Copy layout icon
Select the layout you want to copy
You can create, edit, filter and rename student groups directly from Highlights. To do this:
simply select the group functionality by clicking on the group icon
create a group by entering a name in the desired color
edit a group by changing the name of that group and replacing it by a new name
There is a full article about utilizing Student Groups here.
The Show Groups feature allows you to display the order of your student panels by simply clicking on a group color. To do this:
simply click on the group color you wish to sort by, directly from any of the student panels in the group.
Sort by Online/Offline
Teachers can also sort students in Highlights by whether the student is online. This allows teachers to either focus only on students that are currently online (removing absent students, for example) or to quickly identify students who are offline.
To use this feature, just click the Sort button on the top right of the screen, and choose either "Online First" or "Offline First" to sort students in Highlights accordingly.
To pause learners' screens, toggle the Pause Screens button to the on position on the top-right side of the Highlights page.

When you turn on Pause Screens, a warning message with a 5-second timer will appear letting you know that learners' screens are about to be paused.
Once Pause Screens is turned on, Hapara Highlights shows that all screens of learners who are online have been paused and muted for 5, 10 or 15 minutes. The maximum time for Pause Screens is set by your Hapara Administrator in the Hapara Admin Console.
You can release learners individually from the Pause Screens session by hovering over their Student Tile and clicking the button "Release this student."
You can also end the Pause Screens session for all learners early by toggling to off.
Thanks to the Student Connection alert, which indicates the number of student issues during an open Highlights session, you can now immediately see when student panels do not upload students' browsing activity correctly.
Possible issues include:
the student information does not appear
the student is logged into several devices
there are several students logged into the same one device
Student information does not appear
Sometimes, a student panel may not display any sites, documents or URLs, or may even display an error like the one below:
The Highlights Extension has a self-diagnostic test for individual student devices to help understand the causes of a blank student panel, and in many cases, fix the problem as part of the process. This is accessed from the student device by opening the Chrome browser and clicking on the Hapara icon:
If you cannot resolve student panel problems, read more about raising a problem with Hapara support.
Student logged in to multiple devices
A student can be simultaneously logged into the many devices (eg: laptop at home, chromebook at school, iPad, smartphone). The Highlights module "sees" all the devices the student is logged in to, and can't automatically choose which Chrome browser to display by default to the teacher. In this situation Highlights:
shows the multi-device icon in the student panel
provides more information in a pink panel and provides a way to easily resolve the situation (described in detail here).
Multiple Students logged into the same device
Multiple student can be simultaneously logged into the same one device (say a laptop). The Highlights module "sees" all the students and can't automatically choose which student to display to the teacher. In this situation Highlights:
If you find that Highlights is very slow, it may be due to your school network environment. In this case, contact your System Administrator who will be able to adjust Highlights bandwidth parameters e.g. reducing the volume and frequency of updates to Highlights, reducing the quality of the screenshot images and/or removing the screenshot functionality to increase the speed of Highlights.
Raising a problem with Hapara Support
In the first instance, we recommend running diagnostics from the student device. This runs an automated self-diagnostic check which also has built in resolution capabilities which can self resolve, or advise how to fix commonly experienced issues.
If using the student diagnostic check did not explain the student connectivity, then the teacher can send details of the issue to Hapara by clicking on the "investigate" link in the offline student panel:
On clicking "Send" the information the teacher entered in the form is sent to Hapara Support for further investigation.