Student requests to unblock websites in Highlights Follow
In this article:
Unblocking websites in Highlights
Schools that use the Deledao ActiveScan, presented by Hāpara have the option to give teachers the ability to unblock websites for students. This may be helpful when a website that has instructional value for your class is normally blocked by the web filter. For example, a health class may be doing a research project on the dangers of illegal drugs. Some websites used for research purposes, like www.samhsa.gov may be blocked because words like "marijuana" appear on the site. If your school also uses Highlights (screen monitoring) and this option has been enabled, requests from your students to unblock websites will appear there and you can easily review a website to determine its instructional value and approve or decline the student request. These requests will also show up in your email and in your Teacher Portal.
How to approve or decline an unblock request
1. Unblock requests will appear at the top of your screen next to the class title. Click the yellow box to view the details of the request.

2. When you view a request, you will be able to see the reason the student provided for unblocking the website, the URL and the type of website. You can click on the link to view the website before making your decision and choose to either approve or decline the unblock request.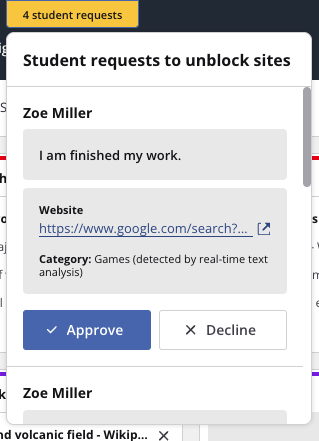 3. If you approve the request, the website will be unblocked for 24 hours for that student. If you decline the request the website will not be unblocked.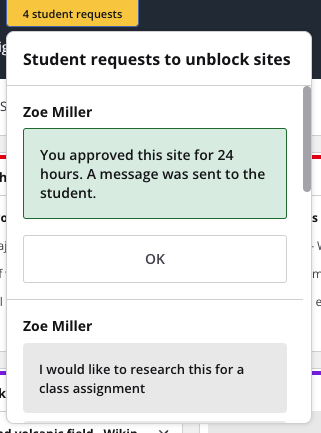 How students make requests
When a student would like access to a website that has been blocked by the web filter, they can click the yellow Send Unblock Request button on the block page to request access.
Students will be taken to a request form where they can select the teacher they would like to send the request to, and provide a comment about why they need access to that site.
You may wish to discuss with your students what sorts of websites you are willing to unblock and under what circumstances.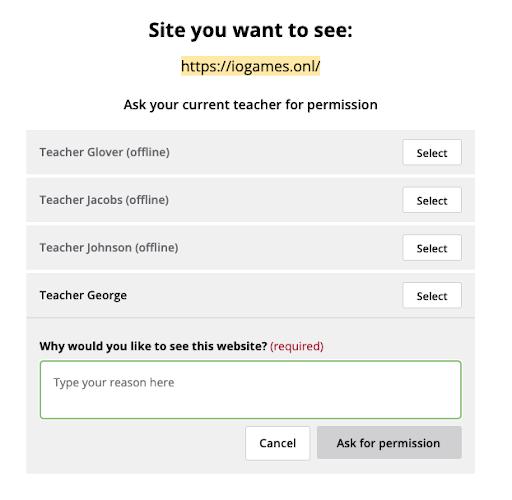 Once the student clicks Ask for permission, they will see the following message confirming their request has been sent.
Students will receive a pop-up message letting them know if you have approved or declined the request. If the request is approved, the student will have access to the website for 24 hours.