Hāpara Instructional Suite pre-setup guide: self-hosted Highlights extension Follow
Welcome to Hāpara
Please note: This setup guide is for Hāpara purchases of Teacher Dashboard, Highlights and Workspace.
To get started, please schedule your Hāpara Instructional Suite setup call for a time that is convenient for you.
Click HERE to schedule your setup call.
We recommend setting aside at least one hour for this setup session. It is highly recommended that your school instructional leader also be on this call to address the instructional considerations and make decisions about them. If your instructional leader is unable to join the call, please discuss the instructional considerations with them before the setup call.
To save you time and simplify your Hāpara rollout, please take a moment to complete steps 1-3 prior to your setup session with a Hāpara Implementation Specialist.
Please note: Access to the Hāpara Admin Console will be granted during your setup call with our Implementation Team.
Google Workspace settings
Log into your school domain Google Admin Console as the super administrator to configure the settings highlighted in the steps below:
1. Install Hāpara Teacher Dashboard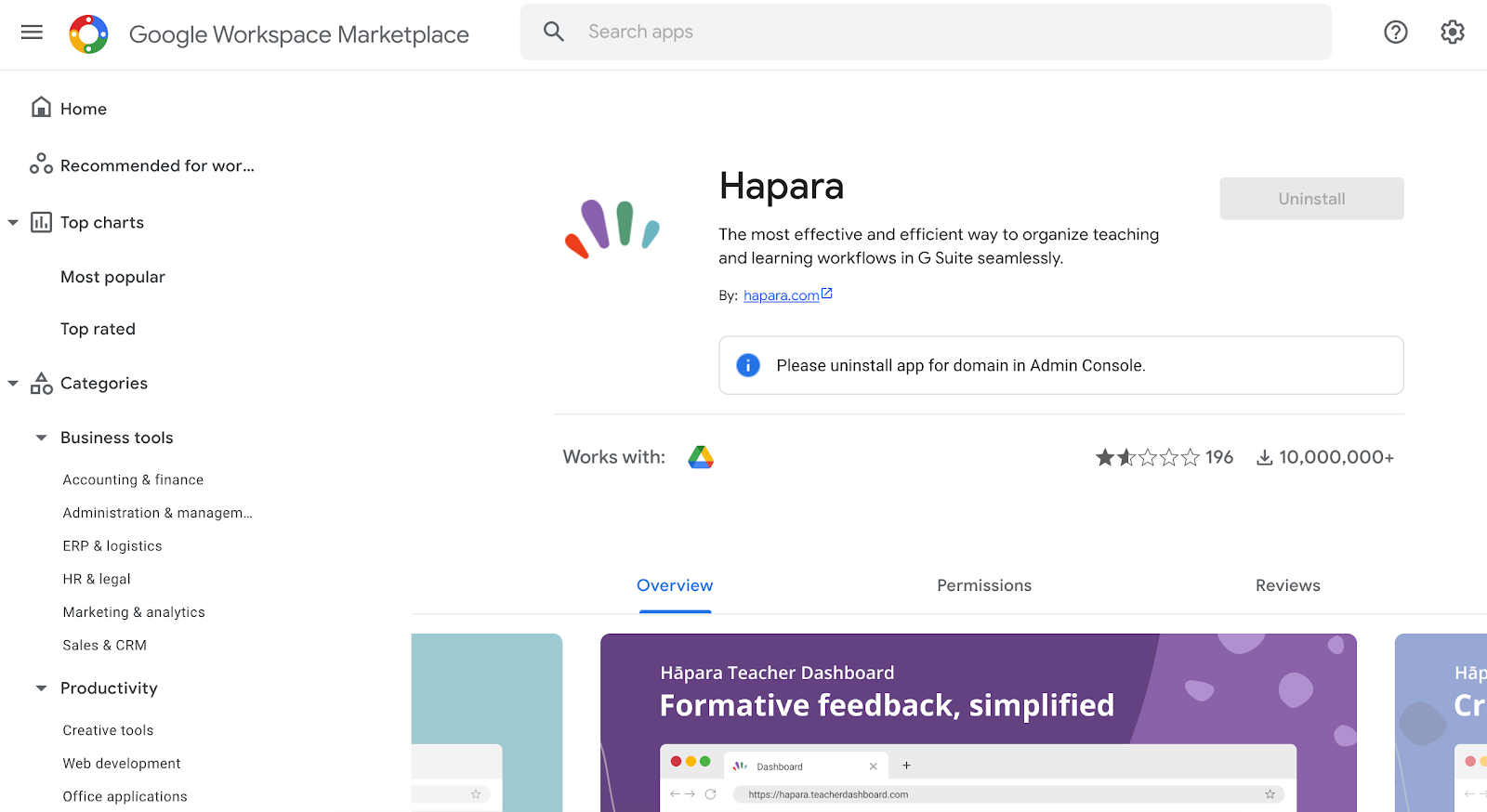 a. Navigate to the Hāpara Marketplace app.
b. When Hāpara appears, click the blue 'Install' button.
c. A "Get ready to install" window will appear. Click "Continue."
d. You will be asked to give Teacher Dashboard access to your domain's data. After reading our terms of service, tick the checkbox and click "Accept."
e. REMEMBER: If teacher and student accounts are in different Google domains, then you must do the steps listed above for each teacher and student domain.
f. Once installed, click into the app and check that data access is 'Granted'(it will be in green text).
g. Once the app is enabled, it must be turned "On for everyone."
NOTE: As of October 1, 2023, the Hāpara Marketplace app will need to be added as a trusted app in the Google Admin Console. After the installation of your Hāpara Marketplace app in step 1, please also follow the instructions at the bottom of the following support article to complete this task. New API scopes to enable better integration with Hāpara and Google
2. Install Highlights extension
By deploying the Hāpara Highlights extension to an organizational unit (OU) in your Google domain, you can select a group of student users that will automatically inherit the extension in their browsers when the extension is force-installed. The Highlights extension will also be inherited automatically by any student users who are added to the organizational unit in the future.
The following must be performed while logged into your Google Admin Console as a super administrator.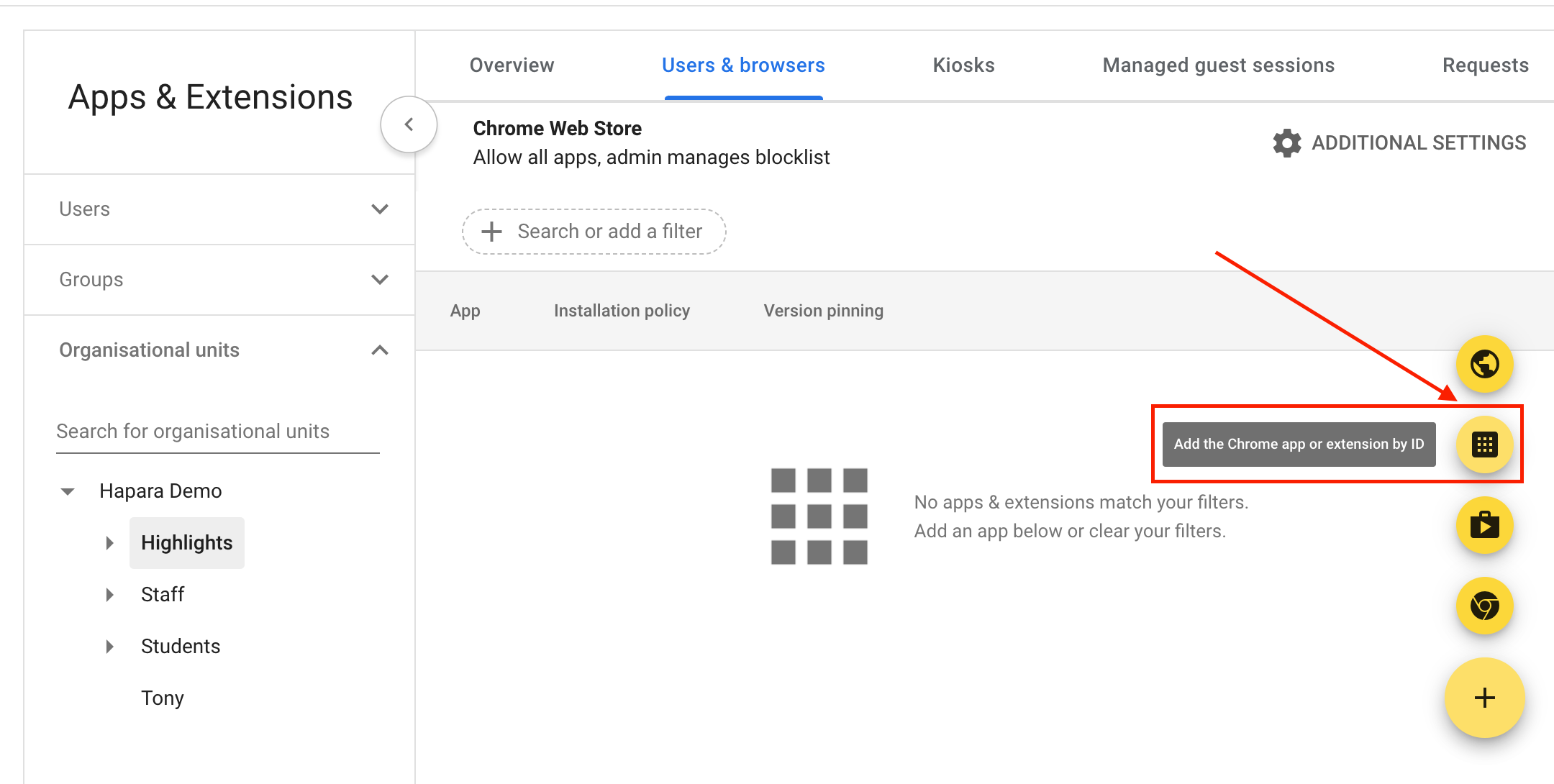 a. Select 'Devices' from the left-hand menu column.
b. Click 'Chrome'
c. Click 'Apps & extensions'
d. Click 'Users & browsers'
e. Select your student OU/s from the listed organizational units menu.
f. Locate the yellow circle in the bottom right-hand corner of your window, hover over it and click the grid icon 'Add the Chrome app or extension by ID.'
g. From the drop-down menu, select 'From a custom URL.'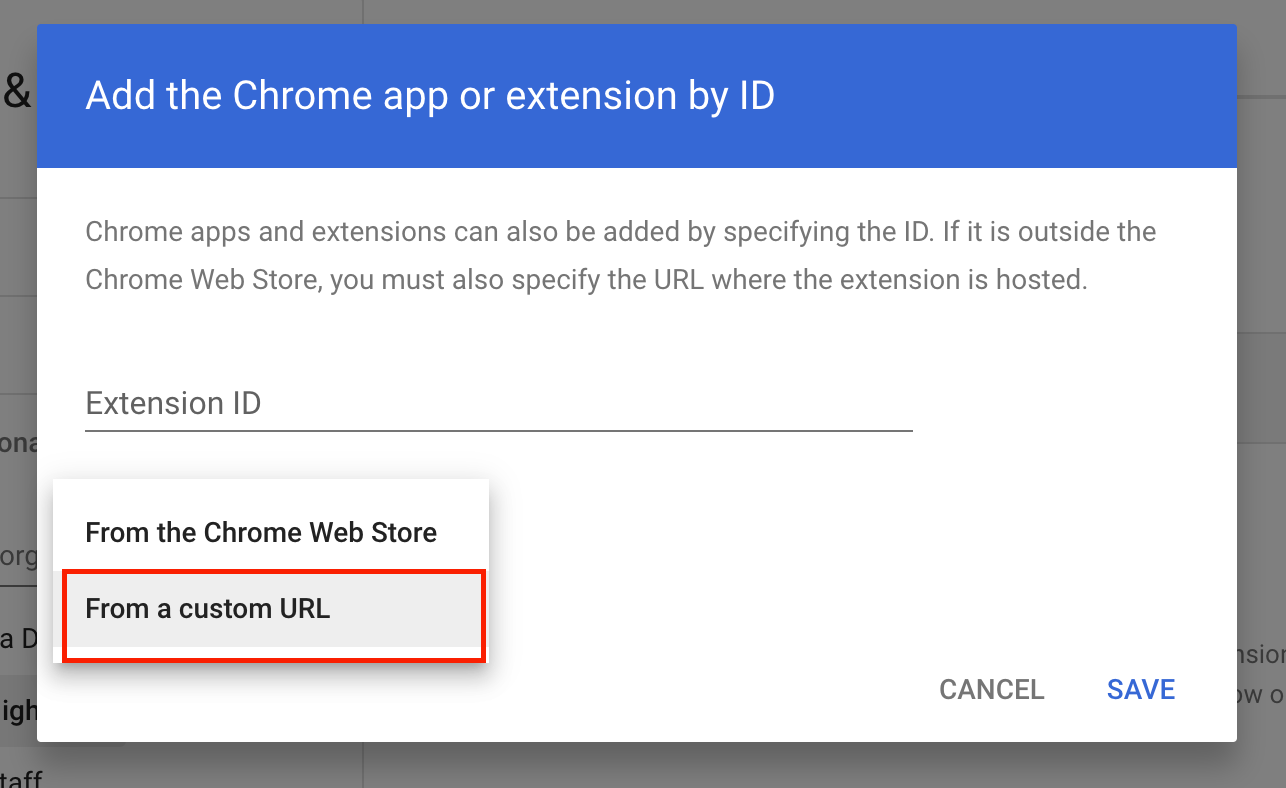 h. Add the custom URL and extension ID provided below and click 'Save.'
Extension ID: aceopacgaepdcelohobicpffbbejnfac
Custom URL: https://extension.hapara.com/extension/updates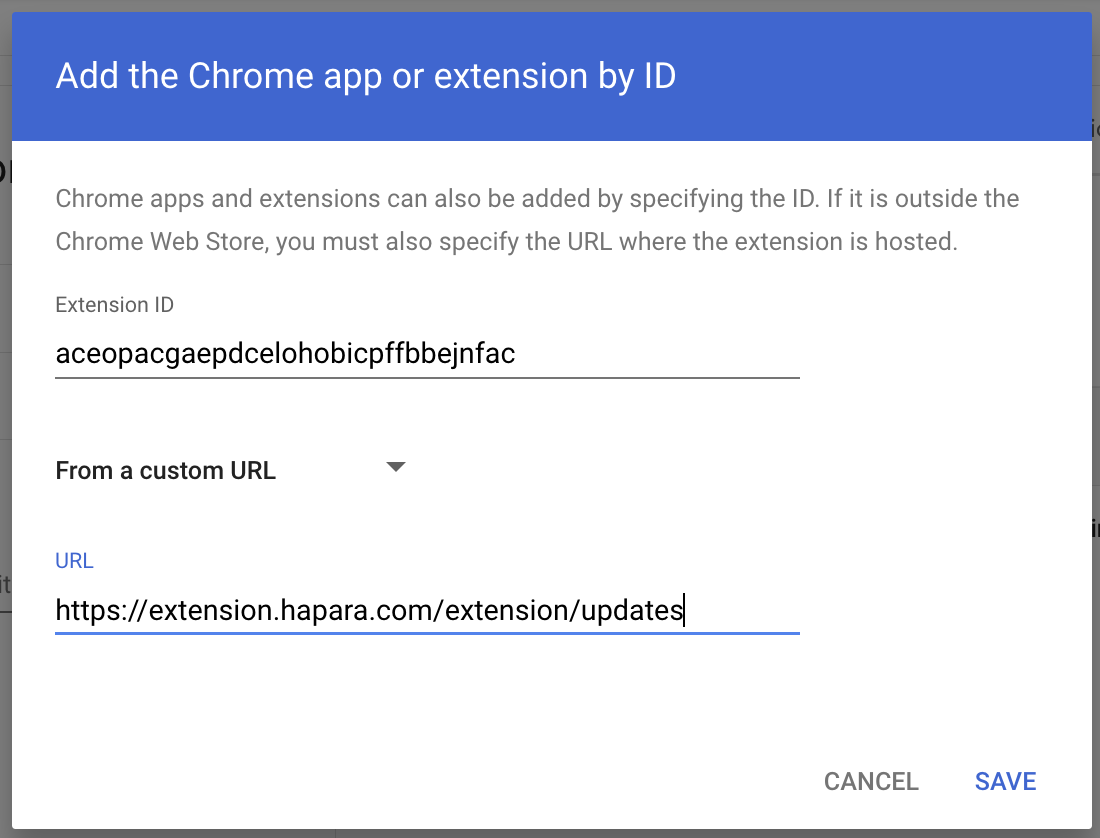 i. Set the extension to 'Force install + pin' then 'Save.'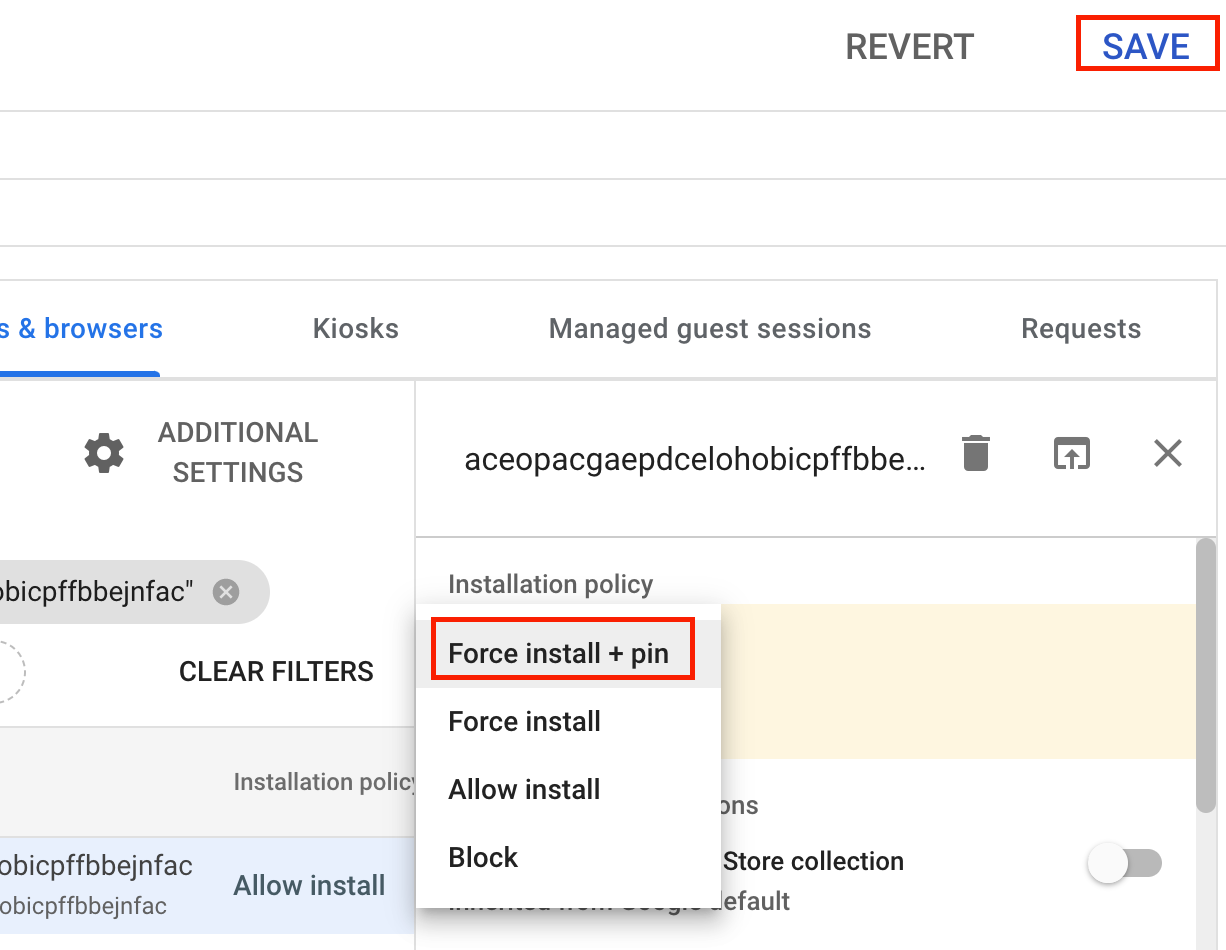 3. URL allowed listings
We recommend that your school network technician complete this step.
Add the URLs listed HERE to the allowed listings for any firewall, antivirus or web content filtering software enabled on your teacher network to ensure Hāpara functions without issue. If you experience any connectivity issues from inside the school network which are not occurring outside the network while attempting to access Hāpara, it may indicate local network traffic filtering is in place.
4. Decide which data loading options are best suited for your school or district.
Data loading methods to review - Configuration will take place on your setup call.