Teaching digital citizenship with the Sharing tab Follow
In this article:
How does the Sharing tab help you teach students about being good digital citizens?
What are some Sharing tab lessons that promote digital citizenship?
Making sure students understand how to be safe, responsible and respectful online is critical in today's digital world. As teachers, we need to help students develop the skills they need to be successful in the classroom and as digital citizens.
Thankfully, Hāpara can help you integrate digital citizenship topics into what you are already doing. One way Hāpara helps you promote digital citizenship and keep students safe as they learn is through Teacher Dashboard's Sharing tab.
What is digital citizenship?
Digital citizenship is using the internet in safe, responsible and effective ways. When teaching students about digital citizenship, you might cover topics such as:
Shaping your digital footprint or online identity

Finding balance in a digital world

Cyberbullying

Protecting your privacy online

Digital communication
How does the
Sharing
tab help you teach students about being responsible digital citizens?
The Sharing tab is where you can go to preview and access all of the files in a student's Google Drive, not just the ones that appear in your class's shared folders.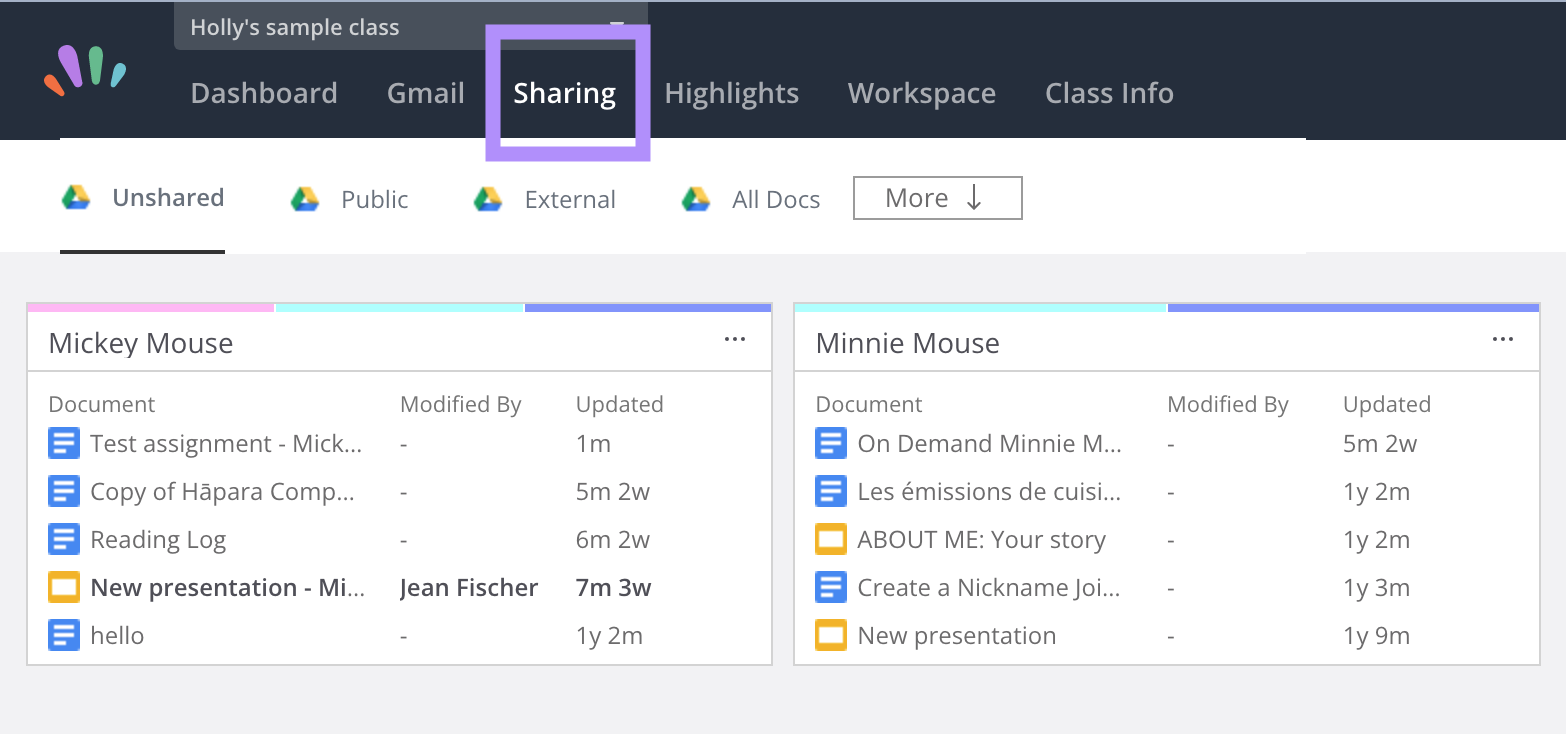 This access means you can ensure that students are using Google Drive safely and are focused on learning.
You can use the Sharing tab to:
Monitor files students have created but not shared with you

Monitor student files that have been made public

Monitor files that have been shared from external sources outside of the school network
What are some
Sharing
tab lessons that promote digital citizenship?
Lessons to set students up for success at the beginning of the year
Transparency
You may want to teach a lesson that shows students exactly what you can see in the Sharing tab. This transparency will go a long way not only in preventing distracted, unwanted and even unsafe behavior, but it will also help in building trust with students.
Boundaries
You may also want to teach a lesson in which you and students work together to come up with boundaries for successful, responsible use of Google Drive accounts. Coming up with boundaries together invests everyone in the desired behavioral outcomes, and it can be a really powerful tool in helping students "own" their digital activity.
Ongoing lessons to support digital citizenship
As the year progresses, you may want to provide whole group lessons about what constitutes safe, distracted and unsafe behavior in Google Drive.

Here are some examples of what you might show students or discuss with them at each level on the chart:
Safe

: school work, files you're working on for extracurriculars and sports

Silly/distracted

: harmless personal notes in shared Google Docs, live chatting with friends in a shared file or sharing pictures in files

Unsafe

: cyberbullying, private information, sharing with strangers, clicking on files shared by strangers